All databases
---
---
Bloomberg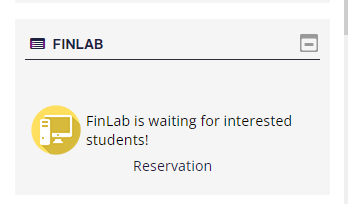 ---
---
---
---
---
---
---
---
Eikon (Refinitiv) see Refinitiv Workspace for Students (Eikon+Datastream)
---
---
Full-text journal database from Emerald Publishing representing the following subjects: Accounting, Finance & Economics, Business, Management & Strategy, Marketing, Sociology, Tourism & Hospitality.
---
---
GDX is the expanded version of MarketLine database. It contains company and industry profiles, case studies, statistics, reports, up-to-date business news, focusing on all major industries and 120+ sub-sectors. Besides, analytical tools, direct consultation with analysts help researchers to get deep insight.
---
---
---
Our subscription gives access to the IMD World Competitiveness Online database including the World Competitiveness Yearbook printed + online version. The database is a unique and comprehensive one on the competitiveness of nations. It includes time series from the IMD World Competitiveness Yearbook, since 1989, including the IMD World Digital Competitiveness Ranking since 2017.
---
The database gives access to IMF documents (books, journals, reports, etc.) and all Datasets (including Direction of Trade Statistics, Financial Development Index, International Financial Statistics and many more), in the field of macroeconomics, globalization, demography, financial integration, trade, etc.
User Guide
---
---
---
---
---
---
KRTK-Adatbank
---
---
---
---
---
---
---
---
---
---
PULVITA Healthcare Databank combines the most important health information sources from Hungary. Data are collected from the following institutions: NEAK (National Health Insurance Fund of Hungary), KSH (Hungarian Central Statistical Office) and OTH (National Public Health and Medical Officer Service.) To use the databank pre-registration is necessary, it can be done at the opening page of the database. For the pre-registration use your institutional e-mail address (@uni-corvinus.hu). After filling in the online pre-registration form, applicants get an e-mail with the registration form in it. Fill and sign this form and send it to pulzusreg@okfo.gov.hu (documents are available only in Hungarian).
---
---
---
---
Qualtrics software facilitates and automates the process of conducting surveys, polls, the platform is user-friendly, no IT-skills is needed for using . It contains more than 100 different types of question, so it can be costumized easily, even multimedia content can be inbuilt into the surveys. Results are downloadable immediately into analysis softwares (e.g. SPSS). Service is restricted to use for research purposes for Corvinus Faculty members, researchers and students.
Please send your registration request to qualtrics@uni-corvinus.hu.
---
The database offers company specific and market information for more than 60,000 international corporations. Eikon includes a huge range of financial ratios, the whole stock market, fixed income securities (market movements, research, analysis and settlement bundled in one location), detailed information on money and foreign exchange markets in conjunction with customised analysis tools. Much of the data can comfortably be downloaded through Eikon Excel. For more information please turn to Zsolt Lakatos (Department of Finance – zsolt.lakatos@uni-corvinus.hu).
The database can be accessed on 3 dedicated terminals in Library/FinLab or remotely. To get access e-mail us at szolg@uni-corvinus.hu, indicating the desired length of usage (e.g. 1 week, 1 month, end of semester, etc.). Please indicate also if you need a Datastream access as well. Service is restricted for Corvinus community, applicants must possess a Corvinus email address.
If you find currently unavailable data in the database inform us using szolg@ e-mail. Requests will be forwarded to our company representative.
---
---
---
---
---
---
StockTrak is a virtual trading platform that simulates managing a portfolio by buying and selling stocks at real-time prices.
Usage is restricted for Corvinus community, in site or remotely. To access the platform click here.
Registration for students is only possible if their lecturer has already created a trading session with all their trading parameters and the link is shared with students.
Technical support: Thomas Reti treti@stocktrak.com
---
---
---
---
---
---
---
---