Diaspora Scholarship
Non-EU nationals with Hungarian heritage can study for free in Hungary (Europe) in one of Corvinus University of Budapest's Bachelor, Master or PhD programmes with the Hungarian Diaspora Scholarship. Applications are open from November until 31 January 2023 for classes starting in September 2023.
Hungarian Diaspora Scholarship in a nutshell:
A Hungarian state-funded programme (administered by Tempus Public Foundation);
Scholarship holders receive free tuition, medical insurance and accommodation & living allowances (upon request);
Applicants with Hungarian heritage who live outside of the EU (European Union)* are eligible to apply;
A unique opportunity to reconnect with your Hungarian roots, learn the language, build an international network and develop yourself professionally.
*excludes Serbia and part of Ukraine
Application deadline: 31 January 2023, 23:59 (Central European Time)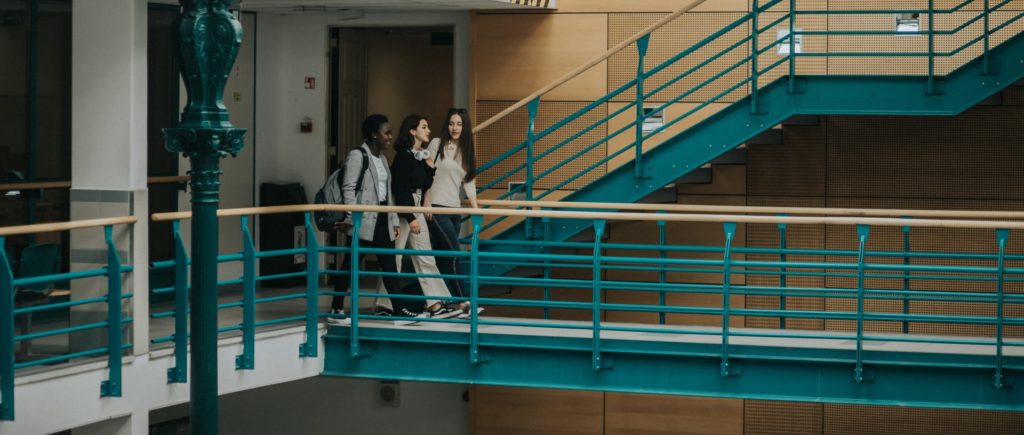 Ready to apply?
If you already know about the Hungarian Diaspora Scholarship, have read the Call for Applications, meet the requirements and you're ready to apply, click here.
What the Hungarian Diaspora Scholarship covers
In addition to the personal development opportunities, the scholarship entitles awardees to:
Free tuition (for the duration of your studies)
Stipend to support the living costs

43,700 HUF (c. €120) per month for Bachelor and Master students
140,000 HUF (c. € 386) per month for PhD students in the first 4 active semesters and 180,000 HUF (c. € 497) for the 4 last active semesters of studies. Note: allowances are only paid to actively enrolled students. I.e. if you are a scholarship holder taking a passive semester, you will receive no allowances for that semester.

University accommodation or 40,000 HUF (c. €110) in accommodation allowance per month
Travel allowance (one-occasion) of up to HUF 330,000 for applicants domiciled between 8,000 and 19,999 km from Budapest*
Medical insurance
Hungarian language course
Note: You must request living costs, accommodation and travel allowances, respectively when you apply to be eligible for each! (please see the Call for Applications).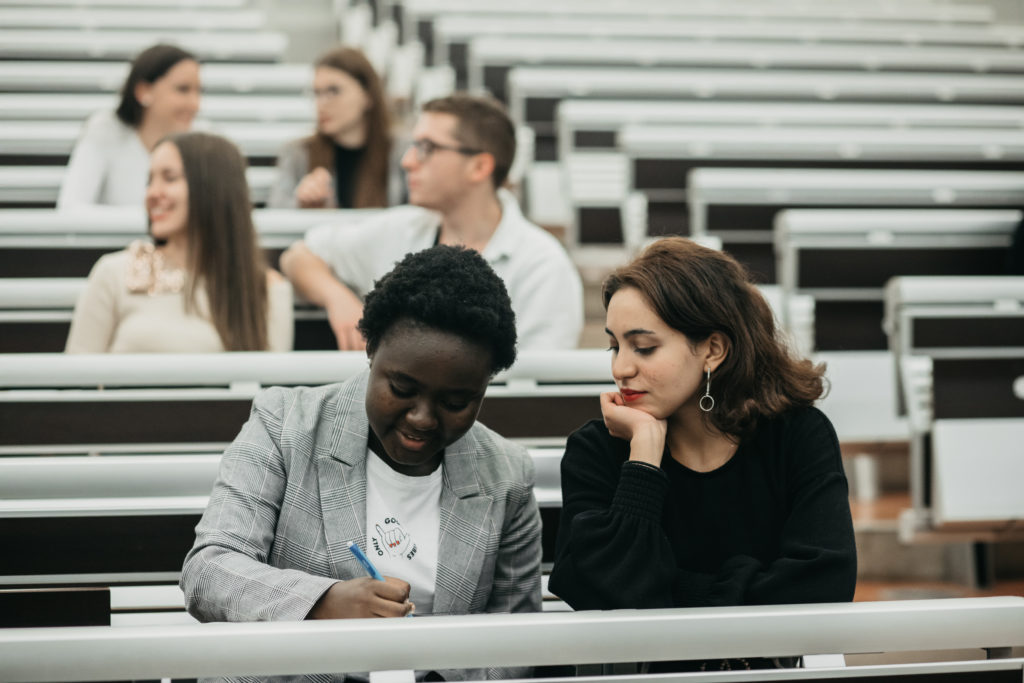 Eligibility (nationality)
The programme is available for the members of a Hungarian diaspora living in any country outside of the European Union. However, this excludes Serbia nationals and those from Zakarpattia Oblast in Western Ukraine.
Before applying, you will need a recommendation letter (click here for the sample) from the local diaspora organisation or the Hungarian Embassy in your country. Click on your country on the map for the name and contact details of your representative(s).
Eligibility (further requirements)
There are some further requirements you should be sure to meet if applying for the scholarship:
You must have lived a minimum of 10 years outside of Hungary;
You must have completed four years of schooling, including your entire secondary education, outside of Hungary
You must have been born before 31 August 2005 (i.e. you will be at least 18 years old by 31 August 2023);
You will learn Hungarian as a foreign language during your studies and must obtain B2 level by the end of your studies (or latest, within one year after obtaining the diploma/certificate);
You must complete two years of voluntary work after graduation to support a local Hungarian Diaspora community (outside of Hungary).
Please click here for full scholarship terms and conditions,
For more information, please refer to the official website of the Hungarian Diaspora Scholarship.
---
Why should you apply to Corvinus?
Corvinus University of Budapest has a 120-year history and is the leading university in Hungary in Business and Management, Economics, and Social Sciences;
Our campus is located in the heart of Budapest, capital of Hungary, providing easy access to most areas of the city within minutes by public transport or even by foot;
Budapest has easy access to other major cities in Europe (the EU) by road, railway and air travel – offering a fantastic opportunity to explore Europe whilst studying in Hungary;
Corvinus offers more than 20 programmes in English at Bachelor, Master (including MBA) and PhD levels. We are one of the most prestigious European research universities;
Budapest is a beautiful city that combines history, culture, modern infrastructure with neoclassical architecture. The city has a vibrant international community. There are more than 150 multinational companies headquartered in Budapest and this is plenty to immerse yourself in culturally!
Corvinus is therefore the perfect bridge for you to connect with Hungarian culture (and students), Europe and the world.
How to apply for the Hungarian Diaspora Scholarship
Stage 2
Admission with Corvinus
Our admission process consists of:
The review of your online application in the application system, and
An online interview and/or online exam, depending on the programme you're applying for.
Check specific entry criteria for each of our programmes, by clicking on the respective title here.
Stage 3
If you pass – you'll receive an offer from Corvinus and confirmation of the scholarship, congraulations!
From July-August, plan your arrival in Budapest – your classes will start on 12 September 2023.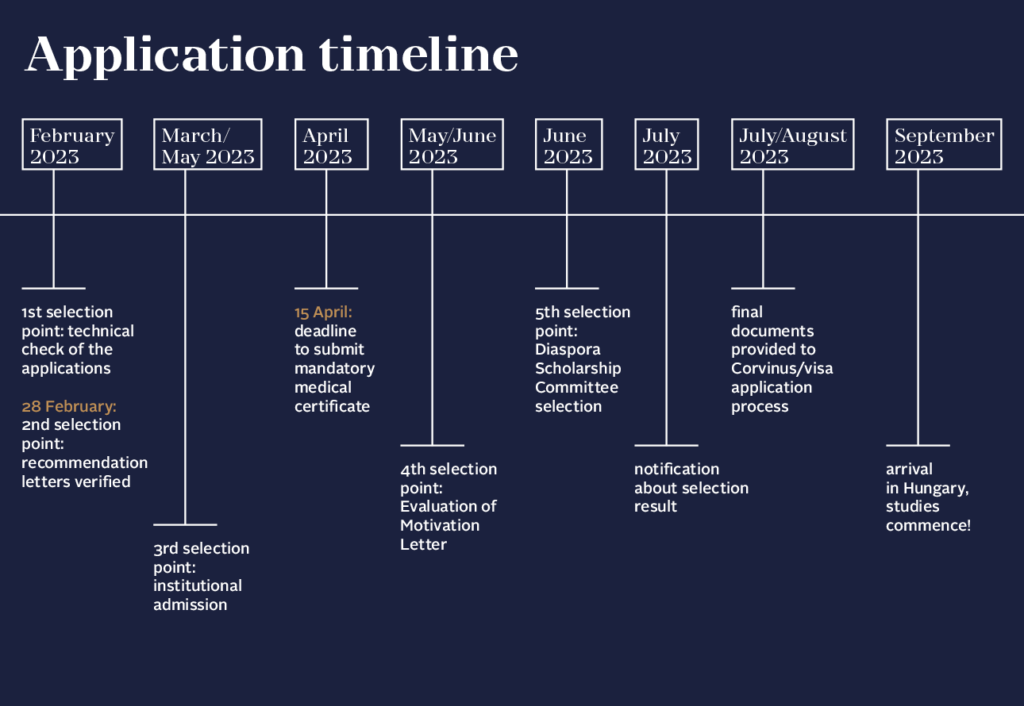 How likely am I to be accepted? 2022 statistics
>50 applications to Corvinus
>20 applicants selected
18 scholarships awarded.
Please note that 2021 was the first year of the scholarship and we expect to see growth in applications in forthcoming years.
---
Available programmes at Corvinus University of Budapest
Click programme name for link on the Diaspora Scholarship website (and to apply).
Bachelor/Undergraduate (BA/BSc):
For information about undergraduate programmes on our website, please click here.
Master/Postgraduate/Executive (MA/MSc/MBA):
For information about postgraduate programmes on our website, please click here!
Doctoral (PhD):
For information about Doctoral Schools on our website, please click here.
---
Useful links
Check the following pages:
Still did not get an answer, feel free to contact our International Student Recruitment team by making an enquiry here.