CIHES Working Paper No.8.
The main types of higher education institutions according to their undertaken missions and their actual activities
International market orientation, modern institutional management


Editor: Ildikó Hrubos
November, 2011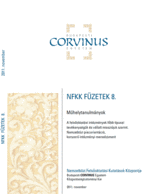 The volume deals with two themes of the research study series conducted in the framework of the TÁMOP 4.2.1 project of the Corvinus University of Budapest. The first four papers present the partial results of the theme 'Higher Education institutions according to their undertaken missions and their actual activities'. The backbone of this is the research, which makes an attempt at adapting the European U-MAP project to Hungary. An emphasized attention is paid to the subject of the so-called third mission, its appearance in the official documents of institutions and their actual activities. The fifth and sixth studies provide a theoretical-conceptual framework for international research studies regarding international market orientation, and it formulates hypotheses. The seventh study examines the transformation of the governance, management systems of higher education institutions in the process of their adaptation to the changing social-economic environment.


181 pages
ISSN: 2060-9698
ISBN: 978-963-89082-3-0


Published studies:

Hrubos, I.: Institutional diversity in higher education

Horváth, Á.: Attempt for the national application of the European mapping system

Bander, K.: Missions undertaken by institutional websites

Veroszta, Zs.: Fresh graduates' employment expectations in the Central Hungarian Region

Berács, J.: International (export) market orientation in higher education: internationalization and institutional equivalency

Nagy, G., & Berács, J.: Higher education as export

Kováts, G.: A few characteristics of the faculties and the dean's position in Hungary

The publication can be downloaded (in Hungarian) here.

A felsőoktatási intézmények főbb típusai tevékenységük és vállalt missziójuk szerint. Nemzetközi piacorientáció, korszerű intézményi menedzsment. Műhelytanulmányok
The conference and the working paper was supported by the project: TÁMOP-4.2.1/B-09/1/KMR-2010-0005 (R + D + I subproject).