Corvinus Institute for Advanced Studies
Zoltán Oszkár Szántó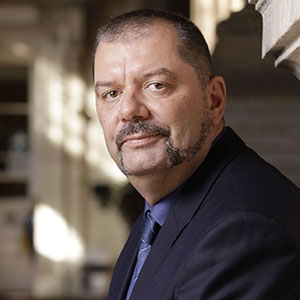 ZoltánOszkár Szántó is an economist and sociologist. He graduated from the legalpredecessor of CUB in 1987 as an economist teacher and sociologist. He became CScin Sociology in 1993 and a habilitated PhD in 2002. In 1993 he pursuedpostdoctoral studies at Indiana University.

Inrecent years, besides serving in other executive positions, he was Dean of theFaculty of Social Sciences (2000-2004), Vice-Rector of the university (2012-2019).Since 2011 he has headed the editorial Board of the journal SzociológiaiSzemle, between 2011 and 2017 he was chairman of the Social Sciences Committeeof the National Council of Student Research Societies. In 2010 his achievementswere recognized with the Knight of Cross from the Order of Merit of theHungarian Republic

He focuses on analyticalsocial theories and economic sociology in research and teaching. During hiscareer he has taken part in 12 applied research projects and 15 basic researchprogrammes. He regularly gives talks at conferences in Hungary and abroad. Thenumber of his Hungarian and English-language scholarly publications amounts to 124.More recently as a researcher he has been intrigued by the field of SocialFuturing.

Ithas been a real challenge to have the CIAS (Corvinus Institute for AdvancedStudies) recognized as one of the most prominent institutions of the region inboth Hungarian and foreign academic circles. A flagship unit of the remodelledUniversity, CIAS as a knowledge-incubation and research ecosystem of economicand social disciplines aims to act as a major contributor to implementing theuniversity's research strategy and to shifting the dimension of theuniversity's performance in both research and publications.

In order to reachthese goals, the CIAS focuses on establishing new multidisciplinary researchcentres and launching new projects in line with the university's research priorities,on attracting Hungarian and foreign lecturers to Corvinus, as well as on decisivelyincreasing the international visibility of CIAS and its capability to attractresearch funds.