WIFI / VPN
WiFi
Wireless network only available at the university
Name of the network: Cornet-EAP
SSID: Cornet-EAP
Authentication: WPA2 / WPA
Encryption: AES / TKIP
EAP type: PEAP
Authentication mode: MSCHAPv2
IP Address: Automatic (DHCP)
Authentication: cusman ID, cusman password
Users are advised not to transmit their most sensitive data through this channel due to the eavesdropping of WLANs. Also note that the service may be temporarily suspended during events held in eac building!
Network avaiable at educational institutions both inland and abroad
Name of the network: Eduroam
SSID: Eduroam
Authentication: @uni-corvinus.hu, cusman password
It is not allowed to create your own WLAN on the campus, because both ad hoc mode (for example, connecting two machines) and solutions that use an access point interfere with the frequencies used by the university network.
Known Wi-Fi issues and their solutions
Do you have problem connecting to the Wi-Fi network?
Make sure you have entered the correct password and that your password is still actual. You can check your password if it is still valid or not at cusman.uni-corvinus.hu and if it has expired set a new one and try connecting to the network again.
If your student status has been ceased you will not be able to log in.
If you are sure that you gave the correct password and you still can not login then try making the previous WiFi to be forgotten and try logging in again. You can find the steps to do this below.
If you can't solve the problem ask help from the helpdesk personally in Sóház, room 15 or send a detailed e-mail with your problem to the ithelpdesk@uni-corvinus.hu  mail address.
Forget Wi-Fi connection
To let the Cornet-EAP or the Eduroam Wi-Fi settings to be ereased, first click on the network icon right next to the sound settings icon.



On the appearing window click with the right mouse button on Wi-Fi then click with the left mouse button on the "Go to settings" option.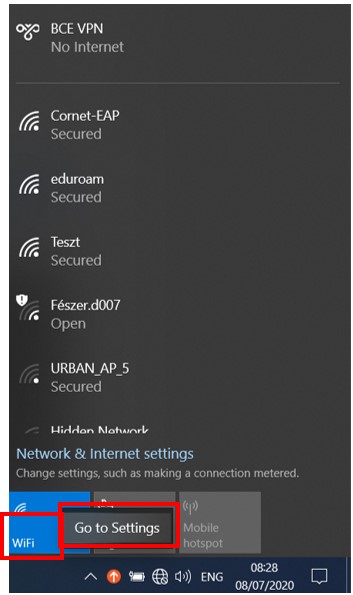 In the next screen click on the "Manage known networks".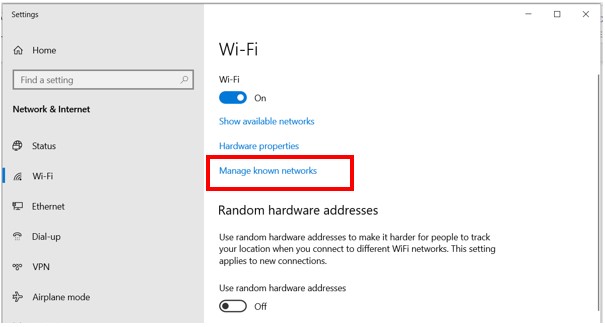 In the appearing list click on the "Cornet-EAP" Wi-Fi connection, two buttons appear, choose "Forget". With this all previous connections data will be ereased. After this close these windows and try to connect again to "Cornet-EAP" Wi-Fi in the Wi-Fi connection list.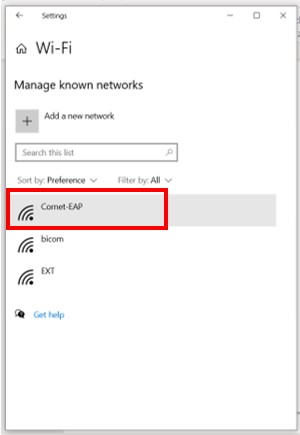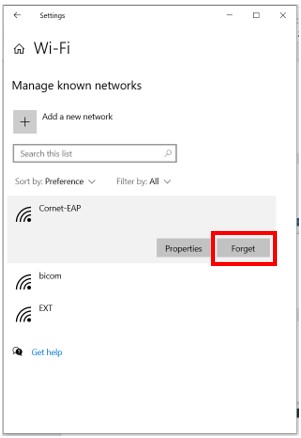 Setup Guides for Cornet-EAP University Network
Supported operating systems
Windows 10 operating system
Android 7, 8, 9, 10 OS phone
MAC OS
iOS iPhone and iPad
Downloadable guides for Cornet-EAP

Configuring Cornet-EAP on Windows 10

Configuring Cornet-EAP on iOS (iPhone, iPad)

Connecting to Cornet-EAP on MAC

Connecting to Cornet-EAP on Android 7.0
Setup Guides for Eduroam International Network
What is Eduroam
Eduroam 

Thanks to eduroam service, you are free to connect to wireless internet service of providers participating in the eduroam network both abroad and at home with a valid username and password at Corvinus University of Budapest as your own login details. If your higher education institution has also introduced the eduroam service, you will have the opportunity to use the BCE infrastructure with your own login details.
Check up of the access happens at the home institution with the help of the Eduroam collaboration, so the authentication is as secure as it would happen at the area of the University.
Eduroam started as a european initiative but now it has turned to worldwide.
Range of users:
Higher education and public education institutions
Research and development sites
Public collection and other educational, scientific and cultural organizations
Why is the service useful?

Worldwide alliance
It is safe and convenient to use
User friendly
It is supported by most operating systems
Select the network named eduroam (SSID: eduroam) from the list of available wireless networks 

Enter your username in the following format: cusman@uni-corvinus.hu

Enter your CUSMAN password
Downloadable guides for Eduroam

Configuring Eduroam on Windows 10

Configuring Eduroam on iOS (iPhone, iPad)

Connecting to Eduroam on Android

Connecting to Eduroam on Mac OS
VPN
You can connect to the server of the University with VPN (Virtual Private Network), this allows you to see the secure pages of the University and to use some services.

What is it good for?
You can access the databases of the library through this.
You can use SPSS.
You don't need to request it, all students and instructors, employees gets this as a basic service.
Supported operating systems
Windows 10 operating system
Android 7, 8, 9, 10 OS phone
MAC OS
iOS iPhone and iPad
Downloadable guides for VPN
Downloadable guides for VPN settings

VPN connection setup on Windows 10

VPN connection setup on iOS

VPN connection on Android

VPN connection setup on Mac
Known issues with VPN 
If your machine will not connect, delete your VPN connection and add it again. Then try to connect. You can find how to delete your connection below.


If protected content becomes unavailable while working, make sure the VPN connection is still active. Unfortunately, Windows 10 does not indicate when the connection is lost. 

If you can't solve the problem contact helpdesk personally at Sóház 110 or send an e-mail to ithelpdesk@uni-corvinus.hu e-mail address.

Delete VPN connection
If for some reason you can not connect to your previously set up VPN connection, you can try removing it. To remove a VPN connection do the following:
Click on the bottom right icon on the task bar.



From the appearing surface choose and click on VPN.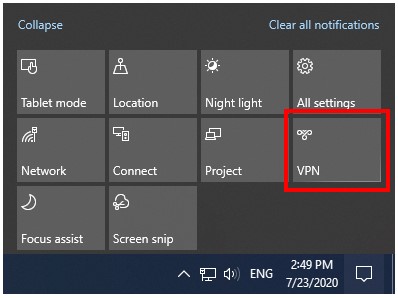 A new window will appear. There click on "BCE VPN".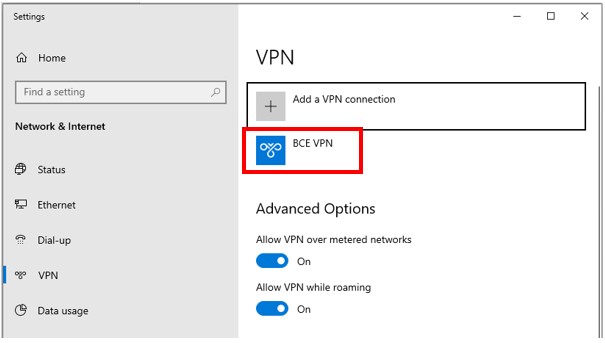 More options will be shown for BCE VPN, choose "Remove" to remove it will all of its previous data. After removing it try making a new vpn connection.