Communication Science Doctoral Program
The main objective of the Communication Science Doctoral Program is to investigate both the theoretical and the applied aspects of communication. It seeks to clarify the notion of communication and the role that it plays in society; and also aims to explore the sociological, psychological, cultural and anthropological aspects of communication. The program also focuses on the cultural, political, economic, technological and legal aspects of the processes taking place in the media landscape. The training emphasizes the importance of a critical, global, and interdisciplinary approach. In addition to providing theoretical and methodological knowledge in communication and media sciences, the range of related disciplines on offer cover a wide range of topics, including visual communication and culture, digital media and future-research, argument and rhetoric, cognitive linguistics and psychology, behavioral science, and various applied specializations of communication (health communication, environmental communication, political communication, family communication).
Please follow our Facebook page!
About us
Research topics
Our supervisors offer a wide range of topics in communication- and media science. Our current topics can be viewed HERE.
Alumni
Since 2015, a total of 43 doctoral students have successfully defended their doctoral theses in the Communication Science Doctoral Program and its predecessor, the Social Communication Doctoral School. Meet our graduates!
Curriculum

Operatív tanterv / Curriculum 2019/20, 2020/21
Events
eMotiON/OFF Workshop – 23 May 2022
The eMotiON/OFF Workshop on affective communication and emotion management in social processes organized by the Communication Science Doctoral Program at Corvinus University of Budapest and the Centre for Social Sciences sets out to explore the role of emotions in various fields of communication, including social media, organizational communication, and political communication. The workshop provides an opportunity for MA and PhD students of communication and media at Corvinus University of Budapest to showcase their latest research on emotions in communication and discuss their findings with their peers and senior researchers of the topic.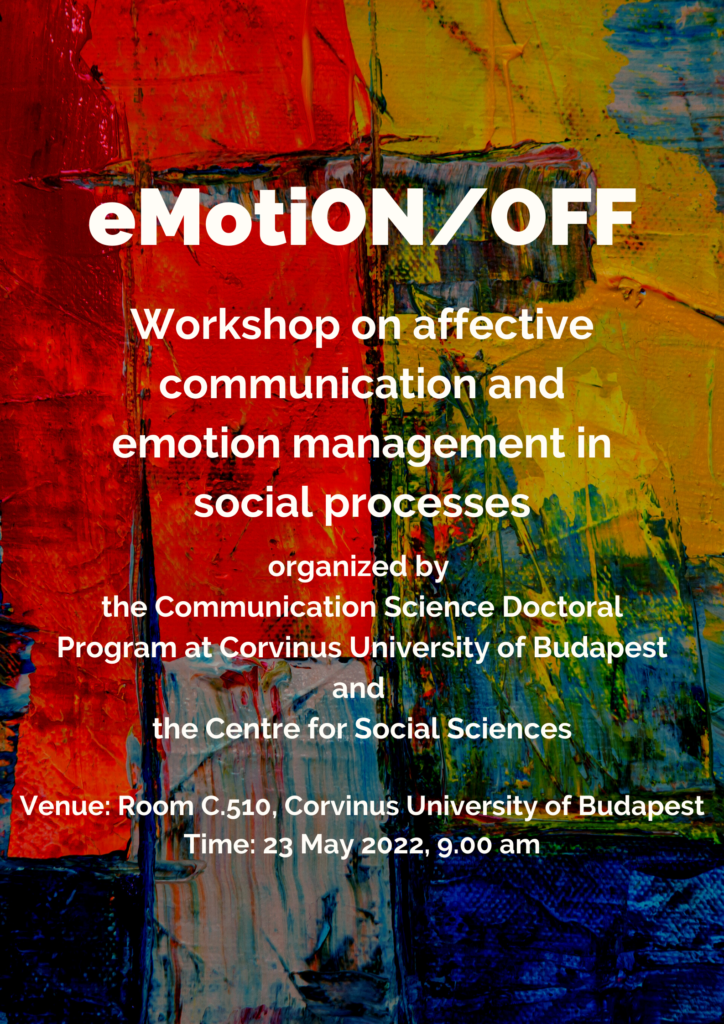 eMotiON/OFF – Book of abstracts
The COMMpass – the yearly newsletter of the Communication Science doctoral program