Student ID
Applying for a student ID card
You will need to request a new Student ID Card if you are a Freshmen enrolled in a degree programme, or if you lost your original Student ID Card
Check your presonal data in the Neptun system
Start the application at the Document registering Office and receive the NEK datasheet
Upload a scanned copy of the NEK datasheet in Neptun, at Information/Documents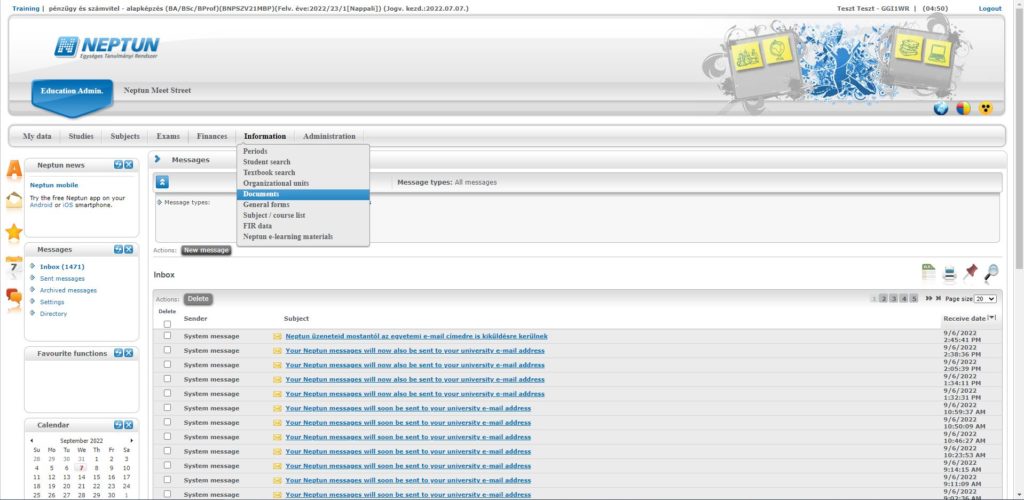 If you have an active student status, submit a new student ID application in Neptun, at Administration -> Student Card request with the "Add new" button

Requesting and producing a student ID card is free of charge, but if you lose the ID card, there is a fee to replace the sticker
You can receive a Temporary Student ID Card 24 hours after your Neptun request submission at the Student Service Area (Building E, first floor)
When it is ready, you can receive your Student ID Card at the Student Service Area (Building E, first floor)
A Temporary Student ID is valid for 60 days, therefore you need to apply for it every 60 days until you receive your original student ID (card), you will receive a separate notification of when it is ready. The transport providers do not accept the temporary student ID when presented on a mobile phone, it must be printed, but the signature and stamp do not have to be original (so using the printed scanned version is fine).
You can check the expiry date of your sticker on the back of your Student ID Card. With a valid Student ID Card, you are entitled to various discounts: cultural, commercial, and transportation benefits.
If you have been successfully re-admitted to Corvinus University of Budapest (e.g. from a bachelor's to a master's degree programme, enrolled to another programme), but your student status was not continuous, i.e. there is at least a one-semester break between your studies, it is important to know that you will have to apply for a new student ID card and return your previous ID in the Student Services Area.