Our digital administration system, Self Care has moved to a new platform, is now more convenient and offers you more new features.
You could already find answers to many of your questions on the platform, but now Do it online platform is a one-stop shop for all your study-related information, with new features to enhance your user experience.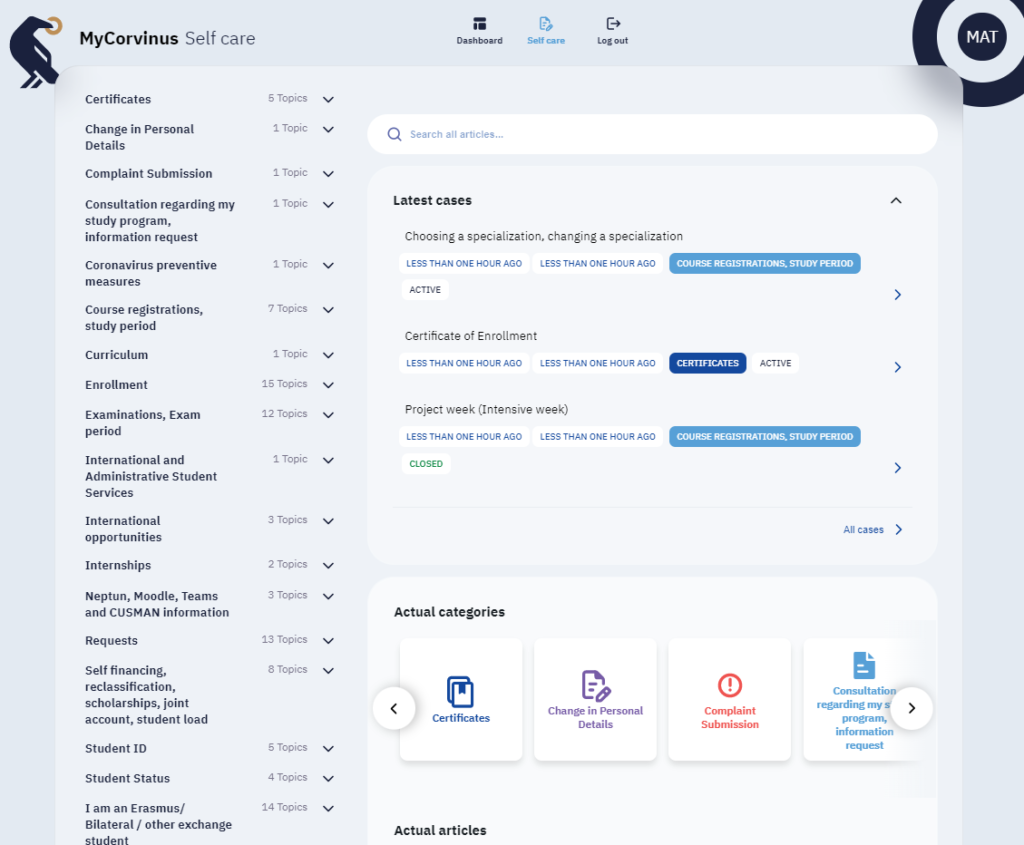 All important topics in one place
You can use the system by logging in with your Cusman ID, and once you've identified yourself, you'll find the most important topics that concern you on the home page. If you want to know about your issues in progress, you can view them and check their status on the home page. You can also find the most important study matters there.
More transparent structure, easier search
One of the most significant new features is that you can now search dynamically between different topics. Searching is also made easier by keywords. A featured categories field also makes navigation simpler.
While designing the content of the interface, we've tried to ensure that the most important questions are answered in our descriptions. If you have a specific question that needs personalised help, instead of emailing us, you can click on the 'Start a new case' button at the end of the descriptions to contact our administration team in the easiest way. There, most of the fields will be automatically filled in with your details, so you don't need to bother entering them, all you have to do is describe your problem or question. The messages you send will be replied to by our colleagues through the platform, and of course you can also follow up on your conversations.
Please use the new Self care platforminstead of the usual thematic email addresses.
You can also visit us in person

If you prefer a personalised service, you are welcome to visit us on the first floor of the Main Building in the renewed Student Community Space. At the counters, our colleagues will help you with general student administration, study grants, student finances, Neptun, certificates and student ID.