The time has come – the International Application period for Corvinus University of Budapest has officially started!
We are ready to welcome applicants from all over the world inside the walls of one of the best universities in Hungary.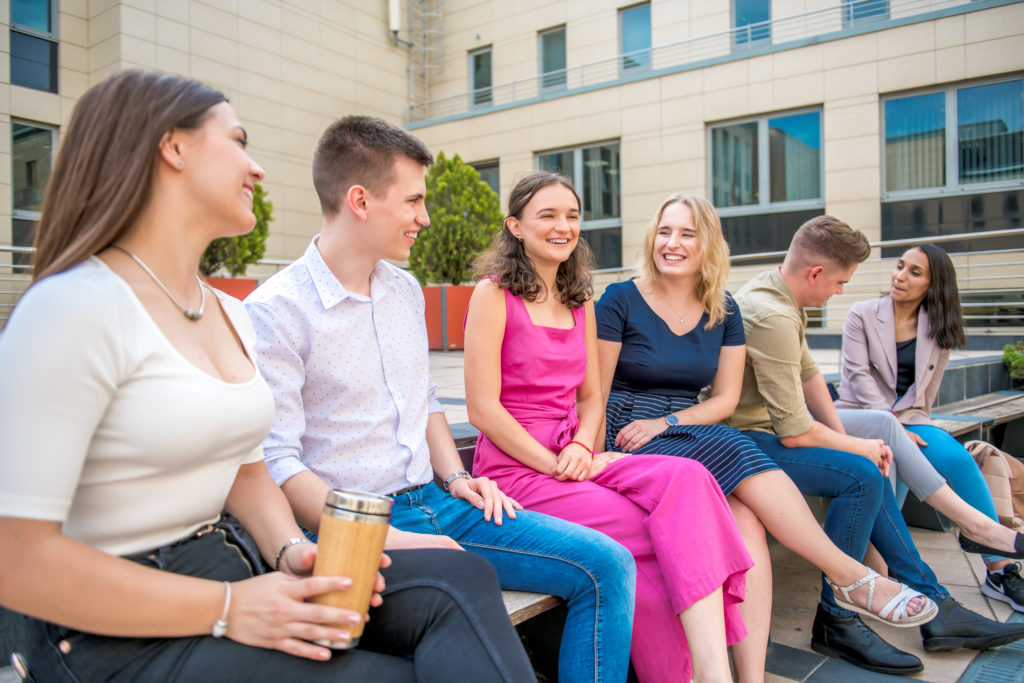 We understand, though, how stressful applying to universities can be, with tons of documents and deadlines coming up. To make it easier for you, we have prepared this article where we briefly explain our application process and provide the most important details, both for Stipendium Hungaricum and self-funded applicants.
Buckle up and continue reading to find out all the information you need to ace your application.
Why Corvinus?
Corvinus University of Budapest attracts students not only from all over Hungary, but also from all over the world. We offer more than 20 programmes in Business and Management, Economics and Social Sciences – at Bachelor, Master (including MBA) and PhD levels in English.
By applying to Corvinus, you are accepting a challenge to study and grow in a community of smart and motivated people that will help you become the best versions of yourself. The programmes offered at Corvinus rank among the best in Europe (we have AMBA and AACSB accreditations – only 2% of business schools in the world have both of them!) with supportive professors and a constant integration between theoretical foundation, practical projects, and market immersion.
For Self-Funded Applicants
The application process for self-funded students is fairly simple. Once you have chosen a desired study program (some of which are unique in Hungary, read more here), you can apply online through our website. Note that you will have to pay 76 eur application fee.
For all the programmes, we will invite eligible applicants for an online interview. If you have provided all the documents, and met the requirements, then you will be offered a place on the programme. After you pay the fee for the first semester, you will receive an unconditional letter of acceptance to the university, and you are all set.
For self-funded applicants, we provide an early application round. If you apply by January, your online entrance exam will take place in February, which gives you a unique opportunity to be done with admission stuff earlier and have more time to prepare for coming to Hungary in case you are accepted to the University. If you follow the general April deadline, then the entrance exam will take place in May.
Deadline for the self-funded applicants: the 30th of April 2023.
If you can't find an answer to your questions on our official FAQ pages, don't hesitate to write your inquiry via this form. Don't worry about the complexity of the application process, we are here to help.
Corvinus University is your chance to change your life once and forever. The question is: are you ready to do it, finally? Answer by filling out the application and join our talented international community!
For Stipendium Hungaricum Applicants
The Stipendium Hungaricum Scholarship Programme offers the opportunity for non-EU nationals to study in Hungary for free based on a bilateral agreement between Hungary and more than 70 countries/territories. Click here to see if you are eligible.
Stipendium Hungaricum is a full-ride scholarship that covers tuition fees and offers monthly allowance, as well as free medical insurance. An important thing to know about Stipendium Hungaricum is that the first step is submitting documents to the Ministry of Education in your home country – your sending partner. Simultaneously, you need to submit the documents via DreamApply. Be sure to double check that information with your sending partner, as not every one of them requires documents submission. After that, if you are nominated at home, the application goes through, and admission process in Corvinus starts.
If Corvinus is your 1st priority, your entrance exam will take place in April, if 2nd – in May.
The deadline for the application is 14:00 CET 16th of January 2023.
Click here to find out all the details about Stipendium Hungaricum, how to apply, and what to know.