"Even though we worked day and night, we couldn't get to many sick animals in time" - this experience is what started Bence Balázs's business, who considers it a great value that Corvinus gave him a business mindset and logic.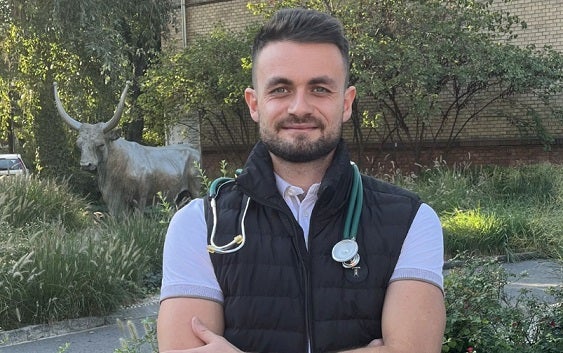 Dr. Bence Balázs, veterinarian and co-owner of Homecare.vet, together with Dr. Bence Vladár. They do not have a veterinary clinic, because after a thorough consultation on the phone, they are the only ones in Hungary who go to the patient's home in Budapest and some of the other big cities, to treat the animal when it is at rest, in its own familiar environment. Dr. Balázs says: it was worthwhile to study Business Administration and Management at Corvinus, as it is essential for running a business, just like empathy and love for animals.
How and why did you decide not to treat patients at your own clinic? Today, modern veterinary medicine uses modern diagnostic tools that are not available at home.
As a student in my last semester at the University of Veterinary Medicine, I completed my practice period at a colleague the countryside. The phone was ringing continually from 5am to 5am the next day, with pet owners calling us to come and treat their sick animals. We often travelled up to a thousand kilometres a day and still didn't get everywhere. Then I had the idea that we could do this in a more organised way, because even though we worked almost day and night with our colleague, we couldn't reach every farm in time.
What does Homecare.vet "do" that is more than just taking your sick cat to a well-equipped veterinary clinic?
We answer the phone from 7am to 1am every day, weekends and holidays. My experience is that many sick animals are delayed in getting to the vet. And we question the owner thoroughly on the phone about the symptoms, in much the same way as an experienced paramedic would. If we think the animal can only be helped in hospital, we will tell so honestly and provide information about where the nearest veterinary hospital is that is open. We have been running our service for two and a half years and I see that 80-90 percent of the time we are able to correctly decide whether we can help or whether we need to refer the patient. A big advantage for the owners and the animals is that the patient can be examined and treated in the calm, familiar conditions of home, so some of the stress can be avoided. We can also hook up every animal to an I.V. in its home, so owners are not obliged to take the patient to the clinic every day. So far we are doing this in Budapest and its surroundings, in Győr, Mosonmagyaróvár, Debrecen and the Szekszárd-Bonyhád-Paks triangle, but we would like to expand further. We welcome applications from colleagues from the countryside and Budapest who want to innovate animal care and would like to work with us, even if for only one day a week.
Doesn't the call-out charge make this service very expensive?
This amount is at least 15 thousand HUF at the moment, the charge for longer distances is set by individual agreement. Of course, there is a surcharge on weekends and public holidays, but this is charged by most vets who practise at their clinic if they are open over the weekend.
Dr. Balázs also holds a BA in Business Administration and Management from Corvinus University, not just a diploma in veterinary science. In fact, he elaborated the concept of his Homecare.vet enterprise in a business planning class here at Corvinus…
Yes, I went to both universities for a while. I applied to Corvinus because I had previously founded the startup bedrock.farm with my friend Endre Szűcs, who was then a student of the Technical University: it produces fresh microgreens and herbs all year round, regardless of the weather, which has been in demand among good chefs. That's when I realised that running a business requires a business education, because you have to make decisions involving large sums of money. I thought that if I wanted to be a manager-type veterinarian, I needed to be aware not only of pharmacy and animal hygiene, but also of the financial implications of my professional decisions. Indeed, in one of the classes I had to work out a business model and I wrote down the plan for the mobile veterinary network, having of course given it careful thought before. I really owe a lot to Dr. Attila Petheő (Associate Professor at the Department of Business Development and Management at Corvinus), who taught me business planning. I also remember that many times here at Corvinus, it dawned on me what had gone wrong with my previous projects. We are now in a growth phase at Homecare.vet, and thanks to my business education, I know exactly what knowledge I need to hire a person for, or when we can afford to buy a vet bag for every staff member (so they don't need to hand it over to their colleague after their shift), as I can calculate a lot of things with pinpoint accuracy in advance. I think that at the veterinary university I acquired mainly lexical knowledge, because of course one needs to be aware of anatomy and many other things. Corvinus taught me more of a mindset, business logic, which is of great value.
What are your plans for the future?
I would like to see our veterinary team expand in the future, so that we can offer our services not only in the cities mentioned above, but in more and more places, to grow into a national practice partnership. The big dream is to be available on the phone day and night, whenever a sick animal needs us. This would be very good for us, too. Believe me, it's very bad for a vet to tell an owner, say at Christmas, that he can't help you now. Nobody can be a good vet without empathy, and without knowing that an animal is suffering, and its owner is suffering too, because there is nothing he can do – it is a great psychological burden. But I also have to think about family. Luckily, my partner is a veterinarian, she used to be an animal rescuer, so she knows the situation. But the vet is human – he needs time off, to rest and to recover. It may not be common knowledge, but in the US and Australia, one in 10 vets attempt suicide because they become overworked and burnt out. Our aim with the service is to put solutions within reach for owners, so that vets can focus on their profession when they work and have complete peace of mind when they rest.
Finally, do you have a pet at home?
Of course, Prézli, our puppy, and Mia, our black and white cat.
Katalin Török