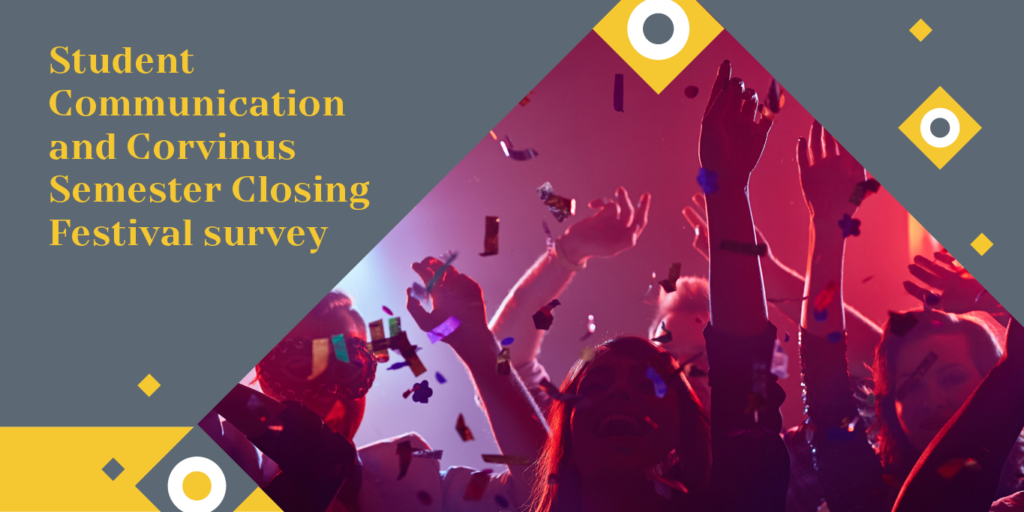 We ask you to fill out the questionnaire made by Corvinus Communications and Students' Union about the University's communication channels and the traditional End-of-Year Festival which will be organized again this summer after three years!
The aims of the questionnaire are:
for the Corvinus Communications team to assess how the students use the University's communication channels and how satisfied they are with them,
for the Students' Union to survey the interest and needs for the End-of-Year Festival which will potentially be organized this summer.
Cancelled in the previous years due to the pandemic, the End-of-Year Festival is the biggest University event for students, where they can celebrate the end of the exam period and the start of the summer with concerts by the biggest Hungarian musicians and bands on the shores of Lake Balaton in the evenings and colourful programmes during the day.
We are going to raffle off 15 Corvinus merchandising packages among those who answered our questions. The packages contain 1 water bottle, 1 canvas tote bag, 1 neck strap, 1 notebook, 1 pen, 1 pencil and 1 post-it pack.
Filling out the questionnaire is voluntary and it takes maximum 10 minutes. To take part in the survey, you must accept the Privacy Policy and provide your Neptun code.
The answers will be processed anonymously and in aggregate, the Neptun code will help the analysis, shorten the questionnaire and make it possible to identify the winners of the Giveaway.
You can fill out the questionnaire by clicking on the link below until 28 February 2022, Monday midnight.
Best regards,
Corvinus Communications
Students' Union (HÖK)