Laurence Daures-Lescourret, a renowned researcher teaching at the Parisian ESSEC Business School, held her public lecture on 15th May upon an invitation by the Institute of Finance and the Institute of Economics.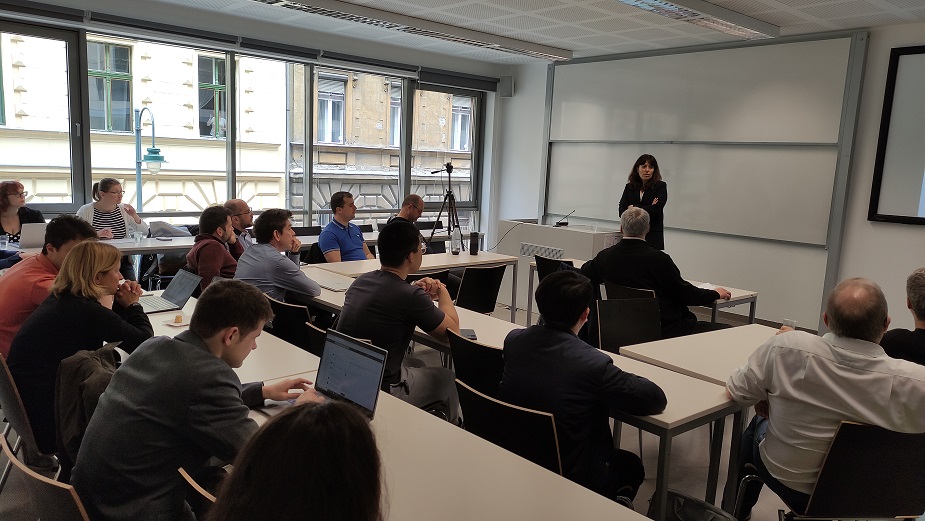 We asked her about the differences between US and EU-based research methods, the average publication process, and how the Bundesbank assisted her and her Hungarian colleague in accessing data exclusive to regulatory institutions.
How did you start doing research as a job, and what do you like about it?
After finishing university, I worked in the banking industry for around two years. I had the chance to work in option trading and became familiar with the operational side of banking. Then I pursued my Ph.D. and discovered that the research process suited me well. I enjoy taking my time to think deeply about a certain topic. I find pleasure in finding potential solutions and working out the methodology, research questions, and identification process.
Additionally, since 2016, I have had the opportunity to return to the industry as well. I am currently a board director at two large companies, Le Credit Lyonnais and Dassault Systems. This allows me to combine the operational side of the industry with the research environment.
Which part do you like the most about the research process?
The first 12 months are always very exciting. Developing a new model presents a beautiful intellectual challenge. After that, the process becomes a marathon. As researchers, we need to remain persistent because the publishing process can take years. For example, my colleague Andras Fulop and I worked on a paper for ten years.
What is the average waiting time for the publishing process?
For researchers coming from Europe, it is usually 4-5 years. The publishing process is US-centric, so academics working in the United States experience a slightly faster process, taking around 2-3 years. The waiting time depends on the visibility of the researcher and the topic itself. It is quite challenging to write a paper that remains relevant after 4-5 years, so researchers usually focus on economic questions that address general economic issues, as they tend to remain relevant over time. The more typical the subject is, the higher the chances of getting published.
What is the main difference between how a Europe-based and a US-based researcher work?
Researchers in the US have a significant support infrastructure. They have 10-20 research assistants who can assist with various tasks. These tasks include data collection, data cleaning, and model creation. In Europe, I handle everything on my own. At the same time, researchers in the US are expected to produce more papers, typically needing 5 major publications in 5 years. In France, universities usually require 2-3 major publications in 6-7 years.
You work at ESSEC, which is ranked among the best management schools in France and is considered a top institution in Europe. Why is it such a prestigious institution?
ESSEC's prestige has a historical basis. Previously, ESSEC was only accessible to students who successfully completed a national contest. Although that is no longer the case, we still attract very talented students. However, we also lose some talented students to other schools. Additionally, ESSEC is not exempt from having tuition fees.
Over the years, research at ESSEC has improved. We have placed more emphasis on the research profile in recent years, and our faculty has become more focused on specific topics.
Let's talk about the topic you are presenting at Corvinus. What intrigued you about it? András and I were interested in the CDS market and conducted research on its industrial organization, such as how it works and what the transaction costs are. Initially, we lacked the necessary data to delve deep into the subject. Access to this kind of data is typically granted by regulators, and we were fortunate to collaborate with the German National Bank, the Bundesbank, which provided us with access to the data.
How do you obtain this kind of data?
Fortunately, the Bundesbank is one of the most advanced central banks in Europe in terms of research activity. They recognize that conducting research on their data can lead to a more in-depth understanding and aid in market regulation. This is particularly true for the CDS market, which is considered opaque, and it is important to comprehend the consequences of this opacity. It doesn't necessarily imply that it's a negative aspect, but it is worth examining its trade-offs.
One advantage of the Bundesbank is its centralized nature. If their committee grants access to the data, you will receive all the necessary data. It can be a bit challenging since they don't allow VPN access, meaning you must physically be present in Frankfurt to access and work with their data. However, it is certainly worth the trip.
What topics would you be interested in as a researcher?
I constantly feel that there are more topics than I can work on. However, if I had the time, two fields that are currently very interesting are the electricity market and the price of carbon.