The Corvinus Senate elected Patrick Bohl as Dean for Executive and Postgraduate Specialisation Programmes at the end of September. We asked him about his professional plans in relation to his new position. His objectives include expanding the educational programmes, building relationships with lecturers based on trust and streamlining the dean's function. He intends to continue his teaching work in the DSG and MBA programmes.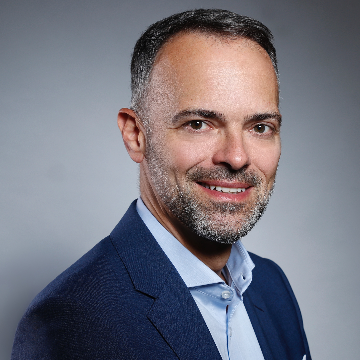 Recently he has been elected by the University Senate as Dean for Executive and Postgraduate Specialisation Programmes. Why did you apply for this position?
I came here because I like teaching. I believe that there is even more potential at Corvinus than what is being realised currently. I intend to use my past managerial contacts and I believe I can do even more for my goals as a dean. It is important that students come back to us in a few years' time after their master's programme to study further, because life-long learning is for everyone. It must be understood that knowledge gets outdated: what we learned 10-15 years ago may no longer be relevant today. Postgraduate courses are for a broader circle, not just for economists; just think about it, for example, if a doctor opens their own practice, they need a basic knowledge of economics. We can help a lot, and we would like people to learn the skills they need to do their job through quality educational programmes like the ones Corvinus provides. We will also have a number of short programmes which do not provide a new degree, yet are better suited to the needs of companies. I consider these forms of education particularly relevant since Covid, as many people are preparing for a career change. These courses generate income for the University, thereby supporting the Corvinus rebranding programme.
You have been teaching here at Corvinus, mainly in English and German, as an assistant professor at the Institute of Marketing and Communication Studies, and you were also the head of the German-language DSG programme. What do you think of the students, to what extent can they benefit from the opportunities offered by the University?
There is a major difference between the students of the bachelor's and the master's programme What I see in the first few years is that they are very unsure of themselves, they don't know what they are really good at or what they will choose later. Due to Covid and a lot of online education, they are struggling with communication, these skills need to be developed through modern teaching methods. At the master's programme level they are more conscious, and I am very happy to say that I meet many young people from abroad in my lectures who have compared several master's courses and have chosen Corvinus, primarily because of its good reputation.
What do you consider the three most important elements of your professional programme?
One of my key objectives is to expand the range of educational programmes also in the area of non-accredited courses. Corvinus has enormous, sometimes very specialised expertise with genuine market value, but we have not yet managed to exploit it sufficiently or put it to market. As an example, we teach project management and we have a coach training course, but we have received feedback from a number of companies that they would need agile coaches, therefor it would be worthwhile to develop a shorter, but non-accredited, training course in addition to that.
My other objective is to develop a close and trusting relationship with the lecturers and the degree programme managers. I want as many lecturers as possible to find additional training opportunities within Corvinus beyond the teaching framework. For that we must find out what motivates the lecturers. As a dean, I work in a matrix: the development, promotion and marketing of the subjects are in different hands. My job is to coordinate these fields, which requires trust.
My third objective is to make the dean's function a bit more structured, streamlined and efficient. Some things are overcomplicated and others are missing from the system. An example of the latter is the innovation culture, which encourages colleagues to take time for continuous improvement.
In your vision, what is the most important role of lecturers in executive and postgraduate specialisation programmes? Developing students' skills, transferring the most up-to-date knowledge, building a professional community to achieve synergies?
I agree with all three, they are all important. As I would put it, lecturers are the heart of Corvinus. They have the knowledge, and they also have the set of connections to the profession. Fortunately, the postgraduate specialisation programme and the non-accredited courses are excellent in building up live professional contacts to achieve professional reputation and recognition, which can then lead to further research or consultancy projects.
If a lecturer wants to go further in a particular area that they cannot do within the 'normal' educational framework, then they should have the opportunity to excel in it. I sat down with each of the degree programme managers one by one, and I can see that everyone is moved by something different. I have been a manager for quite a while to state: there is no general motivation tool. For some people it is important to be consultants or to have a research project, some are inspired by reputation, some are motivated by being able to earn more by teaching in a postgraduate specialisation programme or an MBA programme. I think it's important to know what matters to whom. If there is the right motivation and confidence, then we can work effectively. Without the support of the lecturers, my hands are tied.
Please highlight the key milestones in your professional career that you consider to be decisive for your current work.
My goal is to put into practice what we teach: to develop a product with a market-oriented approach and a vision. This, however, requires a sort of change management. I have been in several situations where this was necessary. Here in Hungary, e.g., I worked as a manager at Malév, when an old-fashioned, slow organisation became an agile, modern company, but also Budapest Airport needed strong change management because of the Covid. I will use this in my work at Corvinus, which requires the right communication and management style. I have always worked in B2B (business to business) marketing, my strength is building relationships with companies and creating value. I see potential in this too, in cooperation with the CIR, the department responsible for corporate and institutional relations.
In addition to your duties as dean, do you plan to retain some of your current lecturer's/research/leadership activities, or do you intend to concentrate entirely on the responsibilities of your new position?
I realise that I have little time left for my previous activities. Currently I teach in the MBA and I would like to keep it, because it allows me to stay in touch with one of the most important groups of students. In addition, I would like to continue to support the DSG, next semester there will be an Introduction to Marketing subject, which I would also like to teach. Unfortunately, I cannot undertake more than that. This is the only disadvantage of this position, i.e., I really don't have time for anything else – not even research.