Vienna University of Economics and Business (WU) hosted this year's final of the Danube Cup international student pitch competition. The winning team came from the Johann Kepler University of Linz. In 2023, the competition will be co-organized by the University of Passau, OTH Regensburg and the University of Regensburg, combined with a multi-day start-up bootcamp.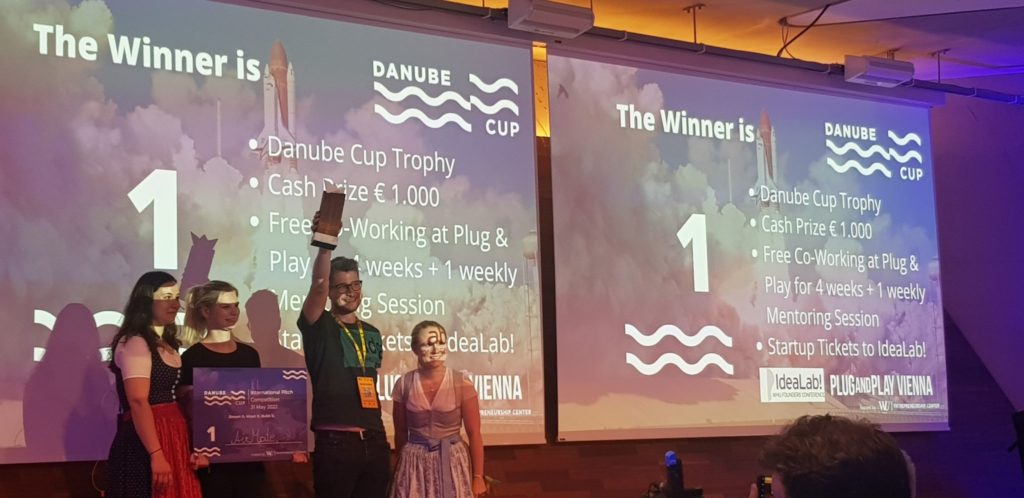 All preliminary expectations were exceeded by the Danube Cup Community Day and Pitch Competition, which took place at WU Vienna between 30 and 31 May 2022. This was the first time that the final of the Danube Cup Competition, launched by Corvinus University and BME Faculty of Economic and Social Sciences (GTK) six years ago, was not organized in its original venue, Hungary, but at one of our most important partner universities, the WU Vienna instead. The organizers praised the fact that WU Vienna's rector entered into a license agreement with the rectors of Corvinus and BME universities for the use of the joint EU trademark of these two Hungarian institutions.
Students and lecturers from 7 universities in 4 different countries participated in the two-day event where they celebrated entrepreneurship together. The competition itself was a huge success. A large number of interested people followed the programmes that were organized as integral parts of Entrepreneurship Avenue and ViennaIP'22 events.
In recent years, Danube Cup has evolved into a very strong international community. Both students and professors feel the importance of an international network and a secure collaborative background.
The Hungarian team could not have participated in the event without the support of the following partners:
77 Elektronikav Kft.
The Budapest Chamber of Commerce and Industry (BKIK)
Tresorit Kft.
Masterplast Nyrt.
National Research, Development and Innovation Office (NKFIH)
BME Faculty of Economic and Social Sciences (GTK)
Corvinus University of Budapest