The Institute of Finance's research seminar series brings renowned international researchers to Corvinus every week. Most recently, Ibolya Schindele gave a presentation on the impact of positive information sharing on bank lending.
One of the objectives of the Institute of Finance's research seminar series is to bring researchers of the international finance profession to Corvinus TO discuss their forthcoming papers with fellow academics and doctoral students. In addition, colleagues from the Institute of Finance are able to consult on their research topic in person with the invited speaker.
Ibolya Schindele, invited speaker at the last seminar of the series, is a lecturer at CEU and an external research fellow at the Hungarian National Bank. Her most recent presentation was based on the study "The Impact of Positive Information Sharing on Banks' Lending to Households" by Tamás Briglevics, Artashes Karapetyan, Steven Ongena, and Ibolya Schindele 2022.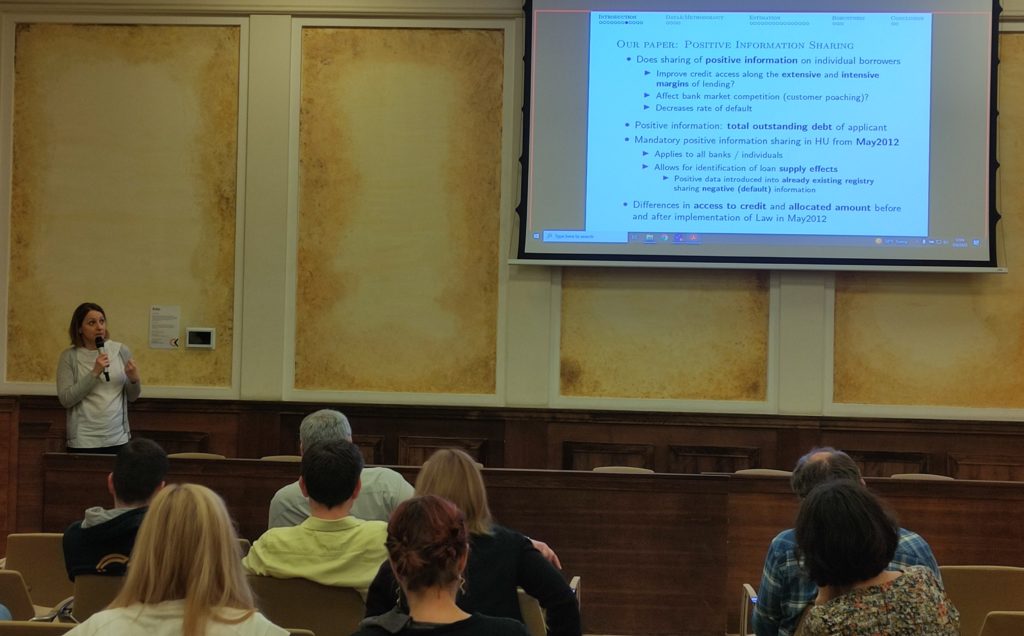 The co-authored paper investigates how the Central Credit Information System, a database of information on debtors, introduced in Hungary in 2012 and available to all banks, affects the lending practices of banks and households' access to credit. In their study, the authors show that in the months following the introduction of mandatory information sharing between banks, there was an overall increase in access to credit, successful loan applications and the amount of credit taken out, regardless of whether lending banks had prior information on borrowers applying for new credit. Moreover, default rates also decreased. The researchers hypothesise that positive information sharing between banks can therefore increase aggregate welfare.
The study examines all loan applications (accepted and rejected) submitted by individuals to banks in the months before and after the information sharing was introduced in May 2012. Thus, the study is based on an analysis of more than one and a half million credit applications submitted by customers for any type of consumer, mortgage, credit card or other loan.
Ibolya has had a distinguished international teaching and research career. She graduated from Corvinus University and also holds a Master degree in Economics from the CEU. She received her PhD in Financial Economics from the University of Amsterdam in 2005. Her research interests include corporate finance, banking services and financial intermediation. Her major international publications examine the functioning and lending practices of banks and the impact of stock market liquidity on corporate operations.
Ibolya was an associate professor at BI Norwegian Business School for several years after receiving her PhD. Between 2012 and 2014, she worked as a researcher at the Hungarian National Bank, and since then she has been managing research projects there as a freelancer. During her career, she has been a visiting lecturer at several other European institutions, including the University of Vienna and the Toulouse Business School in France.
"As I have practically lived abroad since my doctoral studies, I had little insight into higher education in Hungary. One more reason for which I was very happy to be invited by Corvinus. It is good to see how much positive change has taken place at the university in recent years," says the researcher.
"Together, Corvinus and CEU gave me the foundations in economics and finance and taught me how to approach professional issues," recalls Ibolya of her university days.
According to her, the most important task of university education is to provide students with a solid theoretical foundation and a framework for thinking: "I have seen the same approach when teaching in Western European business schools. I think that if you have the theoretical background, it's easier to get into the business of economics."