Gergely Zámbó, student of Corvinus and his fellow student attending the Budapest University of Technology (BME) invented a deodorant spray bottle refilling machine, and a drug store chain has already made the first unit available to the customers. Refillable deodorant sprays are environment-friendly and cheaper than their predecessors. Interview.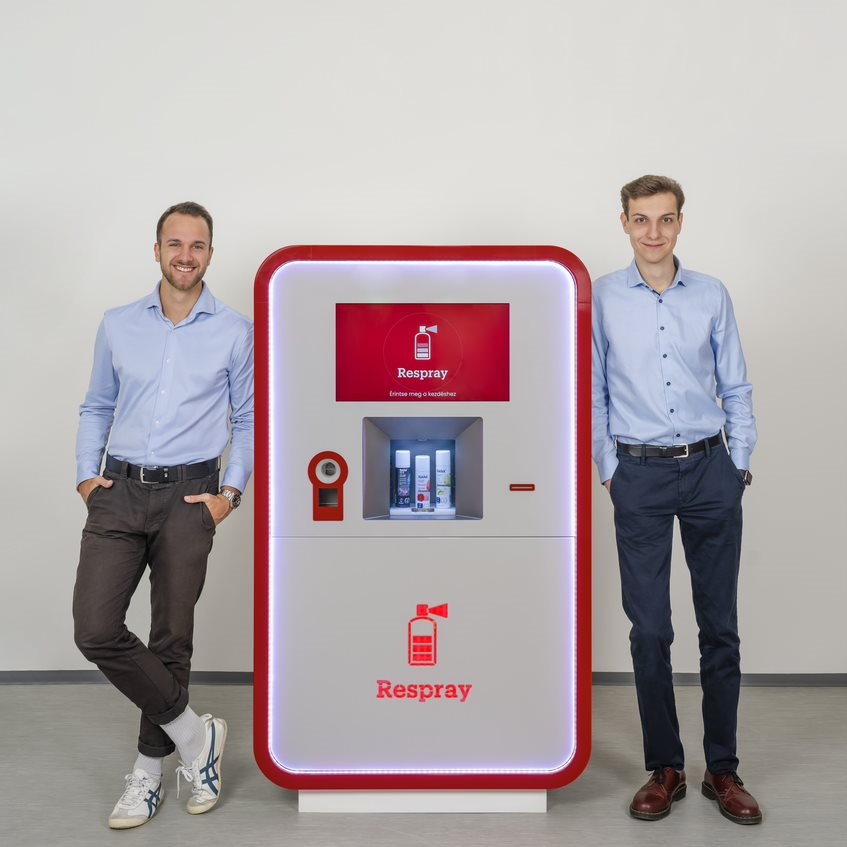 Gergely Zámbó (left) and Andor Réti
How did it start, where did you get the idea? 
Andor Réti, co-founder of Respray Solutions Kft. and I were classmates and good friends in the Eötvös Secondary Grammar School. We both thought we would like to start an own project. We are both passionate about the world of enterprises and environment protection, and started to talk along that line, primarily about environmental problems still waiting for a solution. After the secondary school I came to the Corvinus, I study finance and accounting, and if all goes well, I will finish the bachelor programme in this semester. My friend, Andor attends the faculty of mechanical engineering at the BME. We felt we should manage the issue of environment protection ourselves, and we fully agree with the statement of Robert Swan, explorer: 'The greatest threat to our planet is the belief, that someone else will save it'. In Hungary, 12 million deodorant spray bottles are discarded every year, and in Europe this number is 1.8 billion. These discarded bottles are burned, as the high pressure in them makes them hazardous waste. The manufacturing of new bottles (made of aluminium) also pollutes the environment heavily. So we thought we should refill one bottle several times – this was the 'that's it' moment. There had been no machine that could have done it with the deodorant sprays, we were the first in the world!
Is refilling cheaper than buying a new deodorant?
Approximately 50% of the price of cosmetic products is packaging, and in the case of deodorants, it is even more. So, refilling does not only save the environment, but it is cheaper, too. 
I read that you collected investments of HUF 70 million. How did you do that?
In the spring of 2020, we participated in one of the incubation programmes of the BME, after that we had the first risk capital investment and founded the company and created the first prototype. We tested it, fixed several things on it, and then we were able to show something to the investors. After another round of investments, we created the machine that was already suitable for refilling deodorant sprays for the customers.
How did you get to Rossmann?
We met András Gyenes, who used to be the CEO of Unilever before, and is a well-known FMCG expert. (FMCG: Fast Moving Consumer Goods.) He suggested that we should contact Rossmann, and helped us to meet László Flórián, Managing Director of Rossman Hungary. Environment is high priority for that company, too, so our cooperation with them is absolutely problem-free.
TSo, where should I go if I wanted a refillable deodorant spray?
Most Budaörsön van olyan üzletük, ahol meg lehet venni a palackot és fel lehet tölteni. Egyelőre három Now they have a shop in Budaörs where you can buy the bottle and refill it. At the moment, you can choose from three fragrances. The first filling costs HUF 599, and the other four – you can refill the bottle four times – cost HUF 299 each. However, our machines will be available in two new drug stores in the city of Budapest, too.
From a certain aspect, high inflation is good for your invention, as Hungarian customers traditionally look at the price first, when buying something, and in these days everybody wants to save money.
Yes, that is true. Originally, we thought that this solution would be popular primarily among young people, but we had a pleasant surprise. From very young people to the elderly, everyone is interested! Within the opening, there was a press conference, where we invited celebrities, too, to promote our product. Two marketing colleagues, Anna Kálmán and Ábel Zoboki helped us a lot, and so did two software developer colleagues, Dániel Kiss and Doma Pálvölgyi.
As I see it, there are already a lot of eco-friendly activities, but, sadly, most people find it had to accept new things. Especially when they have to do something for it, even if it is just a small thing. Change is rather slow in the heads.
I believe that with adequate communication we can educate people about sustainability. It may motivate people if we show them how simple it is to use the refilling machine, and that it is financially better for them to select the refillable version. It should be trendy and cool to do that! I think that my generation is perhaps more interested in environment protection, but it is still not enough. We think that environment protection can only be successful if people have to make minimum compromises, otherwise they will not do anything. It is not complicated and tiring to bring an empty bottle with us when we go shopping.
What are your plans for the future?
In this semester I would like to complete the bachelor programme at the Corvinus, and I am planning to continue my studies later in a master programme. Now I have a lot of work with the company, as after the tests in Hungary, we are planning to expand first in the region, and then in Western Europe, too. Our long-term goal is to deliver our solution to as many people as possible, and to make the biggest possible positive impact on the environment on the cosmetics market.
In what way did the university help your business?
Within the education at the University, subjects regarding business planning and accounting were very useful to me, so that I could find my way in the world of investments and enterprises In addition to the subjects, the supporting atmosphere that characterises the Corvinus also helped me to continue my studies and work in parallel.