The first chance to join a student organization for international students.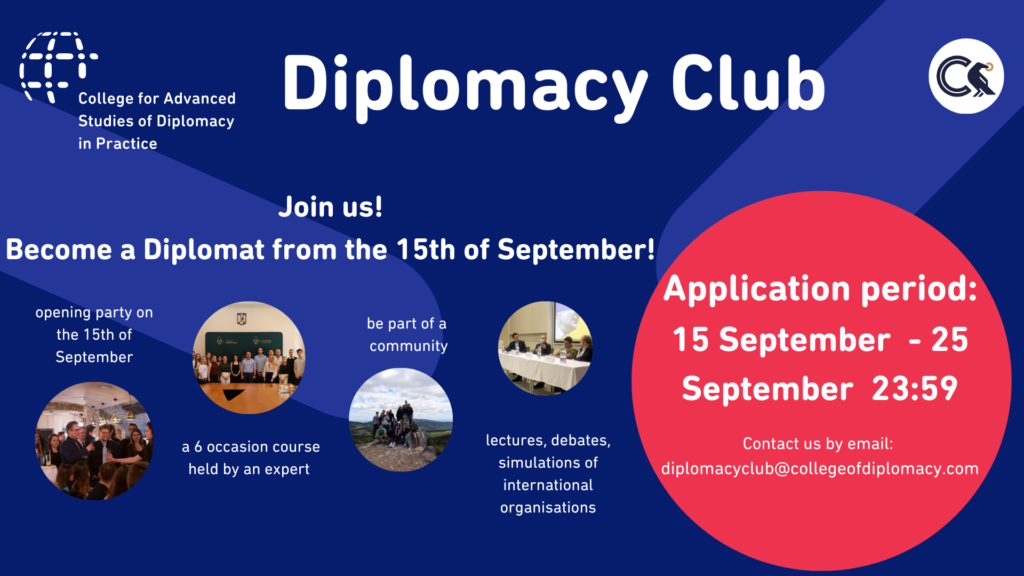 The College for Advanced Studies of Diplomacy in Practice (CASDP) created Diplomacy Club for those international students at Corvinus University of Budapest who would like to participate in discussions about international relations, diplomacy, social sciences, and the news of the world. You can find more information about Diplomacy Club here.
The application process started on the 15th of September and consists of two parts: an online written part through a Google form, then an in-person interview in Budapest.
The first round of the application opened at 21:00 (CEST) on the 15th of September and closes at 23:59 (CEST) on the 25th of September.
The form requires you to briefly answer a few creative and professional questions. In the week after that, we will notify you about the results via e-mail.
If you successfully qualify for the second round, you have to attend a short interview where we can get to know you more. The planned dates for the interviews are the 30th of September and the 1st of October. You can state your exact time and place preferences in the application form.
The final participants will be notified via e-mail on the 3rd of October at the latest.
Please note that this programme is only for international students who attend Corvinus University of Budapest.
In case you have any questions, please contact us here: diplomacyclub@collegeofdiplomacy.com.