In early February, two Corvinus student teams (in two categories) won the tourism innovation competition. One of them simplified the process of exchanging cups in restaurants, while the other came up with a new app presenting the capital's cultural and entertainment options.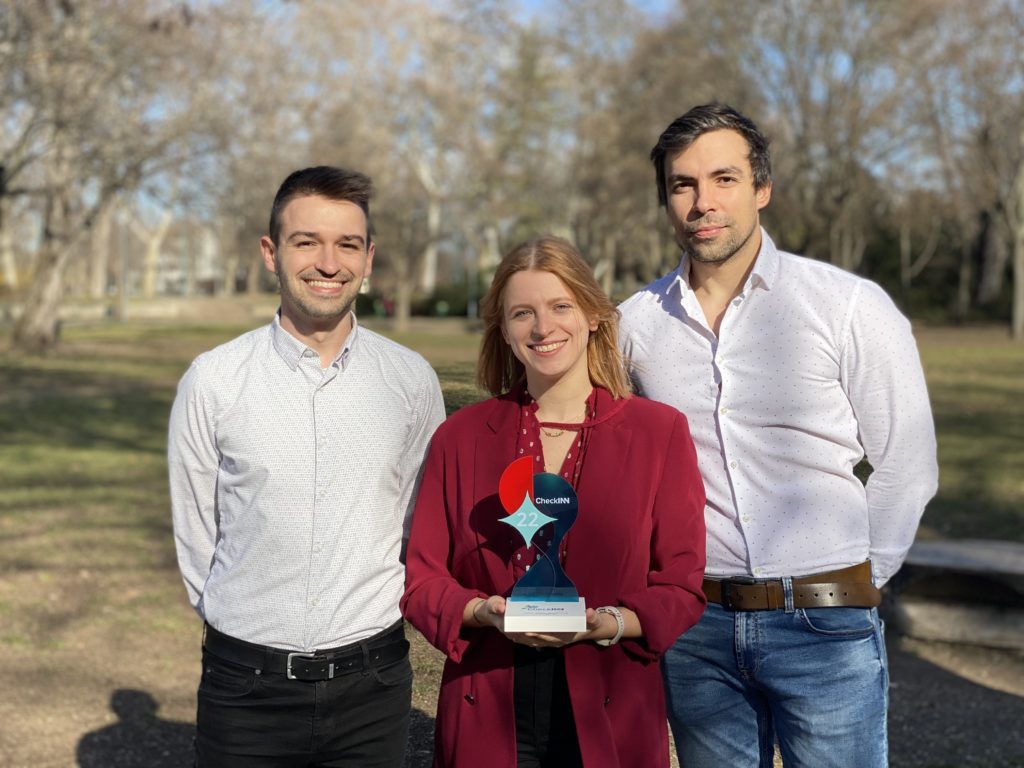 According to experts, a festival lasting 4 days and attended by tens of thousands of people generates around 40 containers, or 400 cubic metres of waste, 80 percent of which is disposable paper cups. There is already a solution to reduce this gross pollution: guests are given drinks in reusable plastic cups, which they can exchange on the spot – not for money, but for a token, a plastic coupon. This token can then be redeemed for a cup at other catering outlets also participating in the scheme. 
Blanka Lénárt and Lénárd Szatmáry (the third member of the team is Virág Mezei), winners in the hotel and catering category of the recent CheckInn innovation tourism competition, say that their idea for Budapest Reloaded is precisely to innovate to improve on this fundamentally good and environmentally friendly system. "The conditions under which tourists can enjoy their meals here are also decisive for them. It is well known that many young people from abroad come to Budapest for a stag or hen party, to relax, or to get to know Hungarian culture. A reusable cup is a good thing, but unfortunately these tokens are often difficult to return, as most people put them in their pockets or wallets, lose them or simply leave them at home. So we've worked out a way for everyone to scan the QR code on the cups into a mobile app where they register. This way it can't be lost and everyone carries their phone with them at all times," says Lénárd Szatmáry.
"This will be useful not only for people who want to have fun, because the app will offer personalised programme options based on the position of the cup, but also for catering establishments: they will have a database of people who visit them, know their consumption habits and the frequency with which they are visited. They can get important basic data about their guests, on which they can then build enticing promotions as a marketing tool," says the Corvinus student. Blanka Lénárt adds that caterers will then have a better idea of what kind of programmes their customers really demand, and will be able to broaden their offer accordingly. They would also provide valuable information to a third stakeholder, the city administration, by showing real-time data on consumer movements in the city centre. Of course, they both add, they are aware that GDPR (data protection) is a key issue that they still have to deal with. 
There are lots of good programmes, but few people know about them 
The winners of the Active Tourism category of the competition, Fanni Klisóczki, Botond Nahimi from Corvinus and Tamás Fehér (who after Corvinus is now studying at ELTE) have invented an app called AmazeMe, which they imagine will offer a wide range of cultural and outdoor activities. "We felt that the problem was not the range of programmes, but that people don't hear about them," says Fanni Klisóczki. When I asked why people looking for good programmes would use this new web application, as there are already several options, the team says that there are indeed many programme recommendations, but they are very static, not filtered properly and do not provide up-to-date information. AmazeME will provide more, more detailed data than the existing options, tailored to the user's needs using a data-driven decision support system. For example, it could include productions by amateur theatre companies. 
I learn from the team that an important element of the app would be that it would get to know the user based on their previous choices and offer them options based on their personal interests: in other words, it would go further and offer a different programme. The app could even offer a dating programme to multiple users by matching their interests. Tamás Fehér stresses that the inclusion of institutions in the database would of course be free of charge, and would be worth it for them, as it would be free marketing for them overall. The possibility for an institution, such as a museum, to notify users when a major exhibition is about to close and to say that they can visit the exhibition for 2 more days, would require the institution to pay. However, developing this technology and partner system is a difficult, time-consuming and labour-intensive task.
Asked who they are targeting with these innovations, they all say young people in particular, but add that once they start using it, parents will get used to it. When I ask who helped them to develop their application at university, Blanka mentions Lívia Pintér Szabóné (who taught them tourism and marketing management), who drew their attention to this application and helped them to develop it. Fanni explains that she is a 'veteran' applicant and has won before. She was on Erasmus in Portugal at the time of the current application, but she and her team managed to do everything online. 
Asked if they could implement the innovation they have worked on, they all say it is possible they could do it. They hope that mentors can be found at Corvinus and they also hope for support from the Hungarian Tourism Association.