We asked the Deputy State Secretary about Corvinus loyalty, housing strategy, energy policy and university-business cooperation. Ádám Csepeti graduated from the Corvinus, where he also received his doctorate, and worked for nearly fifteen years at the Institute of Marketing and Communication Sciences before being appointed Deputy State Secretary for Strategic Affairs at the Prime Minister's Office in 2022.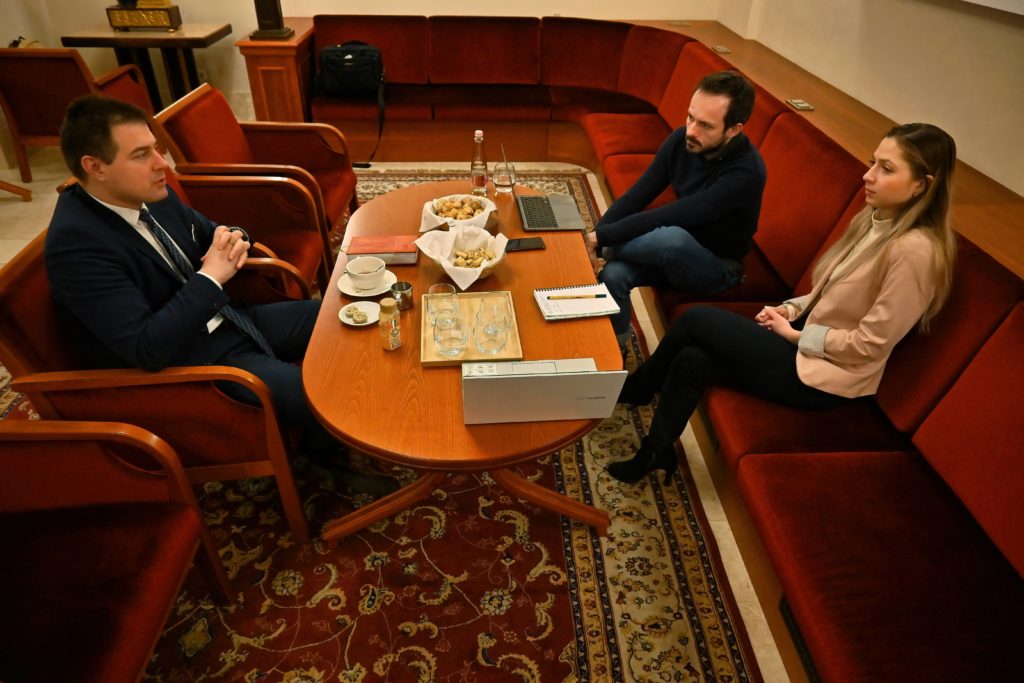 – What are the skills, the qualifications that can be acquired specifically at the University in order to go from Corvinus to Kossuth Square? 
– I studied at university back before the Bologna system. The structure of education was different then: I studied philosophy, psychology, political science, history of civilisation, and I also had to take strong methodological subjects such as mathematics, linear algebra, function analysis, statistics and accounting. I have acquired a deep professional and broad social science knowledge during my studies, which has been very useful in my career. Students now learn under a different system. Not only because the university offers many specialisations, but also because students have every opportunity to broaden their knowledge and focus on a particular area. 
Corvinus is also strong in soft skills. Not surprisingly, as over the past 10-15 years the University has placed a strong emphasis on developing argumentation, negotiation, collaboration, empathy, analytical thinking and rhetorical skills, so our students are ahead of the curve in communication skills. Since the model change, the University has placed even greater emphasis on these. 
My experience is that when you are learning, you don't know exactly what knowledge and competences you are being prepared for. You realise this when you try your hand in the job market and meet people from other universities.  
– You studied at Corvinus from the bachelor's programme to doctoral school and then continued your career as an employee. What kept you here? What gave you loyalty to Corvinus? 
– One factor was the economic situation. I graduated in 2008, just as the mortgage market crisis in the United States was beginning to take hold and the housing bubble seemed about to burst. Thanks to my parents, I was able to live at home for many more years, so I didn't have to pay for a rent. I also had inspiring teachers, András Bauer and József Berács, who encouraged me that it was worthwhile to continue my studies in a doctoral programme. I also encourage current doctoral students to make the most of their doctoral years and, if they can, not to work alongside them. It's a great opportunity if you have enough time to immerse yourself in a subject. Doctoral studies give us the opportunity to synthesise the experience we have gained so far. 
Back to my doctoral years – the crisis hit. Between 2008 and 2013, Corvinus University was also on shaky financial ground and therefore needed additional revenue. As doctoral students, we started working on corporate projects: writing market research, communication plans and branding concepts, holding sales workshops. I put a lot of energy into these projects, so I quickly became the leader of these projects. 
– Did the company approach the university? 
– No, we proactively approached companies. At that time, the organisational set-up of universities was different: there were foundations through which companies could work under preferential tax conditions. The company received the service at a reduced rate and we were able to earn a relatively normal additional income after paying the overhead costs to the University. I soon started a separate company, which gave me a lot of experience with both foreign and domestic clients. I have worked in market research, marketing strategy, marketing communications, tender writing, tender management, strategic consultancy and organisational development. 
During the doctoral training we had to teach classes, it was a great experience to teach young people aged 20-21 at the age of 23. And the young doctoral students were under pressure, so in addition to Corvinus, I also taught at the College of Physical Education in our joint training, and in Miercurea Ciuc (Csíkszereda), in our joint training with Sapientia University. At the request of Professor Berács, I continued the Transylvanian line at the Babes-Bolyai University in Cluj-Napoca (Kolozsvár), where I also became a Romanian employee. I still have strong ties with Transylvania: I have been involved in the economic life there, I have participated in conferences, I still mentor the Marketeam College in Cluj and I was elected Vice President of the Hungarian Economists Association of Romania in 2020. 
– What are your duties as Deputy State Secretary? 
– Earlier I have been asked several times to take up a public service position, which I have turned down each time. This time I was approached by my best friend Miklós Panyi, who works as the Secretary of State for Strategic Affairs, and after a night of thinking I said yes. I took the job because we have a lot of work to do. We need to change the way the country works, we need to rethink development trends, we need to work on our competitiveness and on important social issues, and as Deputy State Secretary I can do much more for the country from the inside than I could as a university lecturer. 
At the State Secretariat for Strategy, our most important task is to ensure cooperation between the different ministries on complex, cross-sectoral issues. Such as competitiveness, Roma inclusion, or housing policy. To move forward on issues such as housing, we need to take into account youth policy, family, energy efficiency, digitisation, construction, so at least four or five different ministries need to be involved in thinking and working together. 
– Speaking of housing policy, this is a pressing issue for almost all Hungarian students. Places in dormitories are scarce, and after starting a career, with rising housing prices, it is almost impossible to get an apartment in Budapest on your own without external help. How do you plan to change this? 
– I'm going to start a little further back, because we're talking about a complex problem. Providing housing has never been an easy task, and let's face it, countries better off than ours have similar problems. No matter how advanced the social rental housing system is in Austria or Germany, it is not easy to acquire a flat of one's own even there. It is also a fact that our parents' and grandparents' generation did not immediately start life as owners of flats. And in the last 20-30 years, as good quality, new-build housing has come onto the market, our expectations have become higher. I don't want to fool anyone: At the age of 22-23, it is not possible to buy a new home in Budapest, e.g. in the ninth district, on your own. 
The government is aware that there is work to be done, so focusing on young people is a top priority. We have taken a number of measures to help young people plan to start a family and improve their labour market opportunities. Just think of the personal income tax exemption for those under 25 or women under 30. The Student Loan 1-2 schemes were also created to help students continue their studies with interest rates that are more favourable than the rates on the market. Here too, we support mothers who want to have children: Under 30 years of age, if you have a child within 2 years of graduation, we will forgive your student loan debt. These measures are all designed to help reduce the burden on young people, giving them more resources to help them find housing. 
Another important action for the government is to expand the supply side of the housing market. This could include, e.g. the construction of service housing for police officers, nurses, teachers in specific public professions, and improving housing conditions for disadvantaged young people and single-parent families. 
– What progress can be made on increasing the number of places in dormitories? 
– As the government aims at increasing supply, universities should follow a similar strategy. Of course, at current interest rates and construction inflation, this is hard to imagine, but universities that want to offer European quality education should have as one of their medium- and long-term strategic goals the expansion of their dormitory capacity. In addition, owning your own property can also increase the institution's own sources of income in the future through asset utilisation activities. The Student City project planned to be implemented in Csepel would greatly improve the situation in the capital, but at the moment I see a lot of professional, financial and political obstacles to its short-term implementation, so for the time being we need to think about other alternatives. 
– News broke at the beginning of January this year that universities operating as public interest foundations, including Corvinus University, will not be eligible for funding from the Erasmus+ programme funded by the European Union. Since then, there have been several statements from the government, but it is not clear where the case stands. (The interview was recorded on 9 February – The Ed.) How do you see Erasmus study grant for students studying at universities run by foundations? 
– First of all, it should be made clear that it is now 2023, and the payment of students currently on study grant is not affected in any way by the current situation. Brussels' action has taken the Hungarian government by surprise and must be taken seriously. With this step, all Hungarian universities have been labelled as 'risky', and this affects not only student study grants, but also potential research projects and international cooperation. We are negotiating with the European Commission under the leadership of Minister Tibor Navracsics, and the government is willing to change the rules, which is why it was announced on 9 February that all ministers will resign from the boards of trustees. We anticipate that this will not be enough, but we are waiting for clear feedback from the EU on how we should change the rules for the boards of trustees of foundation universities. Starting with the rules for membership and ending with the principles for re-election. We expect complex negotiations, but we aim to reach an agreement as soon as possible. (Since the conversation on which the interview was based Government Commissioner László György has resigned as a trustee of the Corvinus Foundation – The Ed.) 
– In what direction can Hungarian energy policy move in the coming years? 
– This is a very complex issue, where we have to see first of all that until 2020 the vast majority of energy needs were well met by the relatively cheap and stable supply of Russian gas and crude oil. This model was brought to an end by the outbreak of the Russian-Ukrainian war, which also significantly accelerated the energy transition. We must enable Hungary to free itself from dependence on fossil energy carriers. To achieve this, we need to increase the country's electricity generation and grid capacity by 55 percent by 2030, which will have to come mainly from renewables and nuclear, but we will certainly still need gas-fired power plants that can be built quickly and are flexible. Without exaggeration, we are facing the biggest challenge of the past 30 years, but a change of model is inevitable. And if we do everything right, Hungary will have a more diverse and modern supply than it has today. 
– How does the University currently interact with companies? What other opportunities can be exploited to make this cooperation as successful and profitable as possible? 
– It is a legitimate goal to generate significant additional income from corporate relations at Corvinus, either from consulting or research and development services provided to companies. In my view, human resources are stretched in so many directions that few people have the capacity to also provide business advice, so it would be worth setting up a 30-40 strong team dedicated to this. It is also important that those who negotiate with partners are aware of the scientific resources and skills of their colleagues, and know how to turn scientific competences into a business value proposition for companies. We did the same during our doctoral student years, although at that time the framework was looser and less organised. We looked for a company ourselves, did the work and provided income for our research and teaching colleagues and the departments concerned, within the limits set by the university administration. The University of Győr receives billions from Audi, e.g. through research and development projects and subject sponsorship. If Corvinus also develops these frameworks well, it could generate significant revenue. 
Written by László Tucsni and Hanna Petrás