We talked with the organisers of the first university farmers' market about their OTDK-winning research, sustainability, alumni farmers, and the benefits of a farmers' market.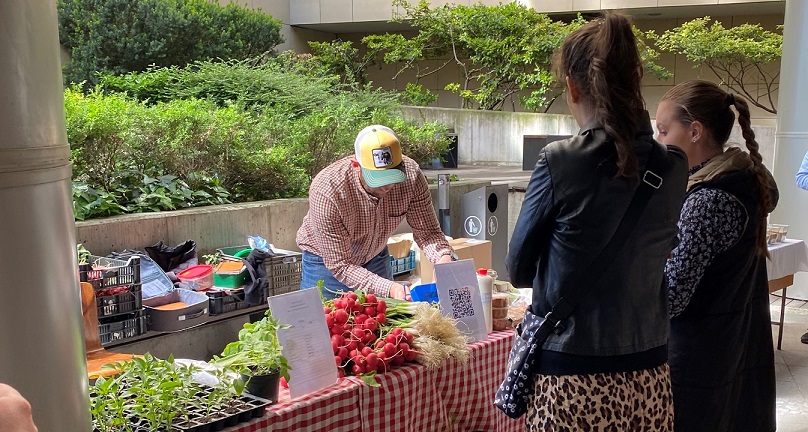 A packet of lettuce, two cloves of onion, half a kilo of cheese, a box of apple juice, two kilos of apples, 50 kilos of strawberries, a jar of honey, a bag of rice, this is not a shopping list, but a few of the products that will be available for purchase in front of Building C on 9 May from 9.30 to 15.30 at the first Corvinus farmers' market.
What is the farmers' market? Why is it preferable to shop here than in a supermarket? Why is the Great Market Hall so different? Who will sell here? Is there even a demand for this? These were the topics we talked about with the project's creators: Gréta Maró, PhD student at Corvinus, Áron Török, head of the Department of Agricultural Economics and Zalán Márk Maró, Assistant Lecturer at the Department.
Is there even a demand for a farmers' market at a university?
60 per cent of students would buy and 35 per cent might buy at the weekly farmers' markets on university campuses, according to the research that assessed farmers' markets from an economic and social perspective. Gréta Maró joined this project as a Master's student, she won the Agricultural Marketing subsection of the National Scientific Students' Associations Conference.
Although there is a demand, 69% of the students previously shopped at a farmers' market, only 31% of them do so regularly. Their main barriers are that they do not know about these markets, or that it would be inconvenient for them to shop there because its location or the opening hours are not so university-friendly.
The study was carried out at the national level, across several universities, and three groups of students completed the questionnaire. The first group included the health-conscious shoppers who are the most committed and willing to spend more to get high-quality local food. There were brand-loyal buyers who are less open to farmers' markets and price-sensitive buyers who, if they find the product valuable and hear good feedback, are also willing to buy here.
The university market creates convinience for students
"It is great that we did a research that resulted in a publication, but what if we could implement it at Corvinus in the form of an awareness-raising campaign?" That is how the idea of a farmers' market started. The idea is not new: several universities in the United States have already organised a farmers' market based on similar research, which is where Gréta's research idea came from.
During the organization of the farmers market, they focused on the well-known barriers. "We make it convenient for the students, they don't have to travel extra kilometres, we invite the producers here," says Greta. "This is a place where students already visit during the day, so they can get to know current or graduated Corvinus students who have become producers and entrepreneurs".
In addition to the markets, better knowledge of the products is also an important aspect. "Many people don't even know which products are seasonal, so we want to promote a little bit more the idea of buying seasonal products from local producers to help them" says Greta.
She adds: "The producers are open to these opportunities, and most of them came without question, as they want to be known as much as possible by the students. It is also a problem that the typical customers at farmers' markets are middle-aged or older, so we also aim to promote them to younger people". 
Economically and socially, it is the most sustainable way.
"Short food supply chains are increasingly investigated areas of international studies. One of its defining sales channels is the farmers' market, which are clearly the most sustainable in economic and social terms," says Áron Török. "There are no actors between the producer and the customer, so the profit remains entirely with the producer".
According to Áron, the international literature agrees that small-scale producers are over-represented in the farmers' market, and that they are marginalised in longer supply chains. "For example, there are more women in the workforce or older workers, and there is also a direct relationship of trust between producers and consumers, which makes a farmers' market more socially sustainable."
The environmental picture is less clear. "Many people tend to think that this is the most obvious, but from an economies-of-scale perspective, it is conceivable that the carbon footprint of food purchased through large chains is lower. However, Hungary is a small country, so producers can reach the farmers' market with relatively short transport times. We think our market will also meet environmental sustainability, but of course this would require further research" says Áron.
Zalán Maró adds, "environmental sustainability is also in our favour in the sense that consumers usually travel several kilometres to buy a product or a group of products, but in the case of the university, students come in anyway, so the farmers' market is an 'additional service'."
Current and former students will also sell their products
In the field of agricultural economics, the last students of Rural Development Engineering are learning at Corvinus (from now available as a specialisation, called Agribusiness, for the students of Business Administration and Management). Several students who later became farmers graduated here. The invited producers will include graduates, Ph.D., and undergraduate students. "We knew them, we had a good relationship, and that is how we chose them," says Zalán.
There will also be another group of producers, they were approached on an ad-hoc basis with the aim of coming with complementary products. During the first market, they definitely wanted to avoid competition between products. "Greta and I sat down in front of Facebook groups and from there we selected producers who had 'fancy' products, good counters, and we saw that they could be open to such an initiative."
From a variety of seasonal fruit and vegetables to fruit juices, consumers will be able to buy products such as chilli, honey and various jams. "Many people don't even know that rice is grown in Hungary; they believe that we import it from the east. But we also have good quality rice and there is a tradition of growing it in Nagykunság. One of our former students will bring Hungarian rice, which I think is a curiosity in itself," says Áron.
Market Halls or hypermarkets are different from farmers' markets
One might ask what is the idea of organising a farmers' market when there is a market hall next to the university. However, here, it is not usually the producers who sell products, but mostly retailers, who buy from the "wholesale market". There is a small farmers' market on Fridays at the end of Great Market Hall, but there are fewer students visiting the buildings, and it is not an ideal time for students travelling home at weekends.
"This genre totally differs from ours. We don't compete with the Great Market Hall at all, we didn't want to go in that direction," says Áron Török. 'The main target audience of the market is the students and colleagues of Corvinus. Then, of course, if someone comes in from the street under the arcades, we are very happy about that too, but they are not the primary target group."
If the spring market is successful, we would also like to organise another one in the next semester. In particular, the organisers point out that everyone should bring a environmentally-friendly bag to pack their products in.
According to the organisers, the farmers' market should be approached with a slightly different perspective than if you were going into a larger shop. "Ask the producers where they are from. Maybe they are from the village next to where you live and you can buy from them later," says Greta. 'Every producer is present on social networks, so you can buy from them if you like their product,' says Zalán.
"Take advantage of the opportunities that the farmers' market offers over a larger store. Here, you can get information and link the strawberries or the honey you buy to a face. And when you eat it at home, you will feel much better, because on the one hand you have supported the work of a Hungarian small-scale producer, and on the other hand you will be sure to eat a good quality and fresh product" – concludes Áron.