Back to main page
Economic regimes and regime changes – BPÁ70
Conference to celebrate the 70-year old Péter Ákos Bod
---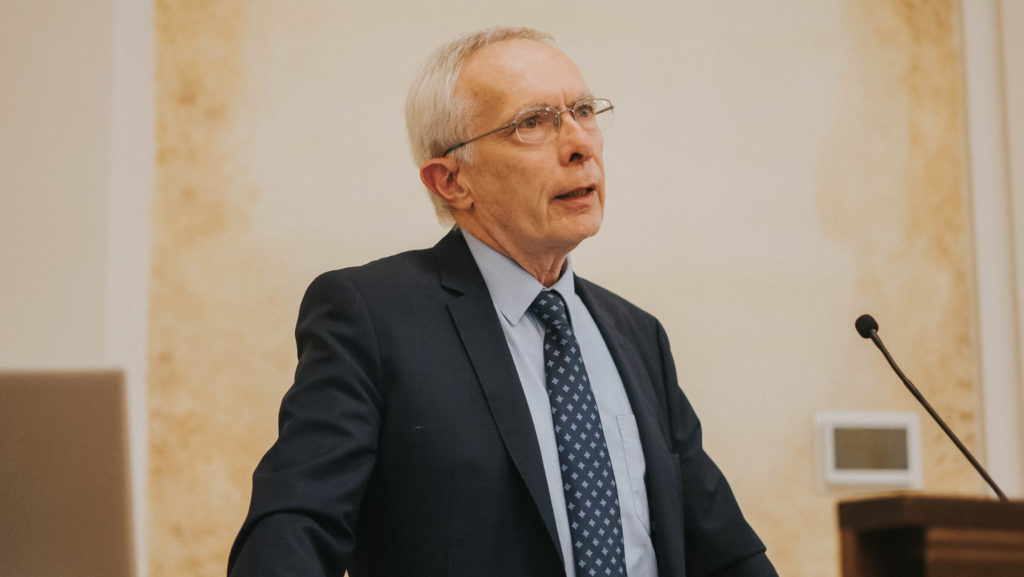 The Department of Economic Policy and Labour Economics of the Economic and Public Policy Institute at Corvinus University of Budapest held a conference to celebrate Professor Péter Ákos Bod's 70th birthday. The conference was titled 'Economic regimes and regime changes – BPÁ70' and took place on the 26th of November 2021 at Corvinus University's Lecture Hall III in the Fővám tér building. The conference was held in a hybrid form and could be followed on Microsoft Teams.
A leading Hungarian economist and economic policy maker of the past three decades, Professor Péter Ákos Bod was the Head of Department of Economic Policy at Corvinus and its predecessor in 2000-2015. Previously, he was Minister of Industry and Trade in 1990-1991, and Governor of the Magyar Nemzeti Bank (Hungary's central bank) in 1991-1994. In 1995-1997, he was member of the Board of Directors of the European Bank for Reconstruction and Development in London, UK. He has been a university professor since 1998, initially at Veszprém University (1998-2000) and at the Károli Gáspár University of the Reformed Church In Hungary (1998-2010). He has been a professor of Corvinus since 2000, and he was Head of Department of Economic Policy in 2000-2015. He has been a Doctor of Science of the Hungarian Academy of Sciences since 2014.
At the conference, Rector Előd Takáts, Professor Dóra Győrffy (as Chair of the Committee on Economics of the Hungarian Academy of Sciences) and Head of Institute György Hajnal lauded Professor Bod. The opening lecture was delivered online by Professor Leszek Balcerowicz of the Warsaw School of Economics, who was Minister of Finance and Deputy Prime Minister (1989-1991; 1997-2000) as well as Governor of the National Bank of Poland (2001-2007). Other conference participants included László Andor, Katalin Antalóczy and Magdolna Sass, László Árva, Péter Balázs, István Benczes, Edina Berlinger, László Csaba, Balázs Csontó and Júlia Király, Atiila Chikán, József Golovics, Balázs Hámori, Géza Jeszenszky, Michael Landesmann, Gábor Oblath, József Péter Martin, Tamás Mellár, Tomasz Mickiewicz, Péter Mihályi, Balázs Pál and Tamás Pál, Zoltán Pitti, Balázs Reizer, Ágota Scharle, György Surányi, István P. Székely as well as Ágnes Urbán. (For further details, see the conference program.)
Closing remarks were delivered by Professor Péter Ákos Bod and Head of Department Zoltán Ádám.
Conference presentations can be downloaded from here .
The conference organizing team included Zoltán Ádám, Diána Horváth and András Olivér Németh. Technical support was provided by Corvinus IT services.
Conference videos can be watched here: