Back to main page
ONLINE information – everything you need to know about taking your exam at home!
Starting from 2021, candidates can take language exams ONLINE!
---
Take a Corvinus Language Exam from your home!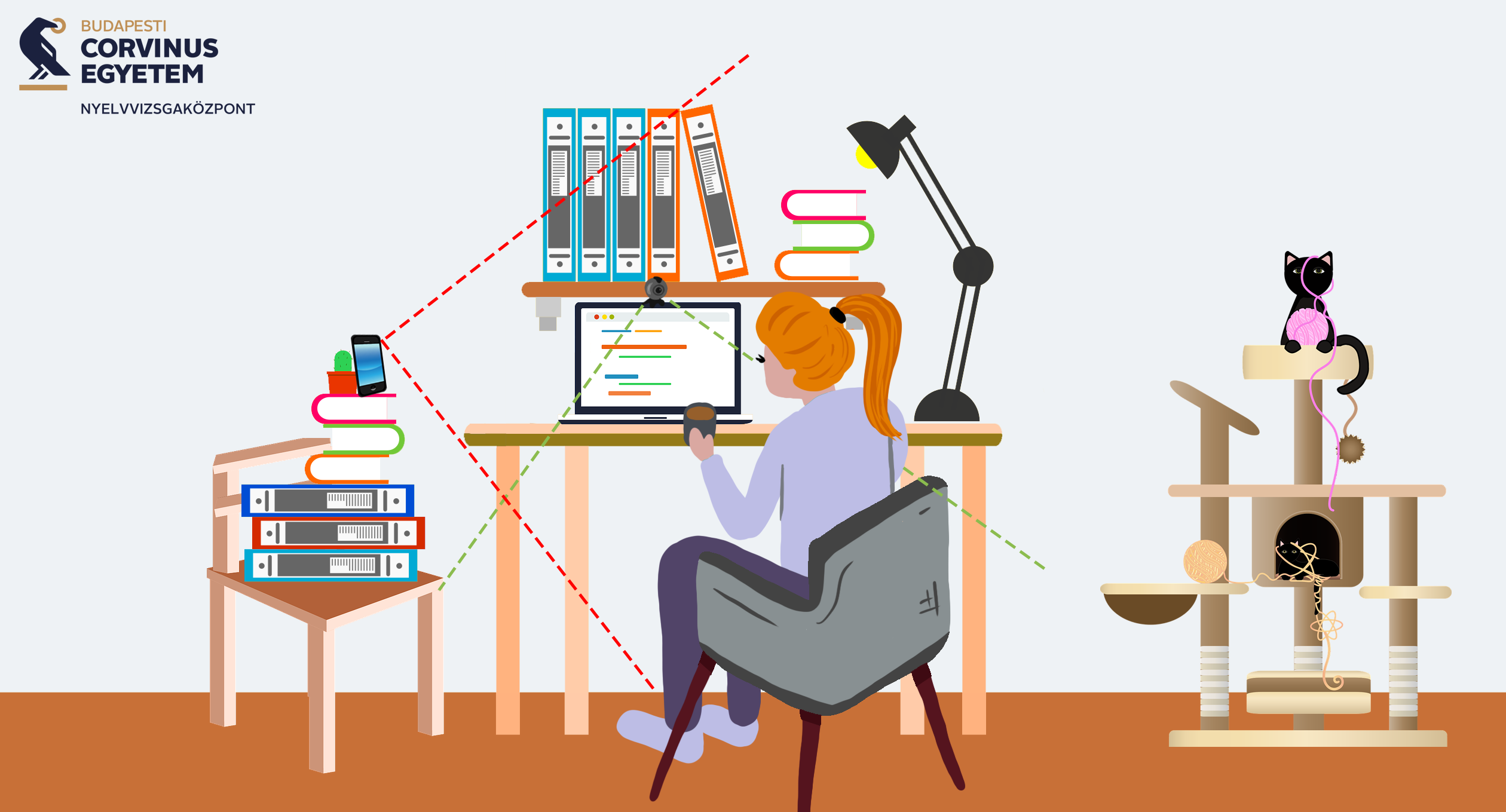 In addition to traditional paper-based exams, we organize ONLINE exams, starting from January 2021, whose structure, tasks, schedule and scoring system are the same as those of our well-known paper-based exams, but you don't even have to leave your room to pass your exam successfully.
What are the similarities and what are the differences between the Corvinus ONLINE exams and "personal" language exams?

ONLINE is more convenient as you do not have to travel and wait. You can take the exam in your familiar environment, without distractions, minimizing the possibility of losing focus of attention. Less stress, better achievement!

As the structure, timing, and scoring of exam tasks are the same as those of paper-based, traditional exams, you will receive the same, fully equivalent, state-recognized language exam certificates for both types of exams.

Visit the following link to see our exam dates and you can also submit your application here.

You do not have to worry about the readability of your handwriting, and you can correct what you have written at any time, and as many times as you want, we will only assess the last, final answer.

Submit an application to us, and take your exam from home!

You will need the following devices:

A desktop or a laptop with a camera, a microphone and a speaker – you'll be doing your exams using it, so this will be your primary device
A smartphone, a tablet, or a laptop with a camera for the transmission of rear and side video and audio stream – this will be your secondary device through which you will transmit the secondary video stream during your exams
Reliable internet connection (+ you are recommended to charge your mobile devices continuously)
Download these:

a ) Safe Exam Browser (SEB)
b) the configuration file from which you can launch the exam interface
c) ZOOM video conference application: https://zoom.us/download

For downloading, you can find the specific link in your Information Booklet on the application page.


At least 5 working days before the first exam event, log in to the exam interface to complete the uploads and tasks required for identification (upload your personal identification document and facial image, image of the venue, provide a sample of keyboard and mouse movements).

Arrange your own "exam room"!

Arrange the exam venue so that you can take the exam comfortably, not being disturbed by anyone during the exam (e.g. nobody should walk through the room)
During exams, the two cameras will continuously transmit the video and audio stream of you, and you will not be able to leave your seat during an ongoing exam.

The primary video and audio stream will be provided by the webcam of your primary device, or a webcam connected to your computer, which will be recording you from the front.
The video stream from your secondary device will show you from the rear and from the side (for that purpose, place your smartphone at a height of about 1.5 meters on a shelf or even on a household ladder)
During your exams you must not keep pre-developed language samples, auxiliary materials, or dictionaries near you, and you must not take notes during your written exam (prepare food and drinks for the exam, because you might not be able to go out to the kitchen in the short breaks during the exam, just be careful not to pour something on your keyboard).

In the oral exam, you can use up to two blank sheets of paper placed there in advance for taking notes for tasks requiring some preparation time. These sheets for notes must be shown in a clearly visible way at the request of the committee.

For finding words in a dictionary, you can use a printed dictionary or the electronic dictionary (Akadémiai Kiadó publishing house) built in the exam system. Visit the site at https://www.szotar.net/ to try out the database by using a 2-hour trial version, so you can get familiar with the content of the dictionaries before the exam.

You must ensure that you use a keyboard that corresponds to the language of the exam, or that you switch your keyboard to that language.
(E.g.: for the Russian language, due to bilingualism, you will need to use keyboards with both Cyrillic and Latin alphabets during exams)

Try out the interface of the exam!

You will have the opportunity to try out the written exam and the listening comprehension (auditory) exam. You can start these exams by clicking on the button "TRY OUT EXAMS". Please try out the exam interface by all means, so that you do not encounter it for the first time during your exam.

Consult us!