On the 8th of June 2022, representatives of Quinnipiac University College of Arts and Sciences visited Corvinus to sign a Memorandum of Understanding.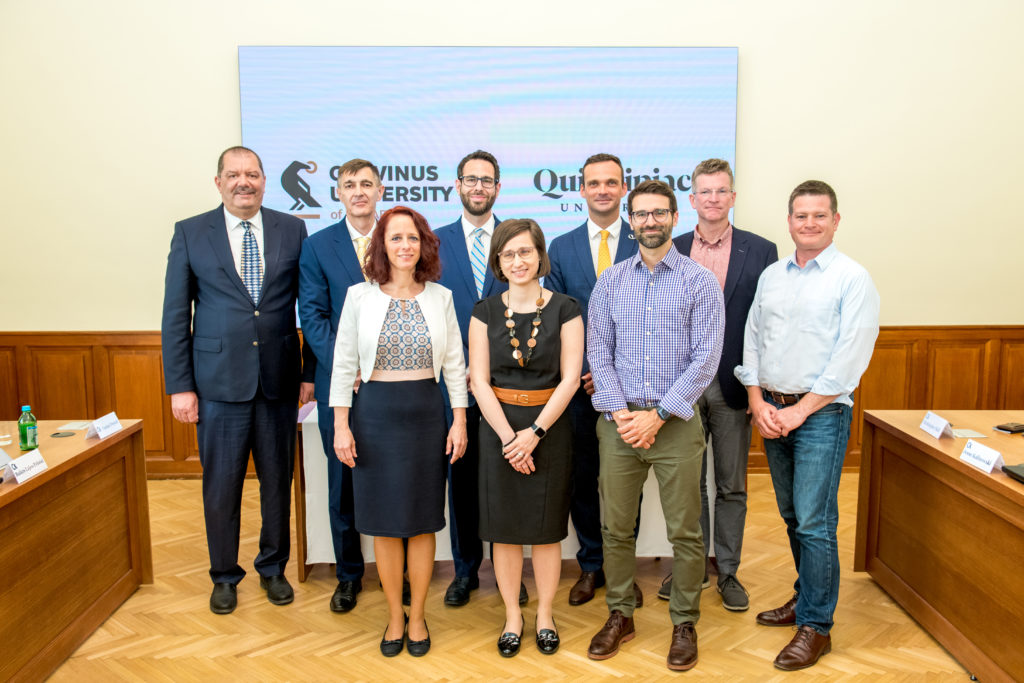 The cooperation between the two institutions and their representatives dates back a long time, so its formalization is another step towards deepening the professional relationship.
By signing the document, the two institutions expressed their mutual intention to explore and realize opportunities for research, education, and other international academic cooperation.
Prof. Dr. Lajos Szabó, General Vice-Rector, Prof. Dr. Oszkár Zoltán Szántó, Vice President for International Relations and Accreditation, Prof. Dr. Ágnes Zsóka, Vice-Rector for Academic Development, Dr. Réka Franciska Vas, Vice-Rector for Educational Affairs, and Dr. Tamás Pesuth, Rector's High Commissioner for International Relations attended the ceremony on behalf of Corvinus.
Dr. Adam David Roth, Dean of the College of Arts and Sciences, Dr. Christopher Ball, Director of the Central European Institute and Honorary Consul of Hungary in Connecticut, Dr. Sean Duffy, Director of the Albert Schweitzer Institute, and Dr. Jesse Kalinowski, head of Quinnipiac University's data science program participated on behalf of Quinnipiac University.
Following the signing ceremony, the two institutions held a professional consultation related to the following disciplines to fill the signed memorandum with as much professional content as possible:
Data Science
Economics
Political Sciences
International Relations
The cooperation between the two institutions will further strengthen the internationalization of Corvinus, as well as expand the range of opportunities available to students and faculty of which the citizens of the University will soon be able to learn more about.