On 9 November, forty-five students received their diplomas at the German Embassy in Budapest, closing their studies at the German Management Training Programme Centre (DSG) of Corvinus University of Budapest. The students took the DSG course in German as part of their bachelor's programme.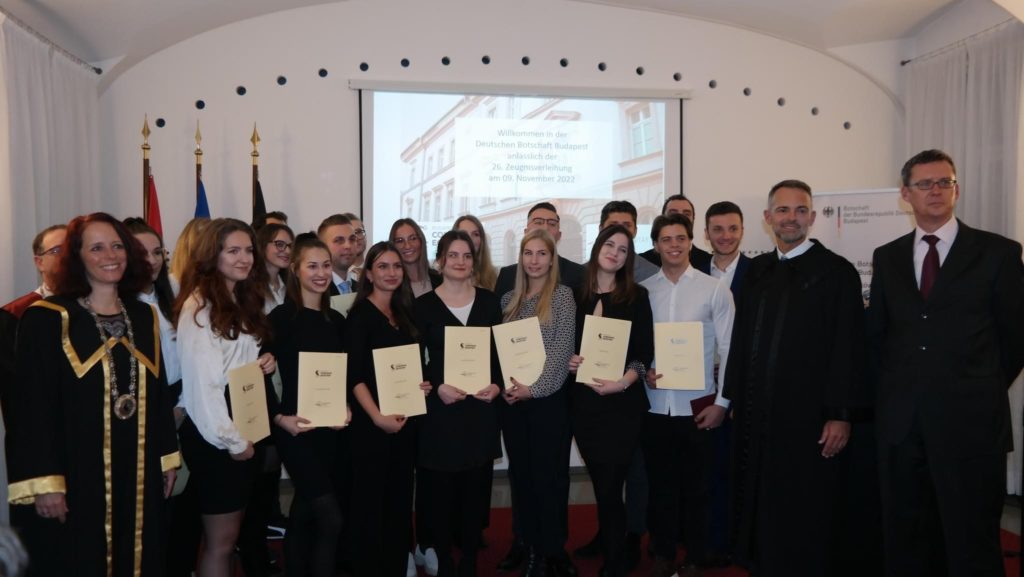 The diplomas were awarded by Vice-Rector for Academic Development Ágnes Zsóka, Head of DSG and Dean of Professional and Executive Education Patrick Bohl, Dean of Undergraduate Programs Richárd Szántó and Professor at the University of Passau Niklas Wagner. The event, held on 9 November at the German Embassy, was attended by Deputy Ambassador Christiana Markert on behalf of the German Embassy, German business leaders and several professors from Corvinus University and its partner institution, the University of Passau.
"The DSG programme, which will celebrate its 30th anniversary next year, will play a key role in achieving our strategic goals. The portfolio of German-language business studies courses that is outstanding in the region, the associated study abroad study grant and the double master's programme with the University of Passau contribute to increasing the value of a Corvinus degree. DSG is an inspiring international community with excellent corporate connections, lively professional debates and decades of friendships," said Professor Ágnes Zsóka, representing the senior management of Corvinus University, in her speech at the graduation ceremony.
The German Management Training Programme (DSG) at Corvinus University of Budapest has been operating in close cooperation with the University of Passau since 1993. Students who complete the course will become highly skilled future employees who will be able to use their German language skills in their professional life and will be able to work reliably even as employees of international companies. Students can choose from up to ten courses in German at Corvinus under the DSG, ranging from information management to business economics, and can also study at the University of Passau for half a year, so they can be optimally prepared for the German-speaking labour market.
The course also aims at maintaining and strengthening the traditionally good German-Hungarian economic relations. The centre offers a certificate supplementary programme and a separate academic specialisation in the bachelor's programme, as well as optional subjects and a double master's degree programme in the university's master's programmes. So far, almost eight hundred people have completed the programme.