Corvinus University of Budapest has once again been awarded the AMBA accreditation, the most prestigious international recognition in the field of postgraduate business education. This achievement enables Corvinus to maintain its position among the top 2% of the world's business schools, standing as the sole Hungarian university in the category of MBA programmes.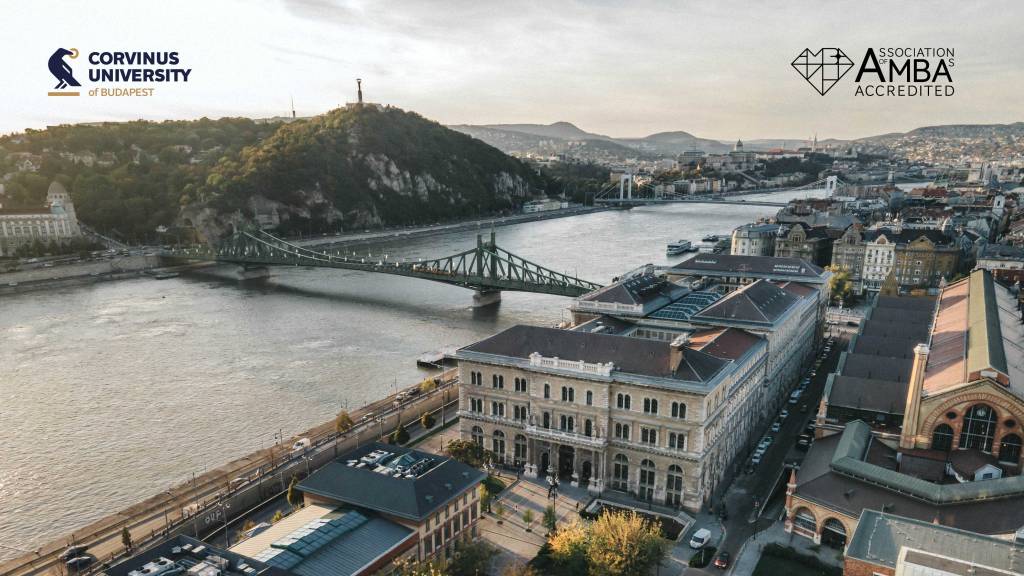 With the renewed accreditation Corvinus University not only reaffirmed the recognition received in 2020 but also secured an extension for an additional 5 years, surpassing the previous 3-year duration. With a history spanning over fifty years, AMBA, the Association of MBAs is one of the world's leading authorities on postgraduate business education. AMBA accredited members include institutions such as Leeds University Business School in the UK, WU Executive Academy in Vienna, HEC Paris in France, University of Sydney Business School in Australia and the Prague University of Economics and Business. Until now, only about 300 schools worldwide have gained acknowledgement from the organization, and Corvinus holds the unique position of being the only recognized institution in Hungary.
"Obtaining this re-accreditation validates that our MBA Programs meet the highest academic standards and prove that our candidates experience robust and superior programs designed to create a significant impact in our ever-changing world. We take great pride that our MBA students are empowered to lead and make a difference in Hungary, our region and beyond." said Patrick Bohl, Dean of Postgraduate and Executive Programmes of Corvinus University.
---
The Full-time MBA aims to guide students through a transformative experience at the early-middle stage of their professional careers. The two-year programme is suited to professionals prepared to take a career break or work part-time in Budapest.
The Executive MBA programme is a collaborative dual degree programme with the Maastricht School of Management at Maastricht University and SEED Executive school as an associate partner. It is an transformational programme that gives the tools to become an effective and responsible leader thriving in a complex international business environment. It is offered for senior professionals with managerial experience. Executive MBA also boast with EFMD international accreditation. Applications for this year's programme are underway and open until 15 September (apply here).
---
The renewal of the AMBA accreditation for the MBA programmes represents the highest recognition of postgraduate business education. It underscores not just the effectiveness and quality of training, but also the dynamic shifts in educational patterns and innovations. Its rigorous assessment criteria ensure that only the highest-calibre programmes demonstrating the best standards in teaching, curriculum, and student interaction earn the accreditation.
The AMBA accreditation panel members, comprised of senior executives from world-renowned business schools, highlighted Corvinus' strong research culture and profile, believed by the panel to provide a solid foundation for MBA curricula and teaching. The panel also noted that the University has attracted exceptional MBA students and commended the future development of the Ménesi Campus to accommodate MBA programs as an exciting step, highlighting Corvinus' ambition and commitment to sustained growth.
Andrew Main Wilson, Chief Executive of the Association of MBAs and Business Graduates Association (BGA) said: "Congratulations to Corvinus University of Budapest for this re-accreditation. AMBA only accredits the top 2% of business schools globally and it is right that this school is within our prestigious network. The new MBA facilities show a commitment of the school to continued excellence, and I am looking forward to visiting them."
The importance of international higher education accreditation lies in the fact that it increases the international recognition of accredited institutions. These quality assurance certificates are a guarantee for students, employers of graduates and other universities seeking research collaborations. Alongside the AMBA accreditation, Corvinus University has also secured the international AACSB accreditation in 2022 and holds an EFMD Accredited programme accreditation for BSc in Business and Management and for Corvinus-MSM-SEED Executive MBA programme.
"The renewed AMBA accreditation reaffirms Corvinus University's position as a global frontrunner. This tangible affirmation also highlights the outstanding work carried out by the university's faculty and staff. Their contributions result in exceptional, world-class endeavours that bring benefits not only to talented students launching their professional journeys but also to experienced business professionals. I look forward to a great number of individuals benefiting from the exceptional educational programs we provide."- said Péter Fehér, Vice President for International Relations of Corvinus University.