On May 18, 2023, the Corvinus Research Excellence (CKK-23) Awards were presented at Corvinus University in an award ceremony. A total of 91 faculty researchers were acknowledged for their publication achievements.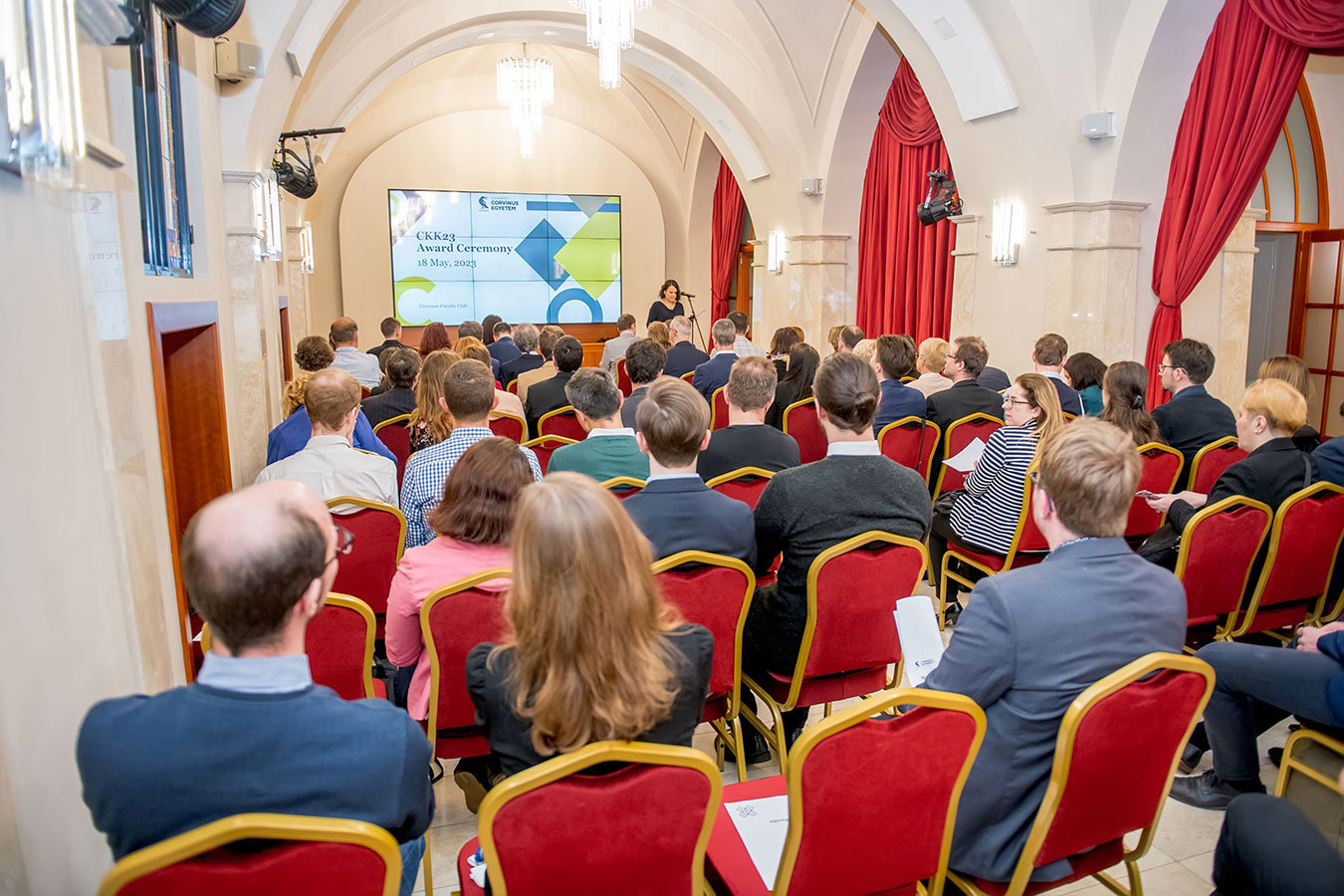 The Corvinus Research Excellence Award recognizes the scientific work published by the university's faculty members, serving as a means to encourage and acknowledge outstanding research results that are internationally recognized and relevant to the University. The Award, which evaluates the scientific output of the previous year, is open for application through an open call.
This year, a total of 106 applications were submitted in four categories, out of which 91 were awarded with prizes amounting to nearly 113 million Hungarian forints.
The submitted applications were evaluated by a five-member Evaluation Committee: Tamara Keszey, the Vice-Rector for Research of Budapest Corvinus University and Chair of the CKK Committee, István Kónya, the Dean of Corvinus Doctoral Schools, Tamás Magyarics, a professor at the ELTE Institute of English and American Studies, Gábor Nagy, assistant professor at INSEEC School of Business and Economics, and Gábor Virág, associate professor at the University of Toronto Rotman School of Management.
The Evaluation Committee did not examine the content of the submissions; instead, they allocated the available funding based on the prescribed criteria, aiming for an optimal and motivating distribution that aligns with Corvinus University's strategic objectives. This year, the awards were determined based on the international ranking of the applicants' scientific performance. Similar to the previous year, no minimum threshold was set, and all eligible applicants meeting the criteria received an award. With this approach, the Committee intends to convey the message that the University recognizes and appreciates the efforts and initial steps towards international research excellence.
In her opening speech during the Award ceremony, Tamara Keszey, the Vice-Rector for Research, emphasized that the Corvinus Research Excellence plays a leading role in supporting research activities at the University. She expressed hope that the financial recognition accompanying the award will provide further incentive for the production of outstanding scientific works, thereby promoting the international visibility of the University.
The ceremony also included the recognition of the winners of the "TDK Publication Award."
We extend our heartfelt congratulations to our faculty members and students, and we sincerely wish them ongoing success in their future research projects!
A selection of photos from the ceremony can be seen here.