The partnership is a key milestone for Corvinus in its internationalisation objectives. It will provide quality international students with greater accessibility to Hungarian higher education at Corvinus.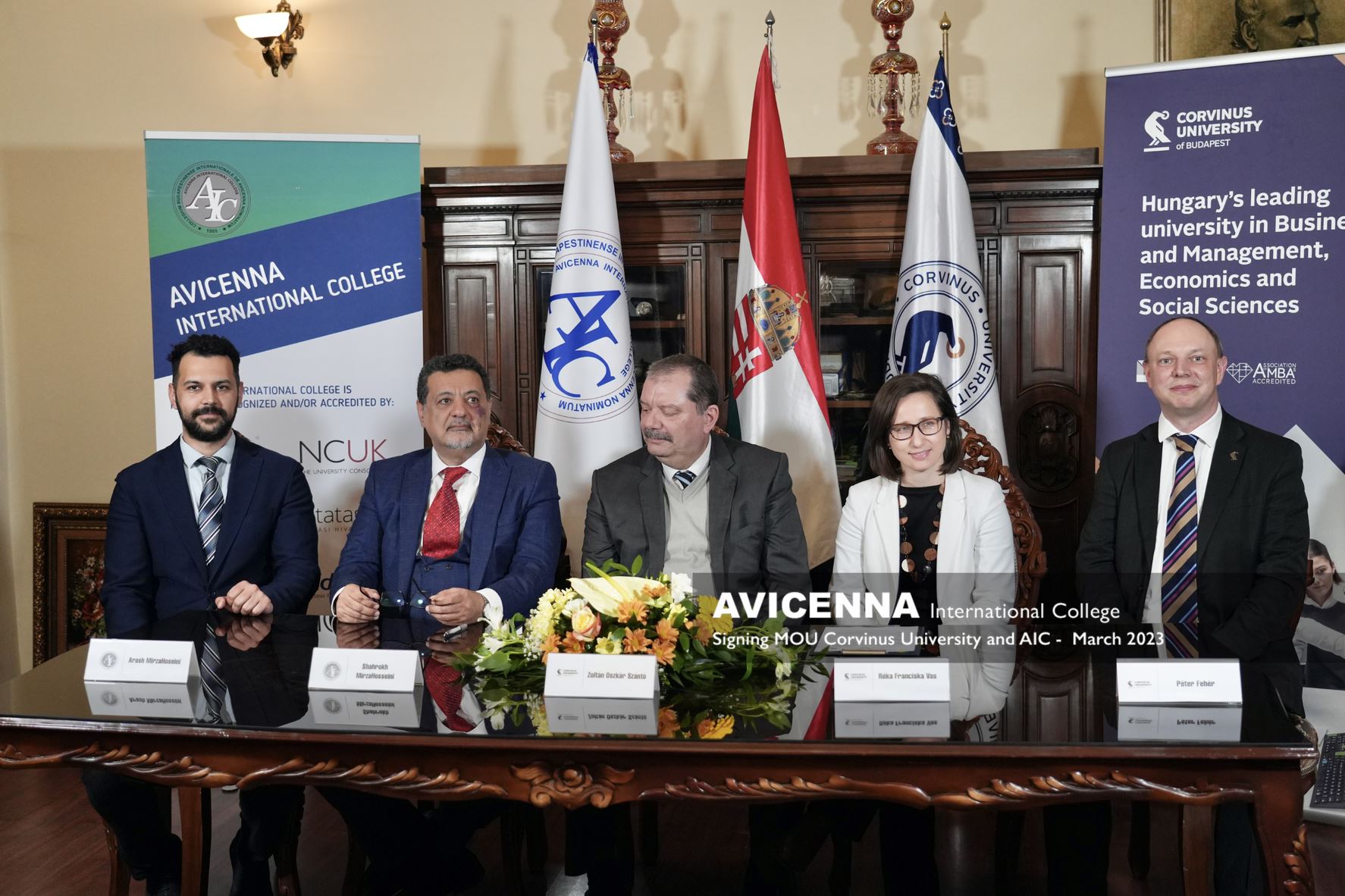 In March 2023, Corvinus University of Budapest signed a memorandum of understanding with Avicenna International College ("Avicenna").
Although the university has more than 250 international partners and works with many of the leading high schools in Hungary, this agreement is the first of its kind for Corvinus. Avicenna is a local high school in Budapest, but unique in that they teach an international curriculum to predominantly international students.
In March, a small delegation from Corvinus University of Budapest visited Avicenna for a signing ceremony. The delegates included:
Réka Vas, Vice Rector for Education

Péter Fehér, Vice President of International Relations

Zoltán Szántó, Dean, Corvinus Institute for Advanced Studies (CIAS)

Matt Jansen, Director of International Student Recruitment and Admissions.
The agreement was signed by the leaders of Avicenna:
Shahrokh MirzaHosseini, President

Arash Mirzahosseini, Managing Director.
Watch the video of the event here.
Located in Orczy út in Budapest's 8th district, during its 30-year history, Avicenna has committed to "preparing and educating its students to be responsible citizens, [who] enjoy learning, develop academically and pursue a successful higher education".
Avicenna offers a range of high-quality high school and university preparation programmes, including the Hungarian Matura, International "A-Levels" and the NCUK International Foundation Year (including a Business Stream) – all equipping graduates to excel at Corvinus.
In turn, Corvinus has an attractive programme portfolio in English language. Many Avicenna students will be drawn to Corvinus' eight BA/BSc programmes available in business, economics and social sciences.
Shahrokh MirzaHosseini (President of Avicenna) said that he believed this partnership would help more and more international students to choose Hungary and Budapest as their study destination of choice. Zoltán Szántó (Dean, Corvinus Institute for Advanced Studies) said that reaching this agreement was, "A great day!" – one that was a key milestone in a four year transformation and internationalisation journey of Corvinus, that continues.
We are delighted to have signed this agreement, which makes the prospect of higher education more viable for Avicenna students. In addition, we look forward to welcoming many diligent international students from Avicenna onto Corvinus undergraduate programmes as the university continues to internationalise and broaden its diversity.
We are proud also to be supporting local businesses and academic institutions (such as Avicenna) and our community (their students and staff).