Back to main page
Russia's war in Ukraine – Predictions and Scenarios
A discussion with Mark Galeotti and other leading experts one year on from Russia's February 2022 invasion of Ukraine.
---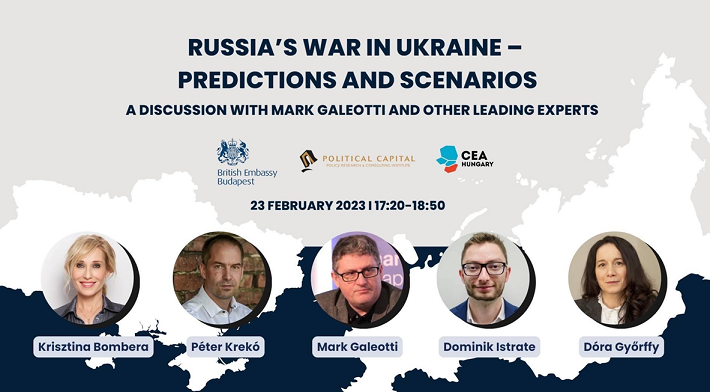 Date: 23 February 2023 I 17:20-18:50
Venue: Corvinus University – Main Building, Auditorium III. (1093 Budapest, Fővám tér 8.)
One year ago, Russia brutally invaded Ukraine. In addition to reflecting on the past year and drawing conclusions, this discussion will also look ahead and predict future trends in the war, the economies of Russia, Ukraine, and Europe, and their political ramifications, with a particular emphasis on Central and Eastern Europe.
Our special guest will be Mark Galeotti, who is a renowned expert in modern Russia, especially its security politics, intelligence services and criminality. As well as running the consultancy Mayak Intelligence, he is an Honorary Professor at the UCL School of Slavonic and East European Studies, a Senior Non-Resident Fellow of the Institute of International Relations Prague, and an Associate Fellow at the Council on Geostrategy. A prolific author, his most recent books include Putin's Wars (Bloomsbury, 2022), The Weaponisation of Everything (Yale, 2021), We Need To Talk About Putin (Penguin, 2019) and The Vory: Russia's Super Mafia (Yale, 2018).
17:20-17:30 Welcome remarks/Open speech by Andrew Davidson, Deputy Head of Mission at the British Embassy in Hungary (tbc)
17:30-17:50 Lecture by Mark Galeotti – Russia expert  
17:50-18:30 Panel discussion by the past and next year of the war against Ukraine  

Mark Galeotti – political scientist, UCL     
Dóra Győrffy – professor at Corvinus University of Budapest 
Dominik Istrate – lead analyst at Aretera Public Affairs, founder of CEA Hungary 
Péter Krekó – director of Political Capital, senior fellow at CEPA 
moderated by Krisztina Bombera – journalist 

18:30-18:50 Q&A  
The event is registration required, for the registration link please visit the Facebook Event.
The event can be followed live streaming via Political Capital's Facebook.