Back to main page
Online Open Day
Master's Programs
---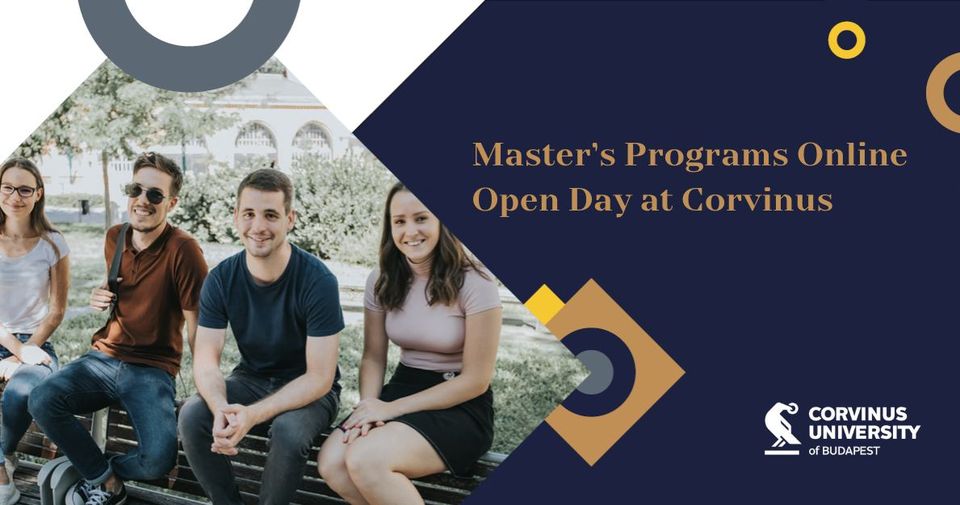 Are you a bachelor student at Corvinus thinking about continuing your studies with us? Or you heard of Corvinus from a friend and thinking about applying here for a Master's program? Get to know the postgraduate programs of Corvinus University of Budapest!
On 11th January we will hold and online open day with English presentations of our programs available for international students! Make sure to join our livestream on our official Facebook-page or YouTube-channel, get to know our Master's programs and ask your questions from the program directors and students!
Program of the event:
15:00-15:05 – Introduction – Helga Habis, Dean for Master Programs
15:05-15:30 – Application info session and Q&A* – Corvinus Student Services
15:30-15:48 – International Economy and Business presentation and Q&A – András Tétényi Program Director and Viktória Endrődi-Kovács Assistant Professor
15:48-16:06 – Management and Leadership presentation and Q&A – Péter Móricz Program Director
16:06-16:24 – Economic Analysis presentation and Q&A – Álmos Telegdy Program Director
16:24- 16:42 – Finance presentation and Q&A – György Walter Program Director and Kata Váradi Associate Professor
16:42-17:00 – Public Policy and Management Q&A – Attila Bartha Program Director
17:00-17:18 – Business Informatics presentation and Q&A – Zoltán Szabó Program Director
17:18-17:36 – Regional and Environmental Economic Studies presentation and Q&A – Márton Péti Program Director and Géza Salamin Head of Institute, Associate Professor
17:36-17:54 – International Relations presentation and Q&A – Bernadett Lehoczki Program Director and Tamás Matura Assistant Lecturer
17:54-18:12 – Health Policy, Planning and Financing presentation and Q&A – Valentin Brodszky Program Director
18:12-18:30 – Marketing presentation and Q&A – Krisztina Kolos Program Director
18:30-18:48 – Sociology presentation and Q&A – Beáta Nagy Program Director
18:48-19:06 – Communication and Media Studies presentation and Q&A – Antal Szántay Program Director
*The Application info session will start with the application process for international prospective students, and the second half will be dedicated for the Hungarian applicants.
Don't miss out on our latest news!
Follow us on social media: