The project is designed to encourage departments to reduce the amount of waste generated and to promote selective waste collection considering that 88% of waste generated in university buildings ends up as communal waste.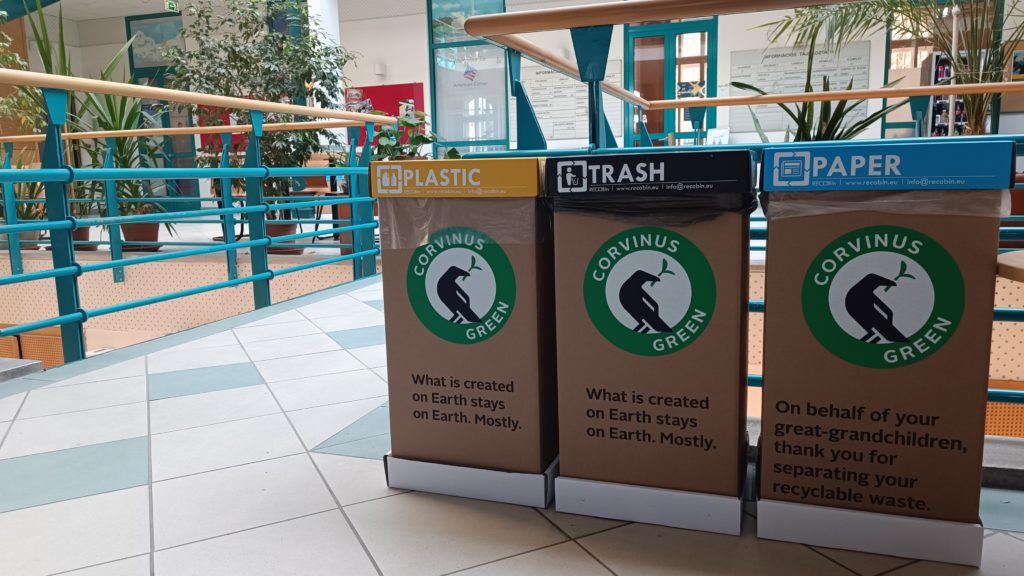 On a voluntary basis, departments can hand over their communal waste bins in exchange for indoor plants financed from the central budget. The move is intended to reduce the amount of communal waste generated around the university.
The heads of departments will be able to indicate their intention to participate in the project using the forms that will be sent to them soon. Campus Services staff will remove bins from the offices joining the project, while colleagues will be able to use the 320 new selective waste bins placed around the university buildings to dispose of inevitable waste.
Increasing the distance between bins will provide an opportunity to consider whether the item at hand was really necessary, whether an alternative is available, or whether it could be reused at a later date. Then reaching the selective waste bins we can pick the selective option if the first four steps of the 5R model failed to provide an acceptable solution.
Departments deciding to remove their containers can request indoor plants to improve the atmosphere and air quality in their offices. Therefore, the project will not only reduce the amount of waste generated but will also help to green the premises.
Almost 230 tonnes of waste are collected from university buildings every year, which, considering the amount of municipal waste per capita corresponds to the average waste generation of about 430 EU citizens (530 kg per capita in 2021). In addition to reducing waste, there is much to do in respect of selective waste collection, as only 12 percent of the waste disposed of at Corvinus University comes from selective bins, i.e. 88% of the waste generated in the buildings ends up as communal waste.
Recycled cardboard bins are suitable for the selective collection of paper and plastic waste. Waste collection points have been placed around the busiest spots such as stairs, lecture halls, and toilets to ensure easy access for everyone.
The yellow bins are for collecting plastic waste, including PET bottles for soft drinks and mineral water, rinsed household flasks and their caps removed, clean foils, rinsed milk and yoghurt containers, drinks cartons, etc. In the blue containers, only clean paper waste such as newspapers, corrugated cardboard, wrapping paper, or flattened cardboard boxes can be placed. Documents containing sensitive data should only be placed in the bin after proper shredding. Detailed information on waste disposal can be found on the FKF website.
Earlier, we also asked employees about the sustainability of Corvinus University. In a questionnaire related to the Corvinus Green project, respondents shared ideas such as reducing printing, greater biodiversity on campus, selective waste collection, and optimisation of the efficiency of water, electricity, and air conditioning in order to save energy. We wish to gradually incorporate these ideas into our operations, including reducing the number of communal waste bins in our departments, and promoting zero waste living and selective waste collection.
The Corvinus University of Budapest commits itself to supporting community sustainability activities and more sustainable operations, as collective action is needed to achieve significant change.