The main objective of the cooperation between the leading Hungarian business university and the Hungarian subsidiary of the energy company is to strengthen the links between education, research and the business sector for the sake of mutual development.
The Corvinus University of Budapest and ExxonMobil signed a four-year strategic agreement on 27 September in Budapest. Anthony Radev President of Corvinus, and Lajos Szabó, Acting Rector signed the document on behalf of Corvinus, and Zsuzsanna Schleisz and Dávid Fehér Managing Directors on behalf of ExxonMobil in the main building of Corvinus. 
"I believe that Corvinus should be an indispensable and self-evident hub between the worlds of science, education and business. The agreement with ExxonMobil is an excellent opportunity to provide students with first-hand access to up-to-date business knowledge, to offer practitioners the latest in science, and our lecturers inspiration for further research and course development," said Anthony Radev, President of Corvinus.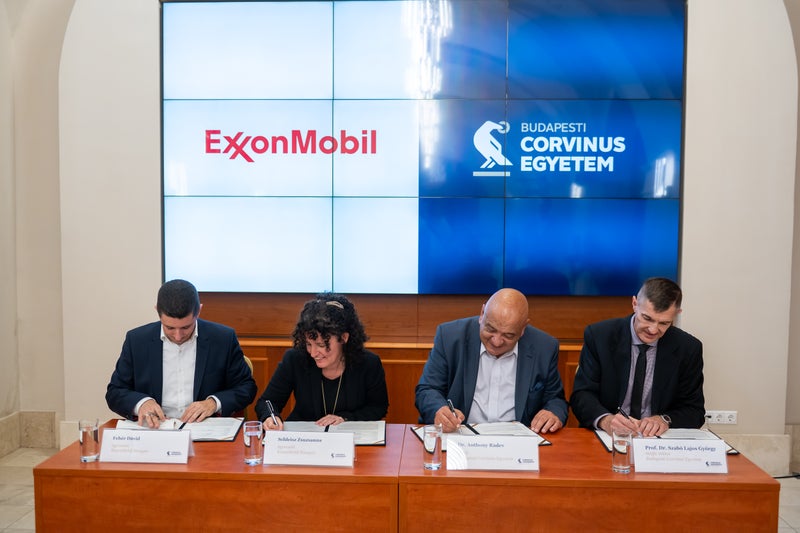 "For ExxonMobil Hungary, it is of paramount importance to participate in the training of the professionals of today and tomorrow, to share our experience and to provide students with the opportunity to acquire practical knowledge from multiple perspectives. In addition, maintaining a professional dialogue with Corvinus faculty members and training our employees at the university provide an excellent opportunity for development. This is very much in line with one of the key elements of our corporate philosophy, the continuous development of skills", said Dávid Fehér, Managing Director of ExxonMobil. 
Thanks to the cooperation, ExxonMobil will contribute to the practice orientation of the education: its senior managers will regularly give professional lectures and seminars on their own company experiences and industry examples. From the spring semester, students can also participate in projects based on ExxonMobil's operations. 
The partnership also provides students with mentoring and internships to apply in a work environment what they have learned, gain experience and develop their professional skills. ExxonMobil also participates at the biannual Corvinus Career Expo as a priority employer. 
Corvinus, in partnership with SEED Executive School, offers ExxonMobil executive training to share current business trends and recent scientific experience, and its lecturers and researchers can also speak at company events on topics that could impact the future of the company. Every six months, Corvinus provides ExxonMobil with a scientific forum to facilitate joint thinking, to identify and address market and industry needs, risks and challenges. In addition, the company participates in Corvinus' strategic partner community meetings for innovation and R&D collaborations, as well as dialogues on the strategic orientations of the university.