European Car Free Day is celebrated around the world on 22 September. To mark the occasion, we have put together a list of services for people on two wheels at Corvinus.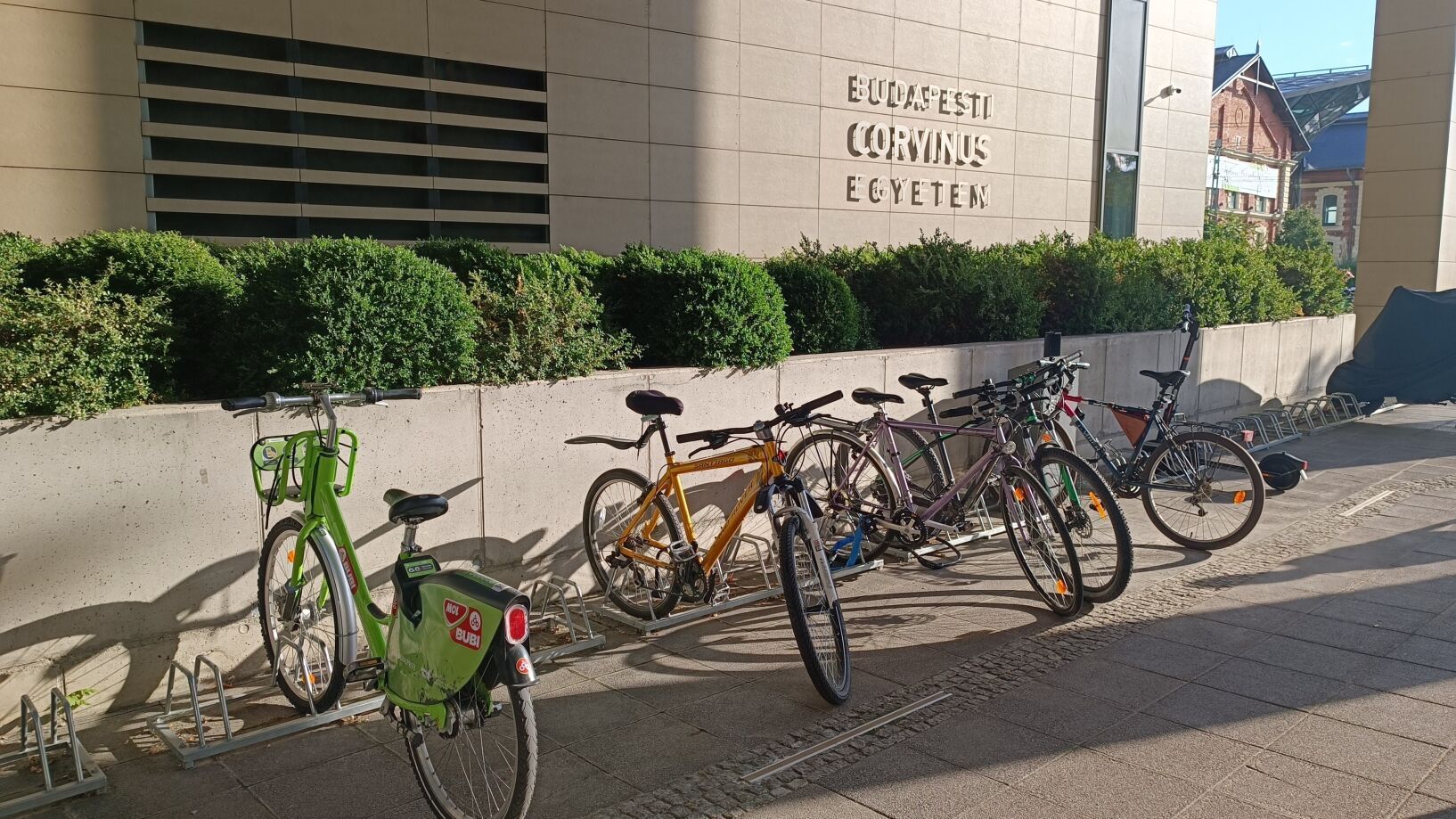 Two thirds of the adult population in Hungary cycle, while only 16% of the population use this as their primary means of transport, according to the 2022 survey commissioned by the Hungarian Cyclists' Club and carried out by Medián. The proportion of people who use public transport mainly was 30%, while those who use walking accounted for 13% of the population.
Yet public cycling is "sporty, environmentally friendly, and fast", said Zombor Berezvai, assistant professor at the Department of Marketing Management, in an earlier interview, in connection with a research project for which he received the Academic Youth Prize.
At Corvinus and its surroundings, there are several options available for those who would like to replace the car and choose a more sustainable alternative. One of the most obvious options is, of course, public transport, as the university buildings are easily accessible by metro 4, trams 2 and 23, trams 47-48-49, bus 15 and trolleybus 83.
In addition to public transport, there are several options for cycling.
Storage for students

:

Outdoor bicycle

storage is available next to

the

three buildings of the University. There are 50 bicycle parking spaces available in the covered lobby at the entrance to building C, which is monitored by a camera, and also at the south entrance to building E.

The security

in the latter units may not be guaranteed, so it is important to use a bicycle lock.
Staff lockers:

University staff also have access to locked bicycle lockers in the underground car park of Building C. Requests for the use of locked bicycle storage facilities can be submitted via the Campus Services digital administration interface, the form is available on the Intranet under Digital Services (Campus Services / Request/bicycle storage). There is a one-off fee of HUF 5,000 for the use of locked bicycle storage facilities, which includes the fee for the card to open the storage.
Showers and changing rooms:

for those arriving at the University by bicycle, showers and changing facilities are provided in Building C. On the 6th floor of Building C (C660 and 661) and on the ground floor (C018 and 019), changing rooms,

showers,

and lockers are available for university citizens. It is recommended to use the changing rooms on the 6th

floor,

as the ground floor rooms are also used by students during PE lessons. The key (coin)

to lock

the lockers, which are not for permanent storage, can be picked up or dropped off at the reception of building C. In case of loss of the coin, the replacement cost will be charged to the user.