Back to main page
Community Engagement: Corvinus Science Shop
Impactful co-creation with responsibility – this is the tagline of Corvinus Science Shop (CSS), the community engagement competence center of Corvinus. It promotes dialogue between science and society and serves as a meeting point for the civic and academic communities of the university. The science shop generates partnerships for community-engaged research and learning. We create and support course projects and research based on the needs and concerns of not-for-profit organisations, civil society groups, social enterprises, etc. In these real-life projects students and faculty collaborate with community partners for mutual benefits.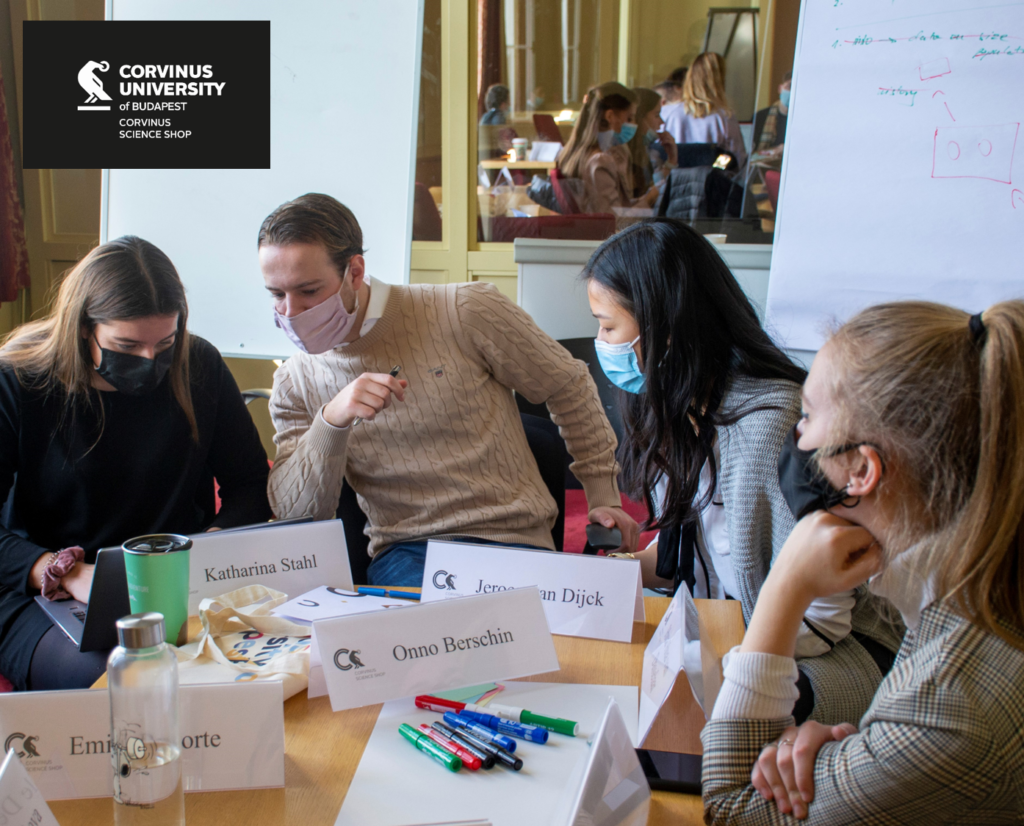 Students. The number of students involved in science shop projects has exceeded 2500. In 2021 865 BA, MA and postgraduate students contributed to community-engaged course projects.
Educators. More than 40 faculty members of 8 Institutes and 3 Doctoral Schools of Corvinus have already participated in CSS projects, and the number of colleagues in our international faculty development workshops has exceeded 220.
Community partners. The number of community partners is above 80 by now. In 2021, 38 community partners asked their questions and participated in course projects.
Responses to community questions. Via the science shop, more than 220 community questions have been answered so far.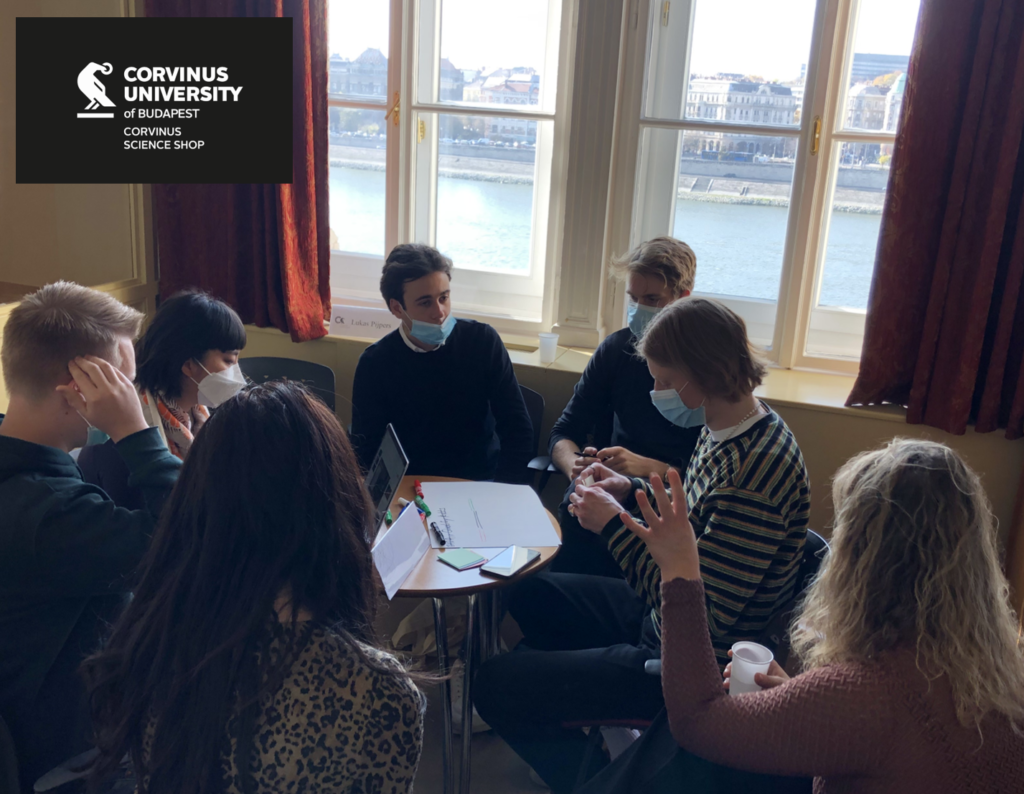 Rapid ideation for 4 community partners with 40 international students
Bachelor and master's students of the Rotterdam School of Management joined our course on Corporate Social Responsibility (CSR) to answer the questions of three social entrepreneurs and a green NGO.
Students successfully supported the Liliom Birth Center to pitch for seed money. The founder of the fledgling social enterprise asked for tough business questions she might face in an upcoming business pitch to receive the financial support of the Academy for Women Entrepreneurs. Via rapid ideation, the international group of students generated a vast array of questions for the birth center, and consequently, the social entrepreneur was well-prepared and won the seed money.
This was one of the four projects that morning in which the combined groups of local students and that of the Rotterdam School of Management, Erasmus University experienced science shop work. Besides the birth center, two finalists of the Social Impact Award, Énprojekt.hu and Kontekt, and the Clean Air Action Group introduced their questions and listened to the proposals. Students tested an idea of international expansion, planned the longer-term future of a product, and looked for potential target groups for a green product.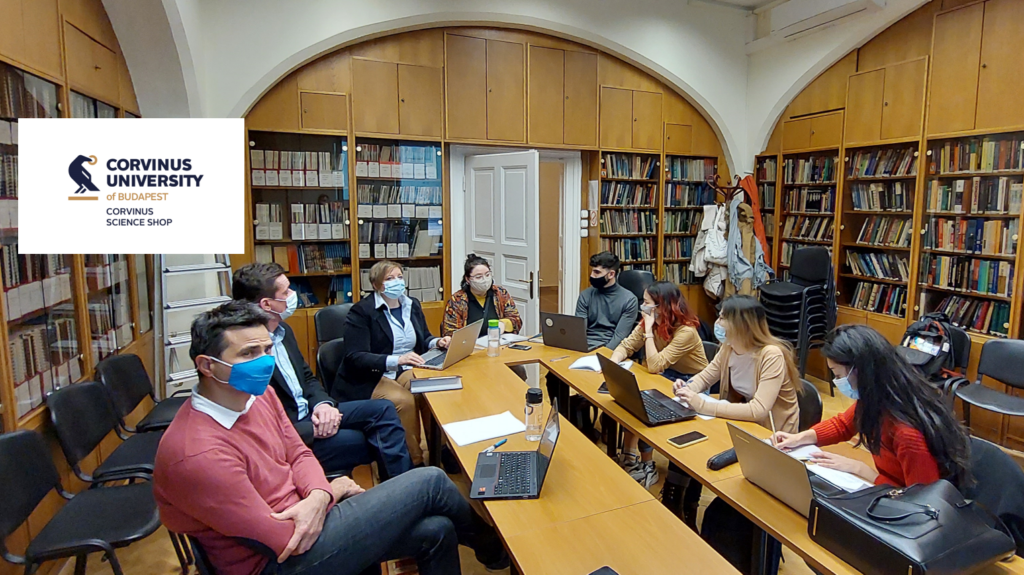 Social impact measurement project in the full-time MBA
A full academic year for social impact at a social enterprise for trauma-aware yoga practices.
Our international team of people from Argentina, Chile, Hungary, Kyrgyzstan, and Singapore launched the 2nd semester of their sustainability business project in the full-time MBA: impact measurement at AdniJóga. The team was busy in the autumn semester with setting out a benchmarked social impact measurement strategy to be implemented now.
"You really understood our needs and what we expected from this project" – said Anna Kalmár, founder of AdniJóga after the midterm presentation. Anna is on the Forbes list of 30 under 30 in Hungary, and actually, one of her drivers to launch AdniJóga came from a Corvinus master's course on social entrepreneurship.
The project organised and supported by the science shop produces the impact report with genuine measurements. Students have the opportunity to learn about impact measurement in collaboration with the social enterprise as well as local experts in impact investment.