Travel Information
Arriving to Budapest
Arriving by plane to Budapest Liszt Ferenc Airport Terminal 2
Bus
The airport is well served by public transport (BKK). An added-value service, bus line 100E serves the city centre directly. (Traditional BKK tickets are not valid on it, you need to purchase a separate ticket for 900 HUF [~3 EUR].)

A regular bus line, line number 200E commutes between Terminal 2 and Kőbánya-Kispest metro terminal (metro line M3). You can use it by buying a regular BKK ticket for 350 HUF (1 EUR). If you buy ticket on the bus and not from a ticket office or ticket machine, it's always more expensive (450 HUF).
As metro line M3 is under construction, we recommend you to choose 100E instead of 200E.

Ticket sales points
Single tickets priced 350 HUF can be purchased at the airport post office, at the BKK customer points located in the arrivals halls, at the newsagents (Relay) and from the ticket machine at the bus stop.

BKK customer points sell all ticket and pass types, provide information on public transport and assistance with journey planning for trips within Budapest. Free network maps are also available. Two BKK (Budapest Public Transport) offices operate at the airport: one at Terminal 2A (arrivals) and another at Terminal 2B (arrivals) where you can buy BKK tickets to use public transport.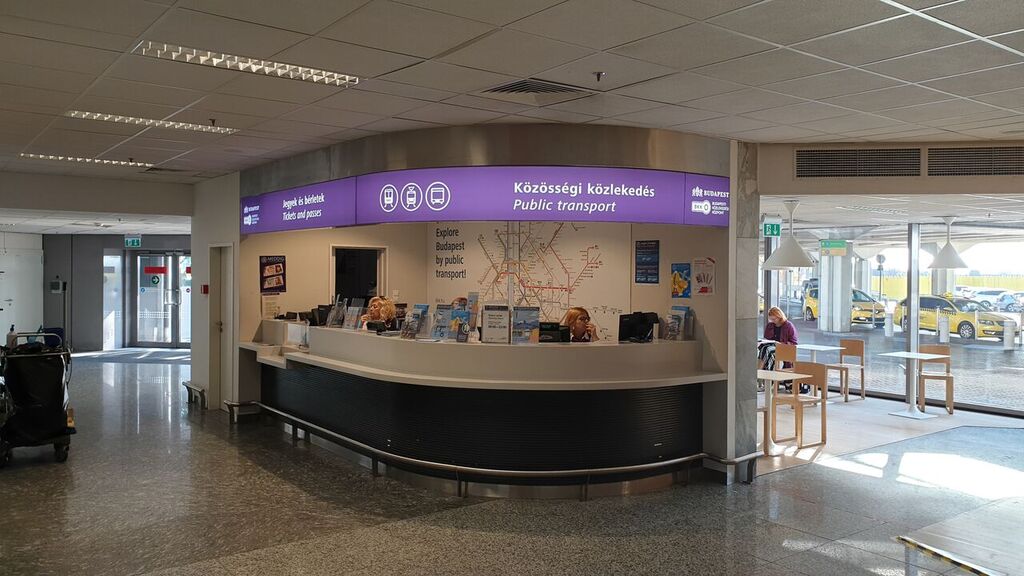 Ticket machines featuring a menu system in seven different languages also sell all ticket and pass types.

The post office is located on the mezzanine level of Terminal 2A. Only single tickets, 10-piece ticket booklets and section tickets are available at the post office and at the newsagents.

Newsagents sell only single tickets, books of 10 single tickets and short-section metro tickets (for up to 3 stops).

At the Tourist Information – Budapestinfo Point counters at the arrivals level of terminals 2A and 2B, you can also buy 24h, 48h and 72h Budapest Cards which offer free public transport and additional discounts during their validity periods. Please visit budapest-card.com/ for more information.

BKK's journey planner will help you plan your trip to the city from the airport and back.

More information on Budapest public transportation.
How to get to Corvinus University of Budapest from the airport by public transport?
To reach the University, you have two options: first, you can take bus line 200E or bus line 100E. In both cases, you need to change at Kálvin tér metro station to metro line M4 (direction: Kelenföld vasútállomás), or to tram 47 (direction: Városház tér) / 49 (direction: Kelenföld vasútállomás). Corvinus University is situated at the very next stop (Fővám tér).
Taxi
The airport's official taxi operator is Főtaxi. Taxis use regulated prices in the capital. A ride to the city centre should typically cost around 7.000-10.000 HUF (22-31 EUR) depending on traffic conditions. You can use the taxi with a special voucher by buying it at the Főtaxi booth when you're coming out of the airport building at the arrival side (see picture).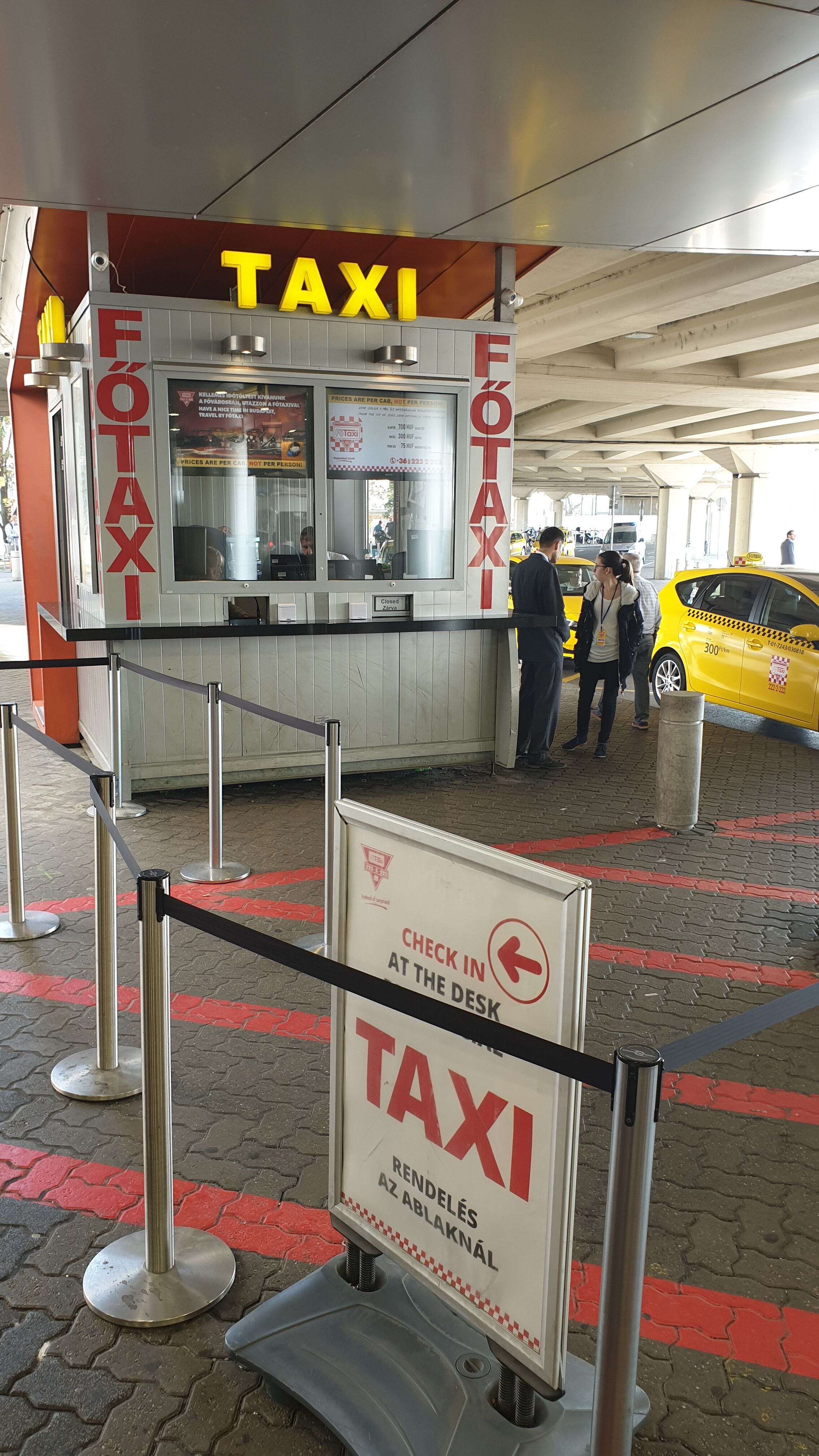 Otherwise, when you use taxi in Budapest, we advise you not to use non-regulated taxi service providers. It is safest to call for a taxi through a phone operator, or download the Főtaxi booking application, and book your taxi on your mobile device easily.
Minibus
A minibus service (miniBUD) also operates from the airport. MiniBUD Desks are to be found at every terminal. The transfer operates as a shared-ride service, which means that you might have to wait a little before a minibus gets filled with people heading towards the same area.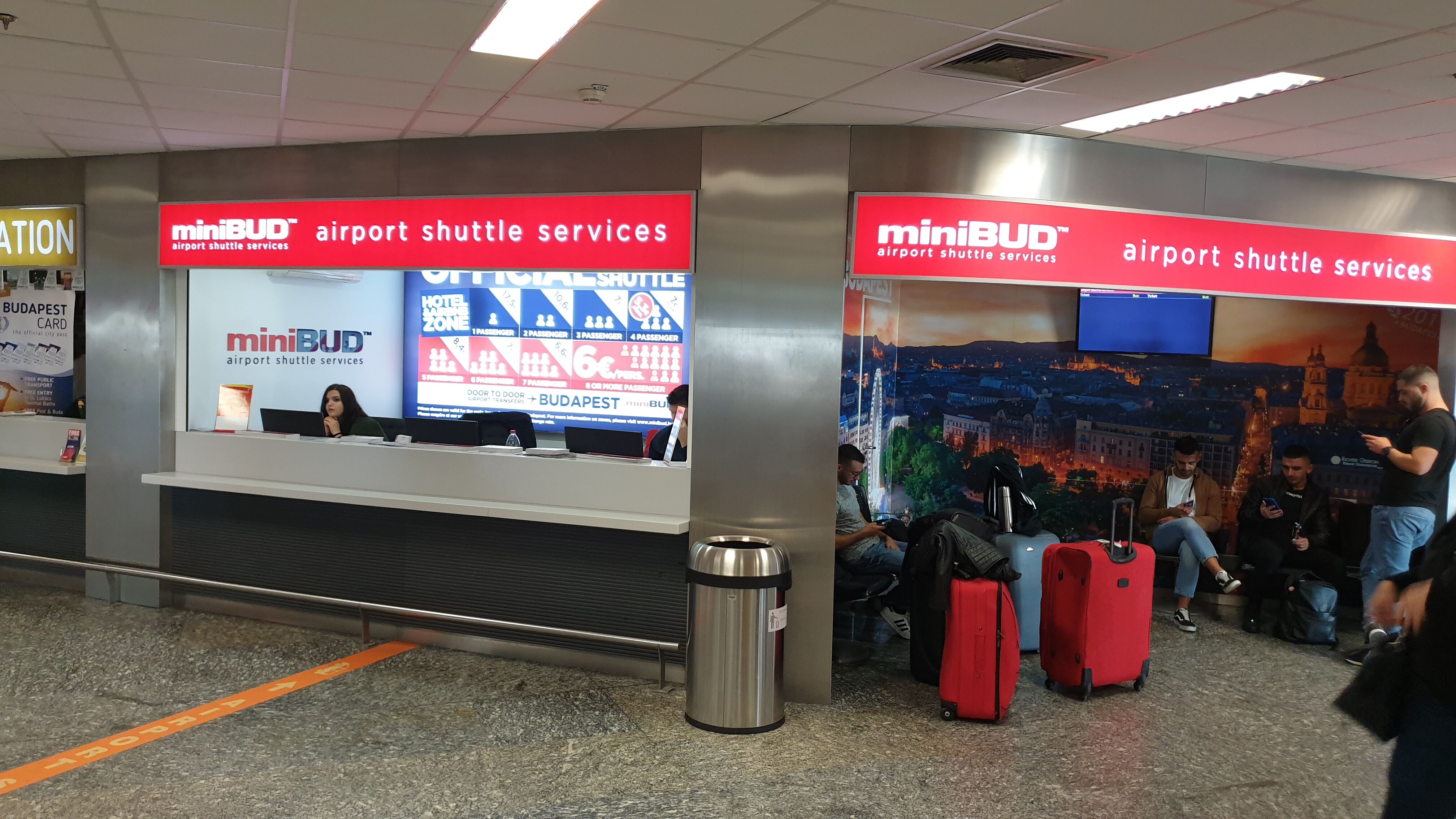 When getting back to the Airport, care to leave enough time to arrive (during the day: minimum 1 hour): since Budapest does not yet have a track-based option to and from the Airport, traffic is a heavy bottleneck. Also, bus line 100E can sometimes be crowded.

For more information on arriving to Budapest Airport, please visit:

Arriving by train to Budapest Keleti Pályaudvar
Metro lines M2 and M4 are the main transport services serving the train station. There is direct metro connection to Corvinus University by line M4.

We advise you not to use non-regulated taxi service providers or to take a taxi ride whatsoever from the train station. It is safest to call for a taxi by downloading the Főtaxi booking application, and book your taxi on your mobile device easily.
Budapest Public Transport (BKK)

We advise you to purchase a 72-hour or a 7-day travel pass (respectively: 4150 and 4950 HUF, approx. 13 and 16 EUR). The BKK pass is valid on every metro, tram, bus and trolleybus line operated by BKK and every suburban bus (Volánbusz) and local train line (MÁV) within the Budapest administrative area.

BKK offices operate at the aiport (see above) or closest to the venue at Kálvin tér metro station (5 mins from Corvinus). You can also purchase tickets from vending machines that equally accept bank cards and contactless payment. These can be found closest at Fővám tér metro/tram station, Szent Gellért tér metro station or Kálvin tér metro station (and also at the airport). Ticket vending machines also have foreign language options.