The traditional Corvinus award ceremony was held on 25 November.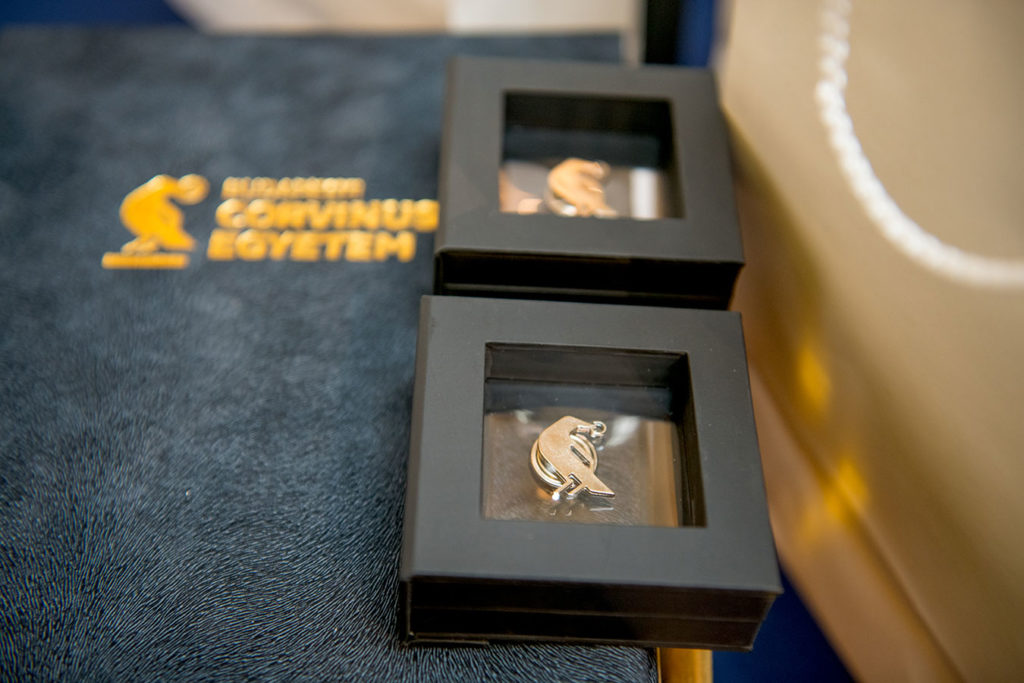 On 25 November, Corvinus held its traditional award ceremony, where the most outstanding staff members of the University were presented with the Gold Medal, the Commemorative Medal for the University and the University Certificate of Honour. On this occasion, the leaders also congratulated the holders of the university titles awarded by the Senate in the year. 
In his speech, Rector Előd Takáts said that seeing the list of award winners made the history of the past 30 years flash before his eyes, with lecturers who had had a great influence on him during his studies, and also highlighted the University's constantly building tradition. He recalled that he had recently met with former rectors of the University, and it became clear that they all had similar ideas and challenges, such as how to enhance and strengthen research activities and how to integrate research results into education. He stressed that to keep and continue the tradition, it is necessary to keep on doing well and even better, year after year, generation after generation. The research and teaching colleagues who have now been honoured have fought this battle, generation after generation, year after year, lesson after lesson, subject after subject. 
In his welcome speech, Chancellor Ákos Domahidi emphasised that in the life of the University, in the functioning of an organisation, there are moments when we need to stop and thank those who carry a heavy burden on their backs. Renewal requires intensive work, a lot of effort and we are far from having left behind the difficulties of the pandemic in the world. The Chancellor stressed that excellent education and research always needs a supportive background, a service organisation that can help it. It is also important to celebrate today those colleagues who strengthen this field, and it is symbolic that we do this in one event.  He stressed that through individual awards, the whole community is also recognised.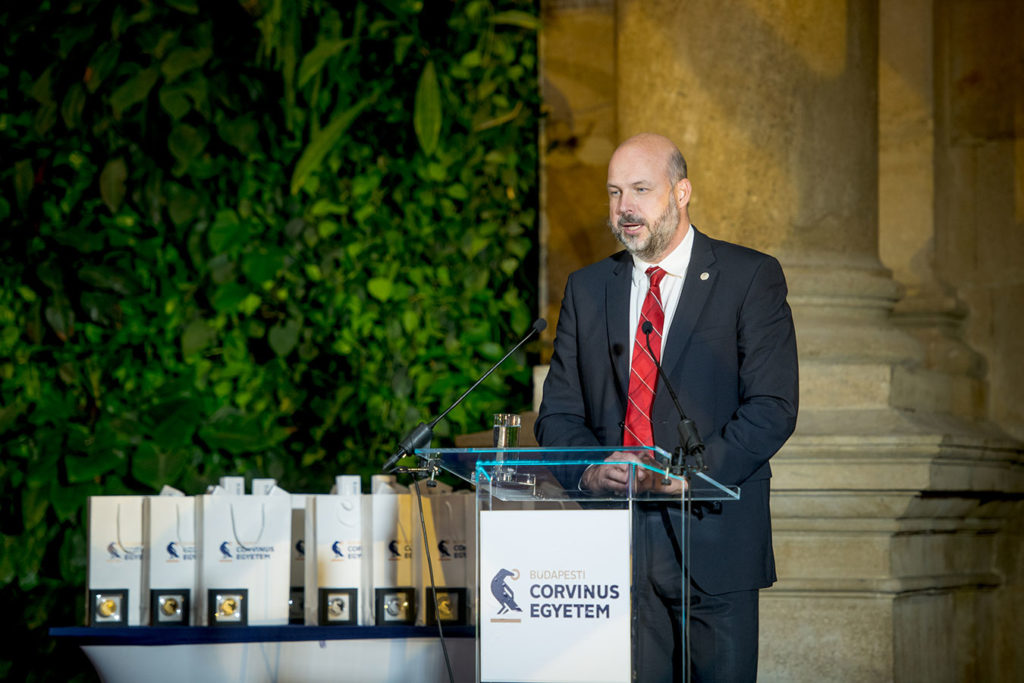 UNIVERSITY TITLES AWARDED BY THE SENATE OF CORVINUS UNIVERSITY OF BUDAPEST IN 2021 
Professor Emerita  
Judit Simon 
Judit Simon is an internationally recognised health economist. Since 2015, she has been closely collaborating with the Department of Health Economics at the Corvinus University of Budapest, Institute of Economics and Public Policy through joint conferences, invited lectures, joint academic projects and publications. She is also Head of the Department of Health Economics, Centre for Public Health at the Medical University of Vienna, a visiting professor at the University of Oxford and the head of the Health Economics Section of the Ludwig Boltzmann Institute of Applied Diagnostics since 2016. 
Associate Professor Emeritus  
József Magyari 
József Magyari has been a lecturer at the Institute for Postgraduate Studies in Economics at Corvinus University of Budapest for more than a decade, teaching the course Reorganization and Insolvency Management in the Faculty of Liquidation and Asset Management. Currently, he has been a dedicated lecturer for more than three years in several courses at the Department of Management and Organisation. He holds a PhD and an MBA degree in Economics, and has extensive teaching experience. In addition to the very positive student feedback, József also channels his successful senior management and leadership experience into his teaching. He is currently CEO of NC Consulting Pénzügyi és Üzleti Tanácsadó Zrt.. 
Private university tutor  
Imre Csekő 
Imre Csekő has been a member of our University since 1981. During this time he has played a key role in the professional work of the Department of Mathematical Economics. For many years he has taught microeconomics and general equilibrium theory in the economics doctoral programme. As the head of the undergraduate and then single-cycle educational programme in Mathematics of Economics and Financial Analysis, he played a decisive role in the success of the programme, in achieving balance and harmony between mathematics, finance and economics. During his 40 years of teaching, he has received numerous awards: the Commemorative Medal for the University, the Teacher of the Year, and the Gold Medal of Corvinus University of Budapest. His outstanding pedagogical skills and high quality teaching have always been recognised not only by his students but also by his colleagues. Imre is still an active member of the Institute after his retirement. 
GOLD MEDAL OF CORVINUS UNIVERSITY OF BUDAPEST  
This medal is awarded by the Senate to those colleagues who have been effective leaders or managers of the University or who have been/are engaged in outstanding teaching and research activities over a longer period of time. 
András Bauer  
for his efforts in developing marketing education and strengthening the international reputation of the University. 
András Bauer has played a pioneering role in the dissemination of marketing knowledge in his country. His book Marketing, co-authored with József Berács, has been used as a basic work in domestic marketing higher education for decades. In addition to his more than 10 years as head of department and supervisor, he has supported 14 doctoral students through to their degrees, and has also played a significant role in postgraduate education.  
Gábor Czinderi  
for more than two decades of leadership in the management of built and IT infrastructure and the digitisation of service areas. 
Gábor Czinderi, former Head of Infrastructure Services, joined the University at the beginning of the year 2000. His responsibilities included the development and renovation of the University's built infrastructure, and later expanded to include the maintenance of IT infrastructure, procurement and oversight of the campuses. Gábor has also been actively involved in the University's recent transformation and organisational development projects, and has successfully managed the digitisation process of the Chancellary's service areas. 
László Csicsmann  
for his outstanding leadership in internationalising the University and building its academic workshops. 
László Csicsmann has been an active and committed collaborator of the University since the early 2000s, and since 2009 he has contributed to the development of the academic area in various leadership positions. As Vice-Rector and formerly Dean, he has played a major role in the internationalisation of education and the development of the workshops under his leadership. He played a key role in the success of the cooperation between the University and the MNB from 2015-2021. He is credited with the establishment and launch of the Corvinus academic career model. 
Péter Tallos  
for his successful research and mathematical work and for his leadership in the field of economics-specific mathematics education for almost two decades. 
Péter Tallos has been a lecturer and researcher at Corvinus and its predecessors since 1976. For 19 years he was Head of the Department of Mathematics, for two years Director of the newly established Institute of Mathematical and Statistical Modelling and for one and a half years Deputy Dean of the Faculty of Economics. During this time he was actively involved in several restructuring processes, such as the transition to Bologna. As Head of Department, he gave maximum support to the professional development of staff and ensured their autonomy in a free atmosphere. He is an excellent teacher, has received several student awards and has an outstanding record in curriculum development.  
Miklós Virág  
for his exemplary commitment and hard work, and for his dedicated leadership and public service to the University community. 
Miklós has worked at the University for nearly 40 years, mainly in various leadership positions. As Head of Department, Deputy Dean, then Dean, Director of the Institute for Enterprise Development, member of the Faculty Council, member of the Senate and member of the Doctoral School Council, he has contributed a great deal to the development of the University. Because of his diligence, perseverance, hard work and good nature, he has always been a valued citizen of the University, a role model for his colleagues and students.  
COMMEMORATIVE MEDAL FOR THE UNIVERSITY 
This award is presented by the Senate to university colleagues (or people from outside the University) who have played an outstanding role in enhancing the reputation and prestige of Corvinus. 
Nikolett Deutsch  
for her exemplary dedication and hard work, for her sacrifice for the University community. 
Nikolett Deutsch is the driving force behind the Master's in Business Development, she runs the course with incredible energy and dedication as a supervisor and is a favourite among students as a lecturer. In the context of the renewal of the Master's in Business Development, she has been involved in the review and restructuring of the Master's in Business Development programme with inexhaustible energy and enthusiasm. In addition, she has been instrumental in the creation and running of the postgraduate degree in Research and Innovation Management.  
Judit Gál  
for her outstanding professionalism, her contribution to the reputation of our University and her popularity among students.  
Judit Gál is a leading figure in the field of Hungarian corporate and company law, and is a member of the "Sárközy School", attached to our university. For decades, she has enhanced the reputation of our University as a lecturer. As a judge and codification expert, as the head of the Civil Chamber of the Metropolitan Court of Appeal and as the President of the National Association of Company and Commercial Judges, she has made unparalleled contributions to the development of Hungarian law. She is a highly qualified lecturer and researcher, much loved by her students.  
András Gelei  
for his school-building work, his commitment to professionalism, and his dedicated service to the University community. 
András Gelei has been a lecturer and researcher at our University since 1993, a key teacher in the Master's programme in Management and Organisation, and the professional leader of the Human Resources and Organisational Development programme. His work has provided guidance and inspiration to generations of economists working in the field of organisational development, and has been recognised by a professional award from the Hungarian Society of Organisational Development, where he is currently Co-Chair.  
Andrea Gelei  
for her work in the fields of logistics and supply chain management.  
Andrea Gelei has long been a prominent figure in the field of logistics and supply chain management. Her innovative spirit is reflected in the fact that as a subject supervisor she has previously taught a Master's degree and now supervises postgraduate programmes. She is currently leading the development of a specialisation in a bachelor's programme. The Logistics Mentoring Programme coordinated by her links current and alumni students of the university. She is involved in the HAS Interdepartmental Standing Committee on Logistics and is a board member of the Hungarian Logistics, Purchasing and Inventory Management Society. 
Helga Habis 
for her dedicated work in the renewal of the Master's degree courses. 
The renewal of the Master's programmes was launched under the leadership of Dean Helga Habis, and this year the first renewed Master's programme in Economics and Business Analysis is in its second year. The Master's programme is based on a form of teaching of a low number of students yet requires immersion and home study – a new approach that could not have been introduced without Helga. The process is not yet complete, but it is clearly a step forward from the previous master's degree culture, which was optimised for work-based learning. 
Péter Juhász  
for his outstanding teaching and curriculum development and exemplary work ethic. 
Péter Juhász's research and teaching activities are both outstanding: he is responsible for the development of the CFA partnership, has been preparing students for CFA competitions for many years, develops English language courses and maintains the Business Valuation subject group. He is always active in the department and a valuable member of the community. He carries out his work with great enthusiasm, responsibility and high professional standards. He has created one new subject in Hungarian and four in English, which had only partial or no Hungarian background.  
Krisztina Ágnes Kolos  
for her constructive and solution-focused approach in her work at the University, and for her always community-minded spirit.  
Krisztina Kolos is an excellent example of the type of researcher-teacher colleague who not only carries out her own tasks with due diligence, but also attaches importance to building the community. More important than her mandate as Programme Officer and Head of Department, Krisztina's consistent values create a positive, collaborative and constructive spirit among her colleagues, and her forward-looking suggestions always help to move forward any stalled processes.   
Szilvia Strack  
for her exemplary work in the administration of the Stipendium Hungaricum programme and for her responsible care of the academic affairs of doctoral studies. 
As an iconic figure in the administration of the Stipendium Hungaricum programme, and later as the person responsible for the academic affairs of doctoral studies, Szilvia Strack has long served Corvinus and its predecessor institutions in an exemplary manner. Her work is characterised by proactivity and dedication. In the field of international relations, she has developed and managed the administration of the stay of foreign students participating in the Stipendium Hungaricum programme, and in the field of doctoral studies, she is responsible for the exemplary coordination of academic affairs, which is essential for quality assurance. 
Andrea Toarniczky  
for her dedication, initiative and hard work, as well as for her sacrifice for the University community. 
Andrea Toarniczky has been a lecturer and researcher at the University since 2003, is a leading teacher of Human Resources and Organisational Development in the Master's programme in Management and Organisation, and is the professional leader of the Executive MBA programme. She has played an outstanding role in the professional renewal of both programmes. She is also active in the academic community and, as a founding member of the Science Shop, has recently been actively involved in the organisation of several international conferences, and is also active in the international academic scene as a researcher. 
Ágnes Vidovics-Dancs  
for her exemplary work, teaching, educational organisation and research. 
For many years, Ágnes Vidovics-Dancs has been performing outstanding teaching, educational organisation and international conference organisation tasks, while also being active in research and international publication. She has an outstanding track record in curriculum development with notable Halvel achievements. Ágnes is a lecturer in the Economics and Finance-Mathematical Analysis single-cycle programme.  Besides her extraordinary work capacity, her colleagues and students can always count on her attention and support. 
UNIVERSITY CERTIFICATES OF HONOUR  
Certificates of Honour are awarded to colleagues who have contributed to the achievement of the University's goals through their outstanding work. 
Melinda Abai   
For her professional work in the field of HR services, for her contribution to the development of the new HR organisation and customer-focused HR services. 
Melinda Abai's labour expertise and helpful attitude has been personally experienced by many colleagues over the past 10+ years. She previously worked in Wage and Labour Relations and joined the HR team as HR Generalist in April this year. Her knowledge and versatile university experience were essential for the launch of the services of the newly formed HR organisation in the spring. Melinda has actively contributed with many ideas to making HR processes simpler, services smoother and truly customer-centric. 
Andrea Éva Domján  
for her outstanding professional and pedagogical work and her exemplary commitment to the university's mission. 
Andrea is an English-French language teacher at the Centre for Foreign Language Teaching and Research, where she teaches economics and international relations to an exceptionally high standard. She is in charge of English for International Relations at the Corvinus Language Testing Centre. Her professionalism is combined with exemplary dedication and pedagogical commitment, which is regularly confirmed by student evaluations. She provides individual development for students far beyond the required level, and her contribution to the development of the English language competences of teaching and working colleagues is also outstanding.  
László Ember  
for his outstanding diligence, professionalism and continuous dedication. 
László Ember is the Central PC Supervisor. His outstanding diligence and helpfulness are exemplary, and he does a great job in training new colleagues in IT. He has been of great assistance during building renovations and infrastructure refurbishments for many years. He loves to innovate and is a dynamic and innovative participant in various projects. He has done outstanding work in the design of the hybrid spaces at Corvinus. 
Gábor Farkas  
for his exemplary attitude, diligence, professional knowledge and dedication. 
Gábor Farkas is a network operations expert. In his work, he is a perfectionist towards himself, constantly delivering at high standards. He is helpful, proactive in his tasks, and receives positive feedback from all areas. He is open to innovation and seeks it. He provides invaluable assistance during building renovations on a regular basis, often after hours.  
Erika Fekete  
for her outstanding work in the financial implementation and accounting of the tenders awarded to the University. 
Erika Fekete has been working in the University's Tender Finance Office since 2001. Her work is thorough, reliable and always strives for the maximum. She is driven by challenging tasks and new solutions, which she tackles with unstinting enthusiasm.  
She provides financial and administrative support to the project partners with outstanding conscientiousness and professionalism. She works independently, accurately and responsibly, thus supporting the work of the administrative staff in the departments, as well as the project leaders and project managers.   
Szabina Eszter Fodor  
for her outstanding teaching and research. 
Szabina Fodor has been Head of the Department of Computer Science at the Institute of Informatics since 2020. She has worked at the University since 1994 and has been an Associate Professor since 2007. Her teaching and research are both outstanding, and her student evaluations are among the best year after year. Her work in educational development and renewal is remarkable, and she is a key figure in the modernisation of computer science education. Her publication record is outstanding and her scientific metrics rank her among the best researchers in the university.   
Csaba Kiss  
for his dedication and hard work, for his sacrificial contribution to the renewal of education and for the University community. 
Csaba Kiss has been a lecturer and researcher at our University since 2006, a leading teacher in the bachelor's programme of Business and Management, and the professional leader of the Human Resource Development specialisation – one of the driving forces behind the current renewal process in these programmes. Over the past decades, he has provided hundreds of students of human resource management with professional guidance, which they have reciprocated with outstanding HalVel evaluations. Csaba also actively supports his colleagues at the Institute in teaching and research methodology issues. 
Viktória Kosztolányiné Kovács  
for her attentiveness and helpfulness to students and for her sacrificial work for the community in the area of academic affairs. 
Viktória Kosztolányiné Kovács is a member of the Student Services Academic Affairs team. Thanks to her customer-oriented approach, she was voted Student Academic Employee of the Semester by students last autumn semester. Since 2016, students in the university's largest undergraduate business and management program, with 1,200 students, have always counted on her precision, cooperation and knowledgeable attention.  
Attila Miklós Kozma  
for his work in student talent management. 
Miklós Kozma is actively involved in a highly successful student talent management programme. The backbone of the programme is the "Pyramid of Business Economics", based on case study methodology, in which he is active in several subjects. At the top of this pyramid are the international case study solving competitions, in which the student teams mentored by Miklós have excelled year after year. Miklós is the Academic Director of the Central European Case Competition, which has enhanced the international reputation of the University.  
Pelle Veronika  
for her dedicated talent management and innovative, project-oriented teaching. 
Veronika Pelle is one of the Institute of Communication and Sociology's most outstanding teachers and student project organisers. Thanks to her work, the graduate students of the Hungarian and English-language Communication and Media Studies undergraduate courses have for several years implemented highly successful, nationally known, internationally known projects in cooperation with job market players. Her students regularly achieve excellent results and placements at the TDK and OTDK competitions. As a mentor and student organiser, she is an exceptionally committed, dedicated and productive young colleague. 
Dr. Tünde Veres Szabóné  
for her dedicated work in the field of talent management and for the departmental community. 
Dr. Tünde Szabónde Veres has been a highly qualified and conscientious teacher for decades. She is one of the most popular lecturers at the Department of Accounting. She is actively involved in the innovative development of teaching materials and is the coordinator of several subjects. Her role in talent management is noteworthy: almost every year she has award-winning students who write TDK theses, and she conducts their theses with exceptional thoroughness and deep professionalism. Her professionalism, reliability and problem-solving skills are exemplary. She is an excellent community person.   
Tamás Eszter  
For her outstanding diligence and performance, and her dedication to the university community. 
Eszter Tamás returned to the University three years ago from her three children. In that time, she has demonstrated day in and day out her commitment and expertise, first and foremost in the running of the colleges, but she can also be counted on and built upon in any other professional field.  She has always carried out her work with exactitude, precision and great enthusiasm. Her efficiency, diligence and directness make her one of the most valuable members of the team at the Közgáz Campus.