The Council of Corvinus University of Budapest and Physical Education and Sport Centre award students achieving outstanding results both in university studies and sports with a valuable prize.
Within the framework of the 'Good student-good sportsperson' competition the Council of Corvinus University of Budapest and Physical Education and Sport Centre award students achieving outstanding results both in university studies and sports with a valuable prize. When the prizes are awarded the places are established jointly from the study and sports results. In addition to this we also award prizes to the students successfully representing our university in the national championships organised by the Hungarian University Sports Federation.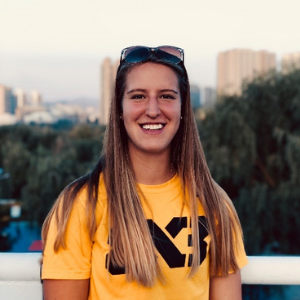 Anna Doktor – basketball sportswoman of TFSZ-MTK, coach: Bianka Magyar

Anna Doktor is 23 years old. She is studying in the Business Development Master's Programme. She completed the bachelor's programme at Corvinus, too, she studied in English language in the Business and Management programme. She has been doing sports since her childhood, studying, however, has always had a priority for her.

Anna started basketball at the age of 7, she had the best junior coaches and could train in the best clubs. She achieved the national champion title in six age groups as a result of this.

The first serious success in the colours of the Hungarian national team was sixth place in the European Championship. After this, during her studies she became member of the university team, which was in the MEFOB (Hungarian University Sports Federation) final every year. In her club her team achieved the greatest success in the sports to date, fourth place in the Hungarian Cup Women. In Hungarian colours the team also achieved outstanding success in the 3×3 branch, the fruit of which was participation in the U23 world championship.



2019 was a very successful year as she received her degree certificate and had outstanding sports results, too. Her goal is to win the MEFOB final in 2021 with her team and qualify for the European Championship of universities.

'I think that the minute of deciding the direction to take: sports or civilian life, comes in the life of every sportsperson. I am very happy that I could try myself among professionals and had life-long memories with basketball, however, due to my professional development and gaining experience work has become a priority for me. These days I only play in the university and Budapest championships.

No. 2: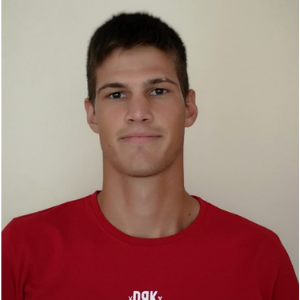 Máté Bácskai – rowing Sportsman of Vác Városi Evezős Club (Vác Town Rowing Club), coach: Miklós Mácsik

Máté Bácskai is 23 years old. He completed his studies in the Applied Economics bachelor's programme in 2020. He is in the national team, his current hobby is his vocation. He has always loved sports, he did swimming from the age 4 but he also tried football, wrestling and finally – as everybody else in his family – rowing. He competed in every age group, from 11 years old to adults. He achieved his first serious success at the age of 18, when he won bronze medal in the Junior World Championship with his teammate in pair. A few years later, at the age of 21, they won the U23 European Championship in quadruple. They are working at the moment to achieve similar results among the adults.

He has presently suspended his studies for a year to get to know his limits and begin the coming season with the best possible performance. With his teammate they are training for the Olympic qualification competition in pair, where they would like to be proven worthy of participating in the Olympics. He would like to continue his studies in the master's programme at Corvinus University of Budapest in autumn.

No. 3:




Emma Beáta Borsody – fencing Sportswoman of BVSC Zugló, coach: István Kovács

Emma Borsody is 20 years old. She is in the second year at Corvinus in the International Studies bachelor's programme.

She did swimming until the age of 11 but she soon realised it wouldn't be her sports in long term. She also did karate and participated in some football training parallel with swimming. Following the family traditions she developed interest in fencing. She has been doing épée fencing since the age of eleven.

'When I was admitted to the university some friends advised me to apply for individual preparation, so it is my 4th semester in it. The lecturers at the department are very helpful and so are the students in the programme, so I never had any difficulty from not being present at the lectures and seminars. When I'm abroad or in training camp the students in the programme always help me and send me the notes.'

In 2016, at the age of 15, she participated in her first European and World Championship in two age groups (U17 and U20). In 2018 she won bronze medal in individual in the junior (U20) world championship. This was the beginning of her effective junior career followed by 2 places in the eighth finals, one world cup silver medal and one individual 7th place in the European Championship. She won medals on three occasions in four world cups in the 2019/2020 season with her junior (U20) team and won a bronze medal in the 2020 European Championship. The last Junior Championship, in which she would have participated as eighth in the world ranking, was unfortunately cancelled due to the pandemic.
She would like to do further studies after the BA degree but the direction is still in question.

No. 4: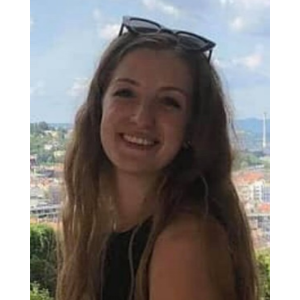 Tamara Csordás – acrobatic rock and roll Sportswoman of Rockin Board TSE, coach: Krisztina Farkas

Tamara Csordás is 21 years old. She is in the second year of International Studies bachelor's programme with European Integration specialisation at Corvinus. At the same time she is currently a guest student at the University of Bremen, although in online form only due to the pandemic.

She won the prize because of the acrobatic rock and roll sports. This sport is under aegis of the Hungarian DanceSport Association. She became familiar with acrobatic rock and roll at the age of 4 in the form of so-called 'nursery rock'. The emphasis here was mainly on learning the basics, beginning to like dancing. She began the sports at competition level at the age of 7. First she participated in competitions organised for the dancers of the association only. Later she tried herself in every competition category (small and big formations, and also in pairs). She became successful in national and international adult ladies formation categories, so during the years she won multiple places in the national ranking, she was Hungarian champion, national champion and world cup champion, she won medals or was in the final in international competitions. She continues to be an active competitor in adult ladies formation category.
Tamara will obtain her university degree next year and would like to continue her studies in the master's programme. Due to her international interest she is thinking of continuing her studies abroad with the help of Erasmus student exchange programme, which could largely influence her sports career, too.
She sees herself in the world of sports for another 4-5 years, during this time, if the pandemic takes a favourable turn.



… I would definitely like to participate in international competitions with as good results as possible. I would be happy to close my career by winning the Hungarian championship.

No. 5: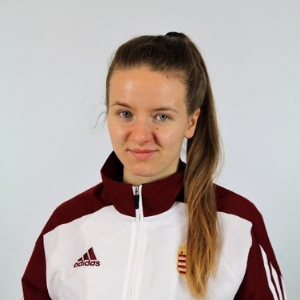 Kata Rita Dezső – karate Sportswoman of Móri SE, coach: Béla Bőke

Kata Dezső is 21 years old. She is in the third year of the Business and Management programme with sports specialisation at the Székesfehérvár Campus. She lives in a village near Székesfehérvár. She goes on excursions with her friends and bakes for her family in her free time. She loves classical music, she is interested in arts, and as a result of this she had her own glass paining exhibition 10 years ago.

She got to know Kyokushin karate in 2009, when she started her training. She did athletics and handball at school level before and won medals in both sports in the Student Olympics. She finally elected karate and became an active sportswoman.

"Hard work and perseverance, which are essential both in sports and studies, have accompanied me during my life."

In addition to many small Hungarian competitions she is most proud of her following results in the past 10 years:

· junior Hungarian champion on 2 occasions

· champion in Student Olympics on 2 occasions

· Belgian champion in age group on 3 occasions

· Slovakian champion in age group on 2 occasions

· silver medal in the U21 European championship, bronze medal in the world cup

· adult Hungarian champion on 2 occasions

· bronze medal in adult European championship on 2 occasions

· 5th place in adult world championship

Karate is a weight-category sport, Kata is in the 55 kilogram category. Based on the 2019 results she is the 29th among the top 40 lightweight female competitors of the world ranking (in the 50 and 55 kilogram categories together).

She developed a lot both physically and mentally last year. Her short and medium term goals are to show and make good use of her development in the European Championships in Varna in the winter. She would like to qualify for the world championship in Japan in her wage category in longer term.

No. 6: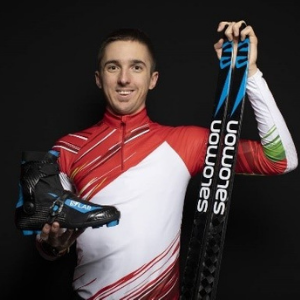 Büki Ádám – biathlon Sportsman of Miskoci Honvéd SE, coach: Emőke Szőcs

Ádám Büki is in the final year of the Sports Economist master's programme. He has always been interested in the connection between sports and economy, so after the completion of the Trade and Marketing bachelor's programme he did not have to think hard about where to continue his studies. Accordingly, he sees his future primarily in the field of sports marketing. He started cross-country skiing at the age of 6-7 and was doing biathlon shortly after. He tried many sports during the years: football, handball, volleyball, running, cross-country running, cycling, swimming, ice skating, duathlon. It was difficult to harmonise the listed sports with cross-country skiing and biathlon after a while, so he decided for the latter two. He does some of the other sports as part of his preparation, and participates in many competitions in cross-country running, for example.

He has several results as he participates in 30-40 competitions a year:


His best results in biathlon are two adult national champion titles: 29th place on the winter universiade and 43rd place on the summer biathlon universiade.
In the qualification competition he won the 25th place in cross-country skiing in the 2021 world championship and won the 46th place (and the best score to date) in Zakopane.