The Corvinus University 3x3 men's basketball team wishes to make a mark at this year's European University Games in Debrecen, between 15-19 July.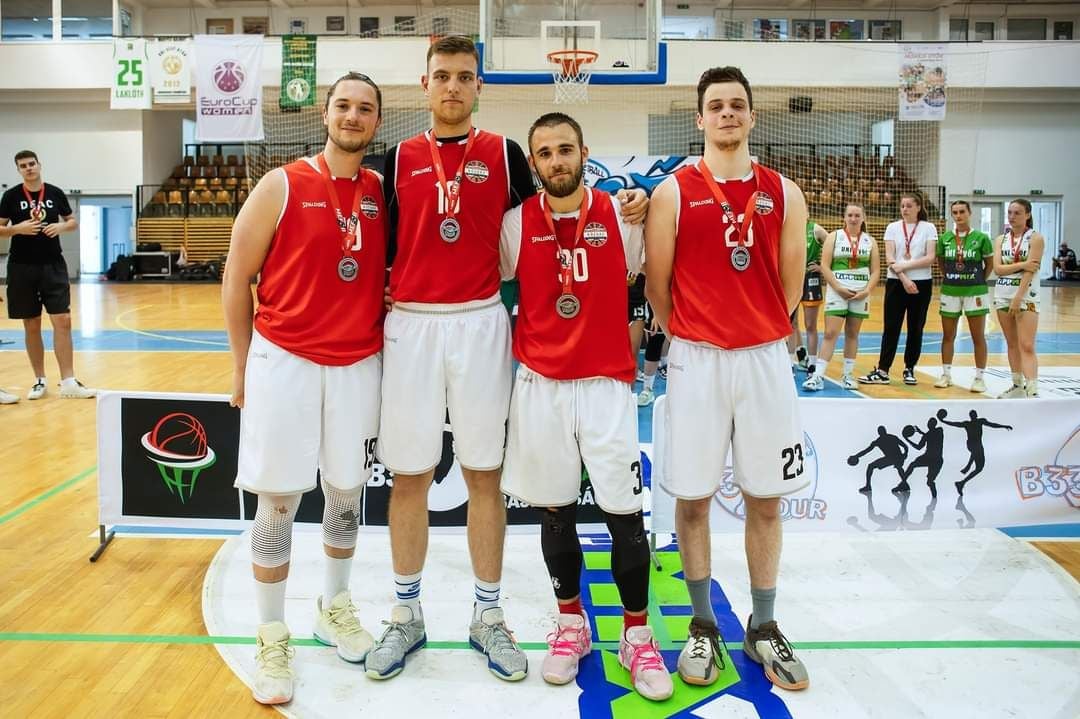 As previously reported by us, between 15-19 July, Debrecen will host the European Universities 3×3 Basketball Championship, which will also be the dress rehearsal for next summer's European University Games, to be held in Hungary.
At the tournament in Debrecen, we can cheer for 17 women's and 23 men's university teams from 17 countries, including several Hungarian teams. The host University of Debrecen will be involved in both the men's and women's competitions, just like the Hungarian University of Sport Science. Whereas the Budapest University of Technology and Economics and Corvinus University will compete in the men's championship, the Széchenyi István University and the University of Miskolc will represent Hungary in the women's competition.
The men's team of Corvinus University has already taken part in a prestigious international tournament: last year they came last in their group in the European Universities 3×3 Basketball Championship held in Łódź, and thus did not qualify for the knockout stage.
"Last year was a kind of test year, as it was the first time we were there at the European University Games" – said Csaba Vladár, the head coach of the 3×3 team, who had commanded the university's full-court basketball team at the 2022 Games in Lodz. "We have two players from last year's team, joined by two new players. I think this year's team will be stronger than last year's in terms of structure and the two old members already have international experience. It's important to mention that our team played in the same line-up at this year's MEFOB 3×3 basketball tournament where we finished second, except that we had to miss László Komma of MAFC, our player in the Hungarian national 3×3 team, who had to compete in the NB I/B division ."
Although there are only three weeks to go until the continental tournament, with the exam period still on, it is difficult to find a training date that suits everyone. What's more, players in the first and second divisions need to rest up after a long season. It is planned that the Corvinus team will start its pre-season training this Thursday.
Against this background, the head coach is cautious when asked about the chances.
We are athletes. We have goals, we like to win, we like to succeed, and of course we want to improve. What makes it difficult is that no one's main profile is 3×3 basketball, and the event takes place in the middle of summer. We want to move forward. It helps that the team has been together for a while, many of them have already gained experience, so we will do our best. Nobody has set any specific expectations for our participation in the European Championship, but we would like to qualify from the group."
Although students prefer the waterfront and parties, some of them are readily available. "Those who are coming with us to the European Championship love basketball, know they are in good company and know they will be able to show their skills at a great Hungarian venue. I am very happy that this event is also important for our national team player, Laci Komma, as it is a great opportunity for him to practice. With him we will be stronger in every way."
The Corvinus 3×3 basketball team: Árpád Galambos, László Komma, Dominik Papp, Dániel Szántó
Head coach: Csaba Vladár
Description: Ferenc Márványkövi
Photo: B33 Tour / Facebook