Dr. Loretta Huszák has been the director of the German Management Training Programme (DSG) since 1st November 2022.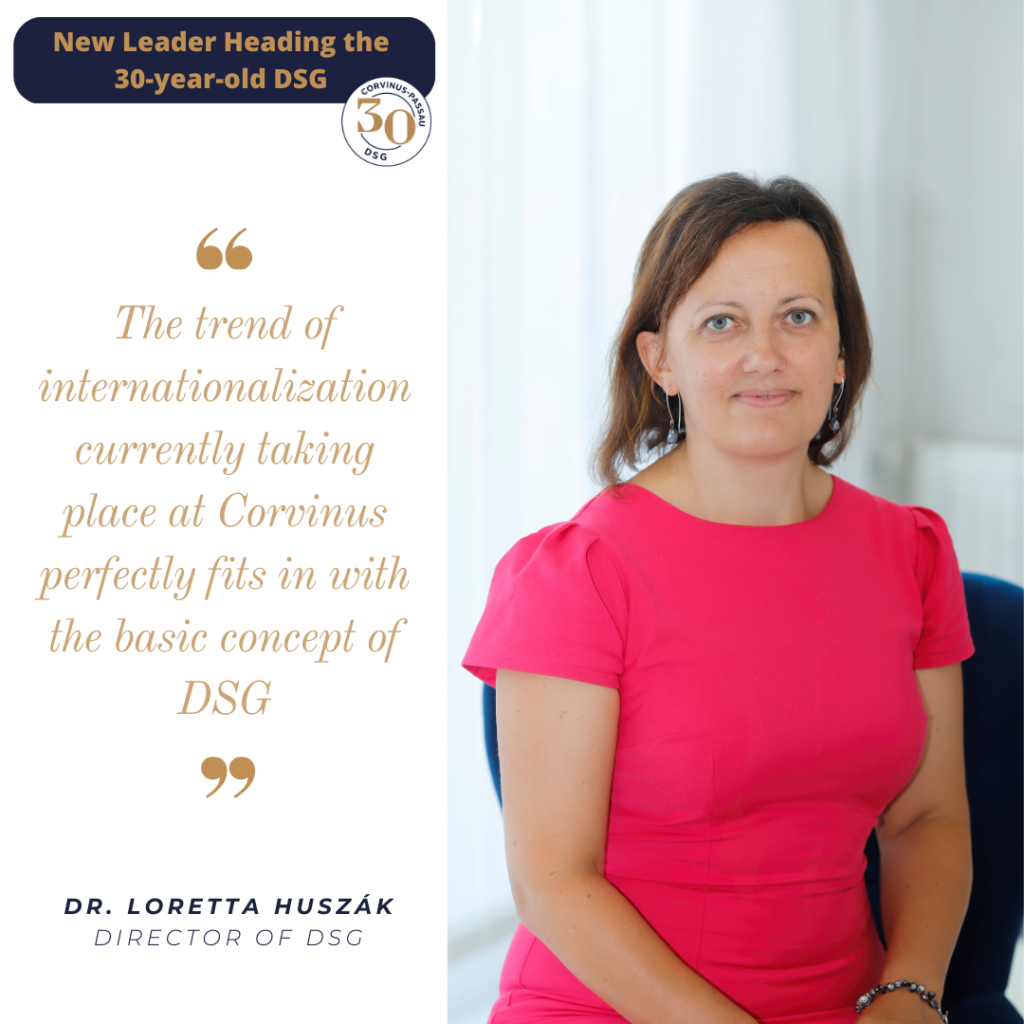 Loretta Huszák completed her studies at Eötvös Loránd University and the University of Leipzig. She holds a degree in economic sociology, and, in addition, she is a graduate teacher. She gained practical work experience in London and Brussels and, in addition, primarily in Germany, where she lived for almost 10 years. She worked for international companies and organizations for long periods of time and was head of department at the Hungarian Intellectual Property Office between 2005 and 2013. Loretta compiled numerous training programmes and textbooks. During her career, Loretta has never parted with higher education: before becoming a lecturer at Corvinus in 2017, she had taught as a guest lecturer at several international and Hungarian universities.
In the interview below, she not only introduces herself, but also looks ahead to 2023, the year of the 30th anniversary of DSG.
What personal motivation has played a role in your taking on the position of director of DSG?
2022 was a turbulent year both for DSG and for me personally. If someone had told me in January, or even in September, that I would be the head of DSG from November, I probably wouldn't have believed it. The former head of DSG, Ágnes Zsóka, was appointed vice-rector of Corvinus in January. After that, Patrick Bohl became the director of DSG, but as his destiny would have it, Patrick also got a higher position at Corvinus: since October, he has been the dean responsible for postgraduate programmes.
We were already in October, when Patrick called me and asked if I would accept the position of director of DSG. At that time, – as it should be – my schedule was full of courses, I took part in two large international projects in parallel, worked on special issues of two scientific journals at the same time, and so on. Practically, I had no free capacity for new tasks. After a week of consideration, during which I also spoke with Judit Simon, the founding director of DSG, I accepted the position,because I knew that I could help the DSG well.
This was because previously I was already the head of a similar institution in my old home university, namely at the University of Leipzig. I was in my late twenties at the time, and the position there was very challenging for me. I had been acquainted with German workplace culture from previous work experience, but leading a team, conducting education programmes of high professional standard, guaranteeing cost-effectiveness, creating multi-component financial cover, performing tasks as interface between business partners and the university – I found these to be trying tasks at that time.
But destiny wanted all these to be part of my duties again – the only difference is that I'm almost twenty years older now and, in the meantime, also gained experience as a middle manager, proving to myself that I am capable of performing such complex tasks as well. Therefore, I willingly agreed to lead DSG until the end of 2023, and really hope that in oneyear DSG will be even stronger and more successful.
What are your future plans for DSG?
DSG currently offers twelve elective subjects in German language, as part of the Hungarian-language bachelor's programme. The goal is to enlarge that range of subjects and to increase the number of German-language subjects. We want to send the highest possible number of students, as scholarship recipients, to Passau, which represents a great professional development opportunity for them and combined with Erasmus, they could spend up to two semesters abroad. Corvinus and the University of Passau offer an extremely powerful and high-quality MA double degree.
The primary goal is to ensure that the highest possible number of students take advantage of this opportunity and obtain a degree in German, in addition to Hungarian, which, based on our three decades of experience, represents a great advantage on the labour market. In addition, German-owned companies operating in Hungary also strive to strengthen their cooperation with Corvinus, which strengthens DSG's practical training even more, as students have more opportunities for case study competitions, company visits and professional internships.
The trend of internationalization currently taking place at Corvinus perfectly fits in with the basic concept of DSG, as many German-speaking guest lecturers come here, any also participate in joint research programmes, which offer many untapped opportunities and resources. I would like to emphasize that our programme selects and combines the best elements of the two educational systems, ensuring our students can enter the labour market by having truly marketable knowledge and skills. The great advantage of DSG is that it offers opportunities on both the German and Hungarian sides, so students can benefit from both systems.
DSG will celebrate its 30th anniversary in 2023. What are your plans for this?
Indeed: the German-Language Management Training Centre has been operated at Corvinus for 30 years. The number of alumni is well over one thousand now, and the number of currently enrolled undergraduate students is more than 100. We would like to celebrate this "round" anniversary year in an appropriate way. There will be festive events in both the spring and autumn semesters. Together with Hungarian and German academic and economic partners, we are planning a festive academic event for April 19, with the topic of Sustainability and profitability of corporates and organisations.
We think that this is a topic that represents significant challenges for economic actors, who are open to learn about good examples. It is also important for our students to acquire up-to-date knowledge about the topic. I trust that many companies from German-speaking areas will decide to visit us at this event at Corvinus and introduce themselves to our students.
In addition, we are making plans for a jubilee lecture series in the autumn semester, which we hope will be connected to several of our German-language subjects.
What positive experience have you had since teaching at Corvinus that you are pleased to recall?
For me, Corvinus is the stronghold of the training of business and management in Hungary. Current reports also confirm that the highest level of teaching in that topic area takes place at Corvinus in our country. And the fact that all of this is also available in German makes the Corvinus educational programmes truly competitive. Since my attitude is basically extremely open and international – thanks to the nearly 15-year period during which I lived abroad –, I find it a definitely positive experience that you can stumble upon conversations in foreign languages every step of the way at Corvinus.
What was the most memorable student feedback you received during your teaching career?
I am one of those lecturers who always read the textual parts of student feedback (formerly HalVel, now MyView). Fortunately, I regularly receive very high evaluations, and it has happened several times that students claimed to have learned the most from me during their studies. Relying on my international experience, I try to illustrate theoretical problems through practical examples. Company visits are also a great success every year.
Outside of work, what do you like to do in your free time?
I enjoy the most when I spend time with my two children, one of whom is now in the process of applying for secondary school. We have two homes, and we spend as much time as possible in Germany. And recently I have started running again andalready participate in competitions.