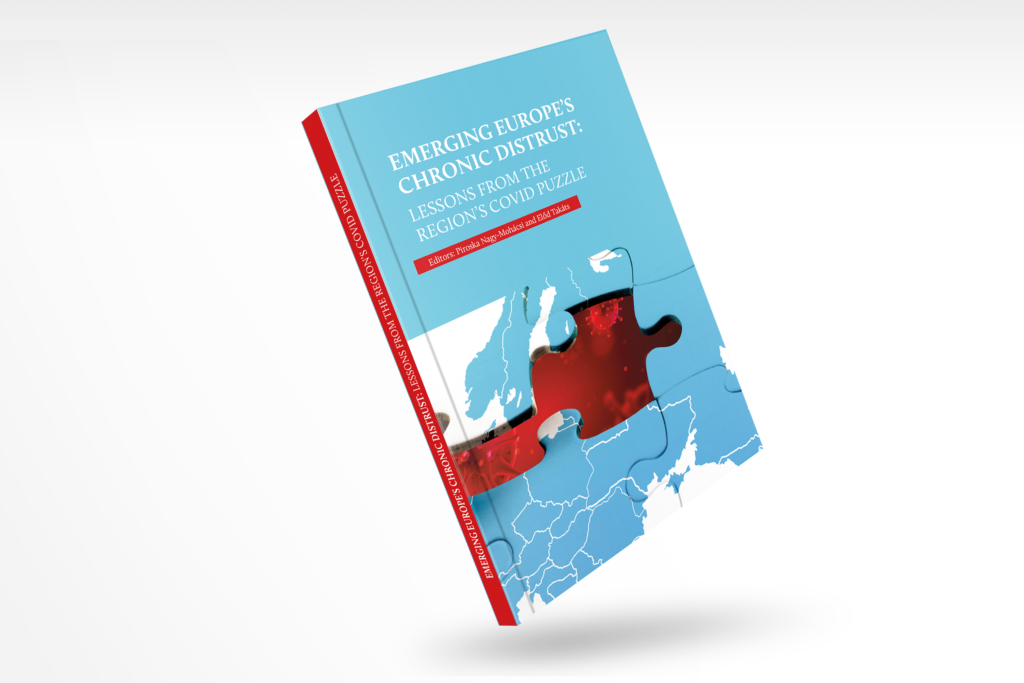 The publication of Emerging Europe's Chronic Distrust: Lessons From The Region's Covid was published, its editors are Előd Takáts, Rector of Corvinus and Piroska Nagy-Mohácsi (The London School of Economics and Political Science – LSE).
The online version of the book is available at this link and will soon be available at an official launch.
The Russian invasion of Ukraine places Central and Eastern Europe once again at the centre of international policy attention. The region is experiencing a sharp crisis: economies are slowing dramatically as Russian gas and energy supplies are being scaled down or cut altogether, while inflation is rising. Yet, most societies in the region are standing firm to confront aggression and its economic consequences, and all societies are rallying to welcome and support refugees from Ukraine – a sharp contrast to their rejection of refugees from the Middle East just a few years ago. We clearly need more research to understand what drives these societies.
The region's perplexing response to the COVID pandemic – an initial good performance that later reversed dramatically – provides some answers. Part of it is the tragic footprint left upon the region by the 20th century, particularly by World War 2 – a series of historical events which prompted historian Timothy Snyder to call the region the "Bloodlands". Here, the fabric of society was torn asunder by, in turn, communist terror, the Holodomor, Nazi mass murder, and the Holocaust. After the war, systemic efforts to destroy what remained of civil society behind the Iron Curtain atomised societies and deepened distrust in government and between individuals. Social forces rooted in history played a pivotal role in COVID-19 responses. However, the lessons identified from these responses are not only relevant for this specific epidemic.
We need to better understand the root causes of the region's "trust deficit" and develop strategies to reduce it. This book is the result of a joint workshop that we organised in March 2022 for researchers from Corvinus University, Budapest, and the London School of Economics and Political Science (LSE). This volume contains many of the papers presented and discussed at that workshop. I hope and trust that the work presented here will not only help improve the region's pandemic preparedness, but will also further discussions on how to start dealing with the region's notorious trust deficit.