The prize for the most inspiring conference paper in the European Academy of Management – EURAM Strategic Management section of the most prestigious European management conference was awarded to a researcher of the Corvinus this year. Borbála Szedmák (Corvinus) and Zsolt Roland Szabó (Széchenyi István University) examined ten symphonic orchestras and fifty leading music teaching applications, and drew attention to the fact that for the maintenance of their current business successes, orchestras and music teachers have to learn digital thinking, respond to changing consumer demands and thoroughly renew their business models.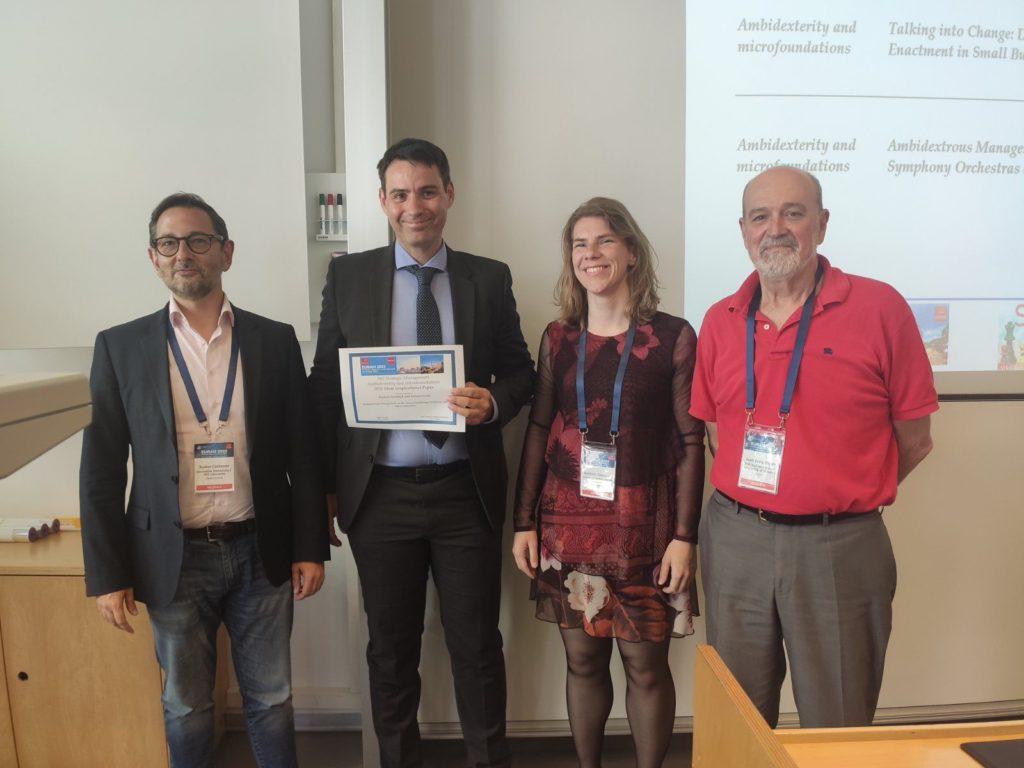 The main conclusion of the prize-winning paper titled 'Management with double skills at symphonic orchestras and in music teaching' is that organisations of classical music (also) require managements with double skills for the maintenance of their business successes. All that means is that they should be able to utilise their existing strengths with predictable returns, and to detect and experiment with new alternatives offering uncertain returns. This requires managers who are able to preserve the values of classical music and, at the same time, apply management innovations and utilise new technological possibilities.
As orchestras – similarly to other companies – have to continuously adjust themselves to the changing market, social, environmental and technological conditions and consumer demands, in the race for people's free time, it is not enough to rely on their existing repertoire and follow traditional business models. One of the biggest challenges they presently face is how to approach the next generation of concert-goers, who appreciate creativity, innovation, active participation and multi-sensor experiences.
In the same way, music teachers also need a two-sided approach: they have to find the right balance between traditional and innovative solutions. Students have on-line possibilities, too, in addition to personal presence at the lessons. Nowadays applications developed by professional musicians and produced with well-known artists are available for almost all types of musical instruments, at all knowledge levels, in a lot of genres, with tutorial videos, real-time feedbacks and even with playful challenges. Digitalisation and the use of music teaching applications – even with their limitations – make the learning of music at home more efficient, more enjoyable and often cheaper, and may also contribute to the development of the next generation of music-loving and concert-going young people, says the prize-winning paper.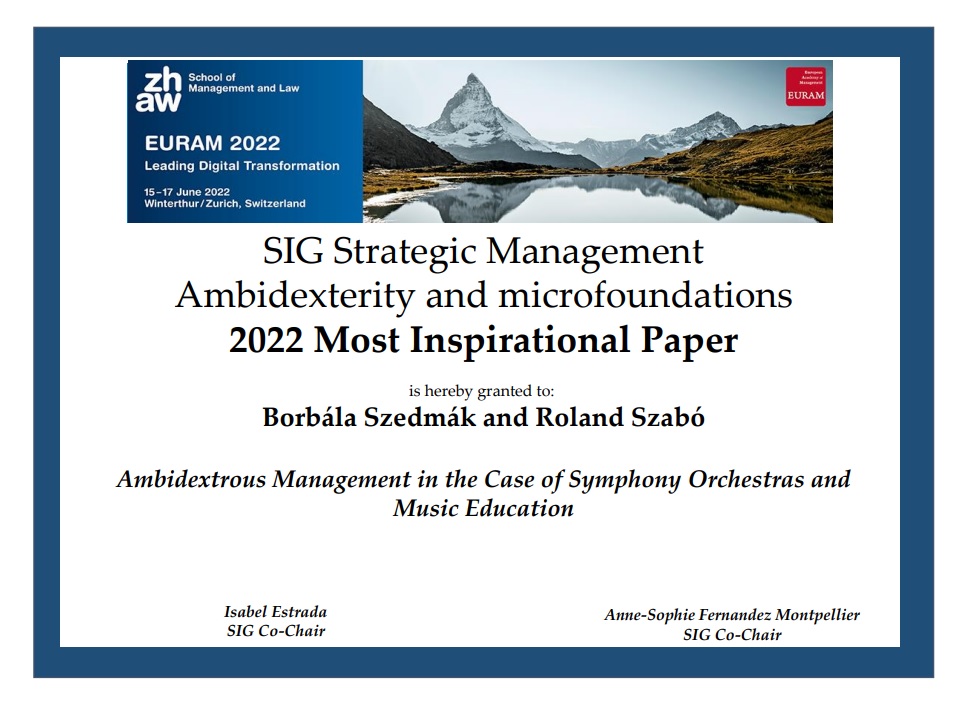 Good examples from concerts combined with video games to low latency software
According to the recommendation of researchers, orchestras and music teachers should redefine the consumer experience, increase 'consumer' comfort, and widen the access options by reducing limitations in space and time. Some excellent examples for the utilisation of the possibilities offered by digitalisation are on-line concert broadcasting, streaming, the use of music teaching applications, the use of software with low latency, creation of interactive productions enriched with gamification – e.g. video games -, use of platforms that connect musicians, and making work processes more efficient with the virtual reality.
The authors present a number of good practices: an excellent solution of the Australian Discovery Orchestra is that the orchestra – as part of their digital strategy – transformed their earlier recordings into 'virtual experiences'. The audience may listen to the music while playing a video game: the 'audience' has to complete missions, so that they could get points and 'keys' to release the next part of the piece. In another video game, the orchestra focuses on music teaching in a similar way: with virtual environment, short videos and sound recordings.
The Finnish National Opera and Ballet uses the advantages of virtual reality, and so does the cooperation of two technology companies, the Zoan and the Varjo: the company may visualise the forthcoming productions and thus save stage time and resources. Nowadays almost all orchestras make their earlier concert recordings and live performances available with on-line streaming, the pioneering event in this was the digital concert hall project of the Berliner Philharmoniker in 2019. Apart from the well-known YouTube, Facebook and Instagram Live interfaces, there are more professional platforms, too, that are specialised in music (e.g. Stageit), and that give better opportunities to orchestras to earn money with their performances (e.g. Dacast used by the Royal Academy of Music, and Brightcove used by the Metropolitan Opera, the Sydney Symphony Orchestra and the San Francisco Opera).
For real time joint music playing over geographical distances, one of the useful programmes is LOLA (low latency AV streaming system), which is able to reduce latency below 30 milliseconds, so it can be used even for highly 'pace-sensitive' repertoires, too, and does not require any special preliminary training. There are a number of well-known technologies and applications in this field, too, allowing on-line music teaching and playing (e.g. Skype, Messenger, Viber, Teams, Google Meet), but in their cases, latency and poor sound quality cause serious problems.
The authors, Borbála Szedmák, researcher of the Corvinus University of Budapest and Zsolt Roland Szabó, habilitated associate professor of the Széchenyi István University extended their secondary research examining the innovative examples in classical music with primary research, too. They made interviews with the heads of ten determining symphonic orchestras, ten musicians of symphonic orchestras and five music teachers. In addition, they examined fifty leading music teaching applications, from which they analysed twenty-four in detail: seven applications for piano, guitar and violin each and three for violoncello. The prize was handed over to the authors of the conference paper by the leading researchers of the strategic management area: Joan E. Ricart and Xavier Castaner. This year's EURAM conference was organised in Switzerland on 15-17 June, at the University of Applied Sciences in Zurich. The main topic of the conference was the management of digital transformation.