International taxation sources
Introduction
The purpose of this guide is to inform students about the most important available sources of international taxation law. Faculty members from the Department of Business Law helped us creating this guide. It contains Corvinus Library information, as well as, external sources. Among the library materials you may find legal databases, tips for searching printed and electronic journals, ebooks, while external sources focus on sources available at no charge. Printed materials in this topic can be found in the library's catalogue.
Subscribed legal databases
Legal e-journals, e-books
For searching journals and ebooks use the specific search box from the homepage of the library. Search is to be carried out on the basis of the title of the journal or ebook. All items contain full text.
Example: International Tax Review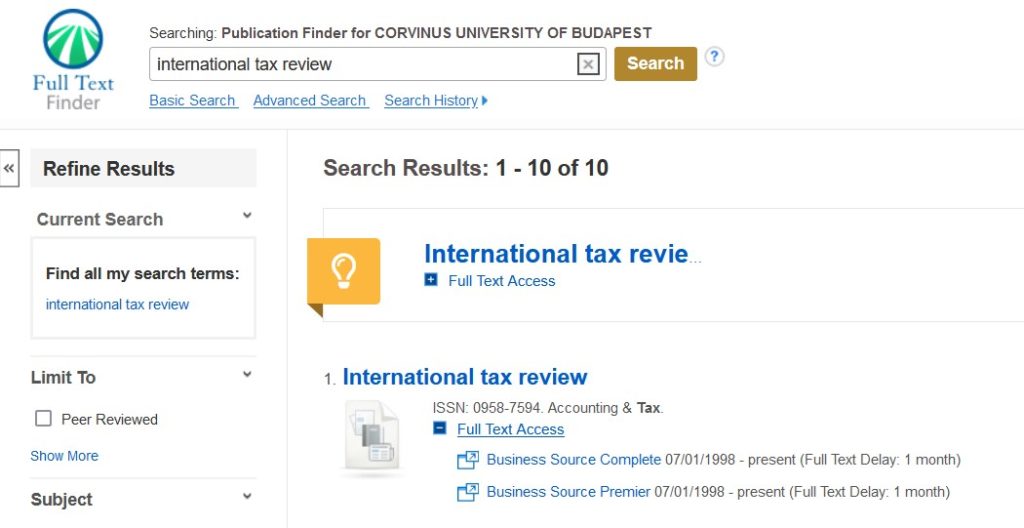 How to interpret the result? The journal is accessible in two databases (BSC, BSP) in the given period (1998-until present time) with a one-month embargo.
To find a certain ebook or article, please use quotation marks: e.g. "Addressing the Tax Challenges of the Digital Economy"

Besides specific documents, searching for a topic is also possible. In this case, all titles will be listed that contain the search.
Corvinus repositories / Corviversum
Corvinus repositories contain MSc/BA Theses, PhD-Dissertations, and Corvinus Research Papers. Examples for ech categories are as follows:
External sources
| | |
| --- | --- |
| SSRN (LSN) | Open access scholarly platform that helps researchers publishing manuscripts and accessing the publication of others. The platform itself is multidisciplinary, for legal professionals following the documents of Legal Scholarship Network (LSN) is recommended. Pubished materials are grouped into different thematic journals, check them under Research Paper Series. |
| Kluwer International Tax Blog | Legal experts of Kluwer Law International Publishing maintain this blog about hot topics in international taxation. It contains analyses, comments, short summaries. |
| OECD.org/tax | Freely available OECD-documents about taxation. Documents can be searched by countries or date, or by topics (i.e. tax). |
| Worldbank Doing Business | The Doing Business project provides objective measures of business regulations and their enforcement across 190 economies and selected cities at the subnational and regional level. The project launched in 2002, looks at domestic small and medium-size companies and measures the regulations applying to them through their life cycle. |
| National Legislation Database – Translated legislation | The webpage contains English translations of Hungarian laws prepared within the framework of the legislation translation program of the Ministry of Justice of Hungary. |
| EurLex | EUR-Lex is your online gateway to EU Law. It provides the official and most comprehensive access to EU legal documents. It is available in all of the EU's 24 official languages and is updated daily. |
| Curia | The database contains all cases ruled by the European Court of Justice or the General Court. It can be best searched by the case number or by the name of the parties. |
| USA Model Income Tax Convention | The text of the current US Model Income Tax Convention and other documents about international taxation are available at the official website of the US government. |
| Transfer pricing cases | TPcases.com provides a free and fully searchable database of international transfer pricing case law, guidelines, investigations and country profiles. Originally non-English materials are computer-translated. |