In the framework of the Cases on Business Economics (CoBE) course, the best CUB teams of the various CoBe seminars and the team of the Babeş-Bolyai University of Cluj (Romania) met on 22 May to compete against each other in the final of the 2nd International Business Case Solving Competition.
The task of the case competition was to work out a strategy in response to the current situation of WebEye Telematics, a leading Hungarian provider of road transportation telematics solutions for businesses. In its solution, the winning team consisting of Ádám Erdélyi, Kristóf Kárpáti, Dániel Novák and Bianka Pábli (teacher: Miklós Stocker), focused on a flexible response to the pandemic and a tailor-made service based on companies operating light commercial vehicles. This would allow the company to handle the shock caused by the epidemiological situation and become one of the three largest telematics companies of the Central European region by 2025. It was not simply the concept that made the team win the competition, but also the robustness of their analysis, the maturity and well-foundedness of their solutions as well as their self-confident presentation style and the correct answers given to the exhaustive questions.
Further results of the 5th Cases on Business Economics case competition are as follows:
2nd place: Regina Bunevácz, Attila Lajos Holpert, Laura Blanka Tomics, Botond Attila Várhegyi (teachers: Zsolt Matyusz and Bence Pistrui)
3rd place: Péter Folyovich, Orsolya Kuty, Viktor Oswald, Gábor Soós (teacher: Zsolt Ábrahám)
3rd place: Márk Babotán, Flóra Endrődi, Bendegúz Kalmár, Botond Szekeres (teacher: Zsolt Ábrahám)
4th place: Zalán János, Dóra Katalin Juhász, Kirill Patrick Perepelica, Botond Tibor Zsoldos (teachers: Zsolt Matyusz and Bence Pistrui)
5th place: Sára Karda, Tekla Hollanda, Ákos György, András Csenteri (Babeş-Bolyai University, Cluj)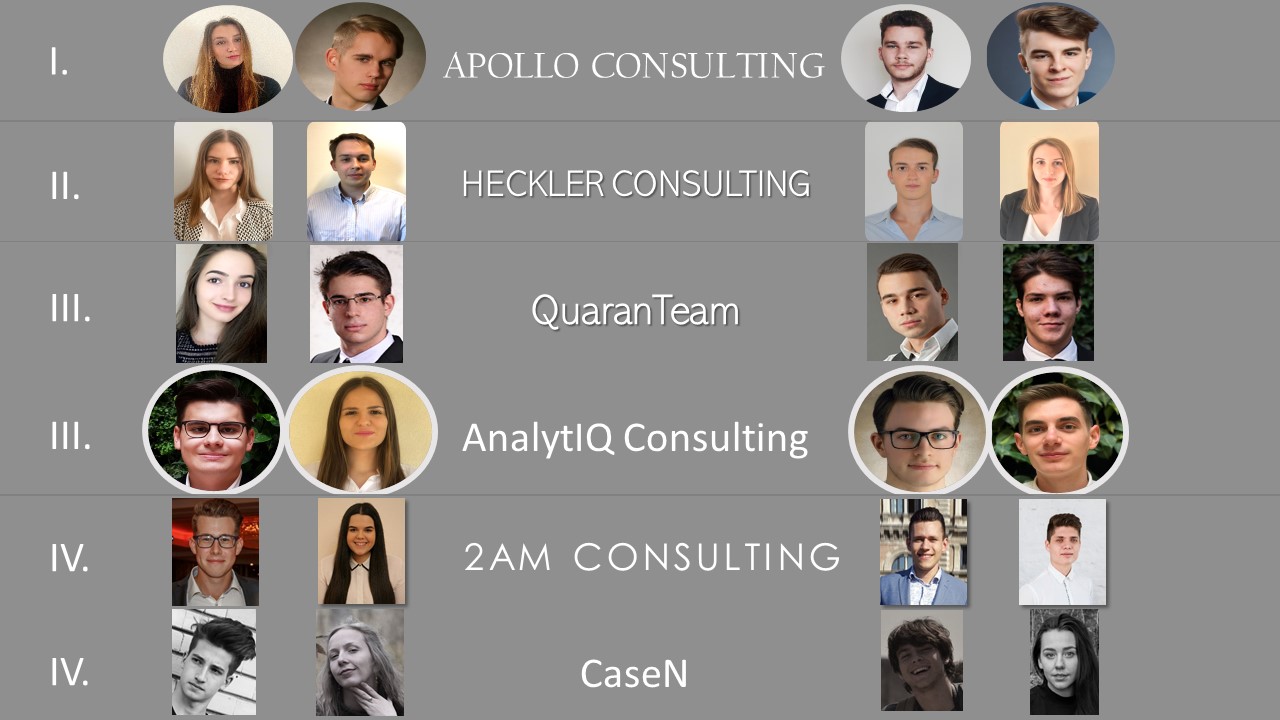 The aim of the event was to model the major international case study competitions. As in all strategic case competitions, the students were asked to develop a strategy to address a complex issue at a company or a non-profit organization. During the competition, the teams must perform under stress and present their solution within the given time-limit. The CoBE competitions involve a complex real-life problem that needs to be solved under time pressure at a level expected from consultancy companies.
We congratulate the teams on their achievements!